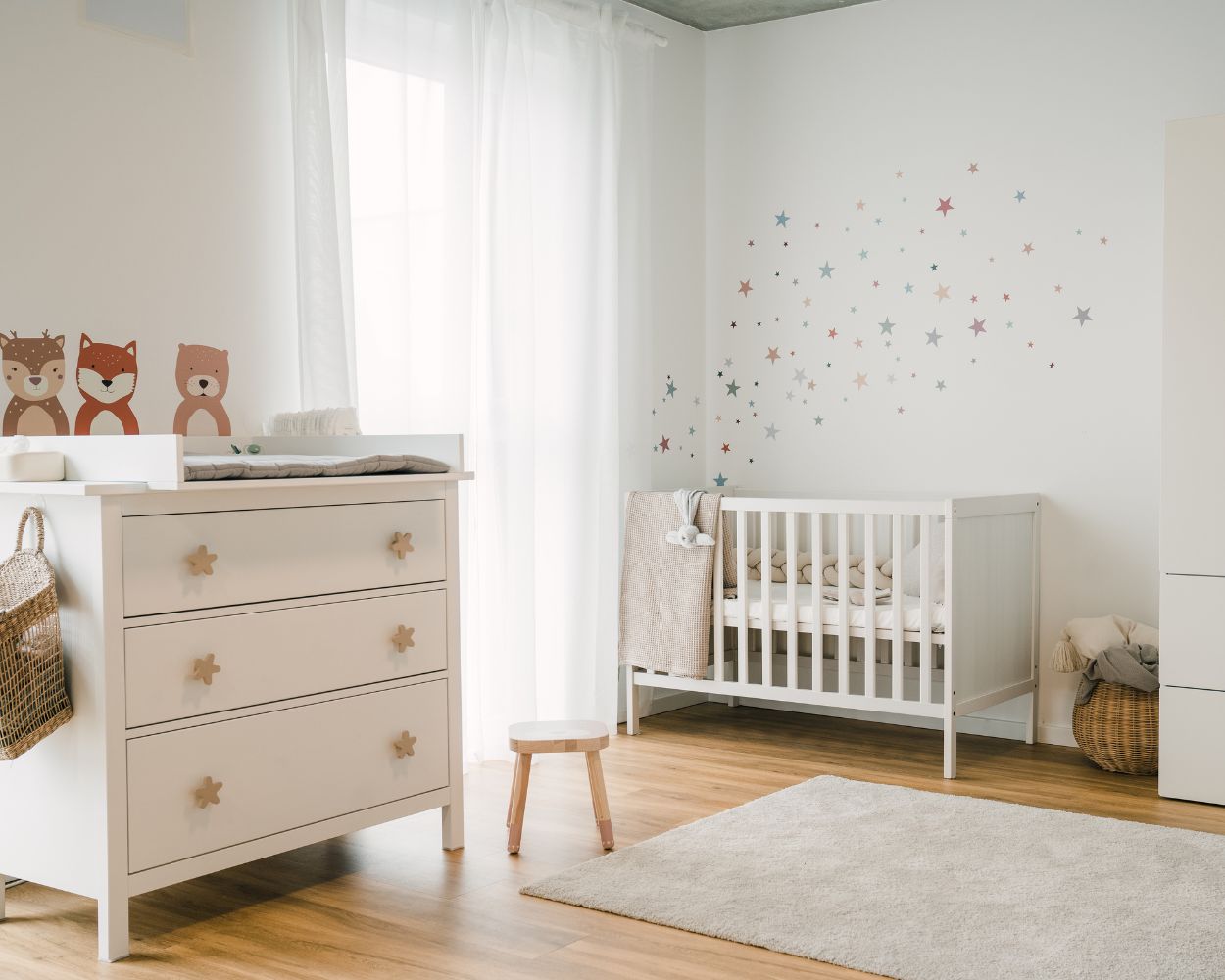 Why a cosy baby room is important
A cosy baby room has an important function: it creates a comfortable atmosphere for your little one and helps them to feel safe and secure. Just think how uncomfortable you feel in an uncomfortable bed or in a room with bright lights. Your baby won't have the same preferences as you, of course, but it's important that they feel comfortable in their room.
A cosy baby room can help your little one sleep better and calm down faster. Choosing the right furniture and accessories also plays an important role in a cosy baby room. There should be enough space to play and explore, but also retreats for resting.
Colours and patterns can also have a big impact on the mood of the room. So take your time when planning the baby's room and make sure that it becomes a place where your little one can feel completely at ease.
Baby room checklist: What you need
In the beginning, our little new arrivals have many needs that want to be lovingly nurtured. Therefore, some areas in the baby room are indispensable. A changing unit, a quiet and relaxed place for breastfeeding, enough space for the many cute baby rompers. Whether you combine all areas in one room or just furnish one corner, it should be practical and decorative at the same time.
With our ultimate checklist for a cosy baby room you are perfectly equipped!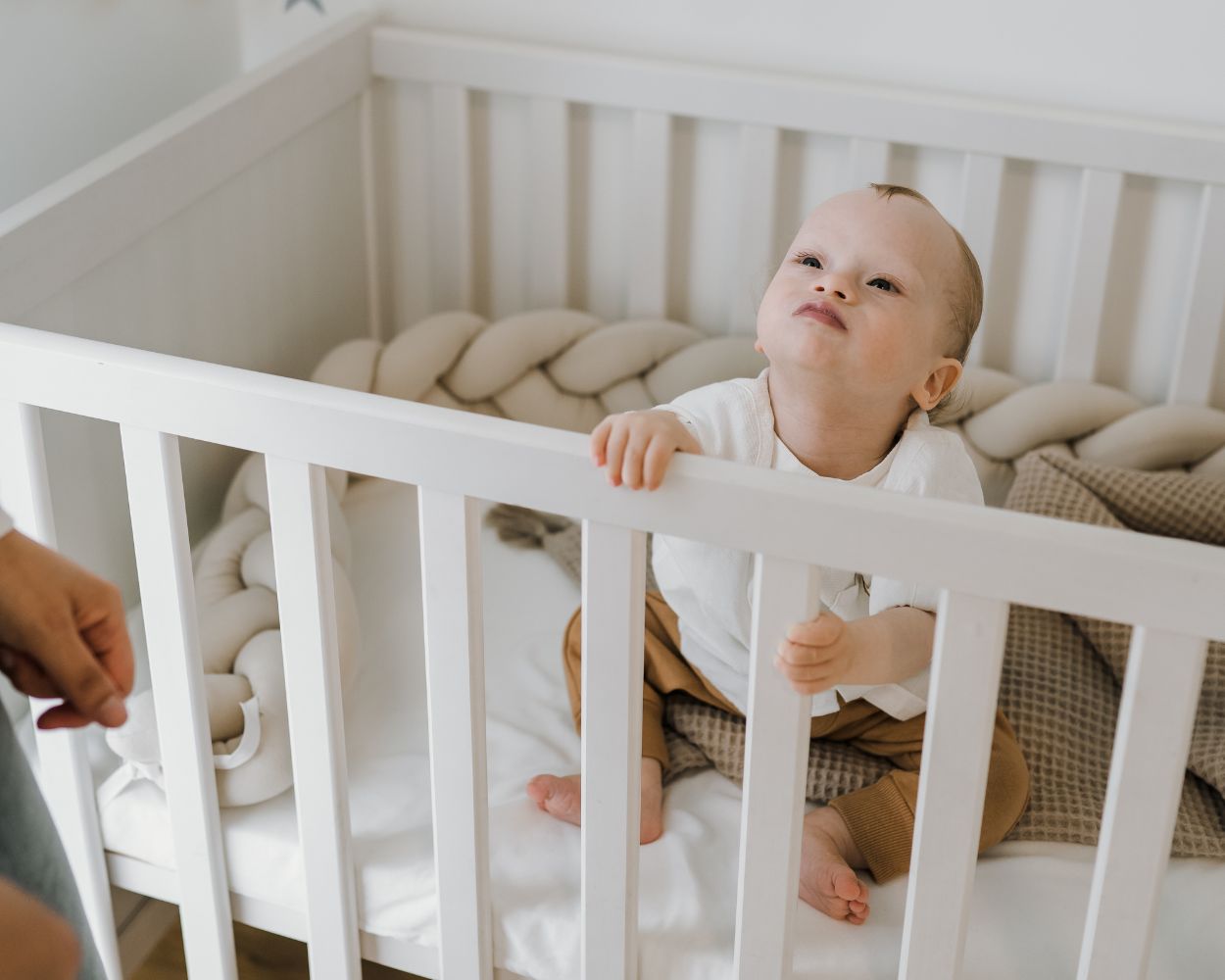 1. Baby bed for sweet dreams
All the exciting new impressions of the day are processed in the cosy baby bed. Whether you decide on a cot or your own baby bed is, of course, entirely up to you. Both have their advantages and disadvantages and, as always, this decision depends on the individual needs of your new arrival.
If you decide on a baby cot, there are several models to choose from in our favourite Sweden. Baby cots with removable slats are particularly practical. This way you can convert the IKEA baby bed into a cosy couch later on.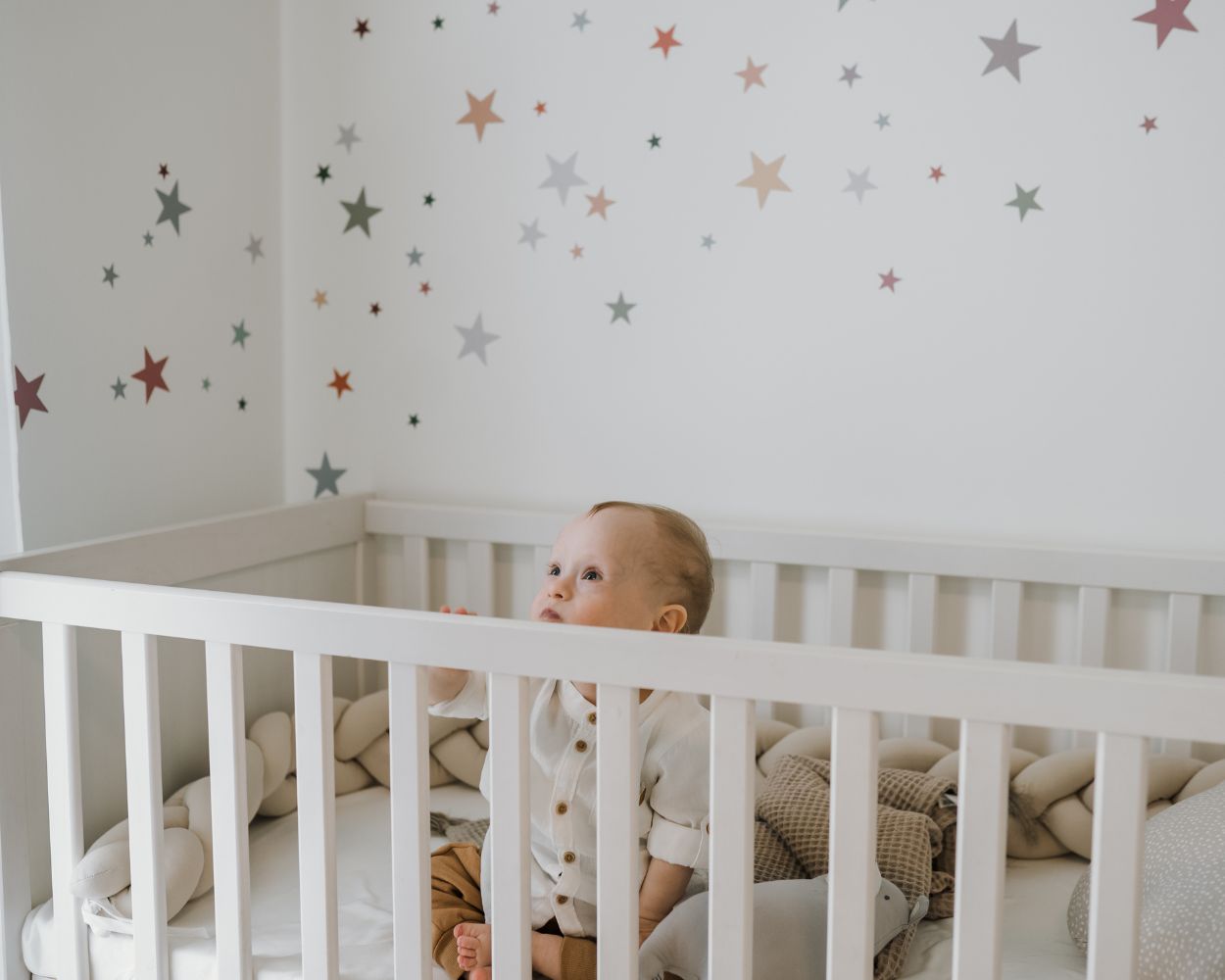 Checklist for the baby cot
Baby cot, extra bed or family bed? The decision for or against a baby cot is very individual and depends on your personal circumstances and the needs of your baby. Are you thinking about a shared bed? You can find all information and IKEA hacks on the topic of family beds via the link.
Safety in the baby cot: Make sure that the baby cot is stable and meets the latest safety standards. A suitable mattress should also be included. Make sure that the cot is not excessively filled with pillows, blankets and cuddly toys. Too many textiles could possibly pose a suffocation risk for your baby.
Location of the baby cot: The choice of whether the baby cot will be in the parents' bedroom or in the baby's room is also individual. How can you all sleep best? Often trial and error is the order of the day.
Sustainable furniture purchase: Many baby beds can be flexibly converted. As soon as your baby grows, you can lower the bottom of the bed on many models and remove one side of the cot. Such a bed that grows with your baby can be used for much longer.
Cosiness with stylish decoration: A bed snake around the edge makes the baby bed extra cosy. And matching wall stickers around the bed make the sleeping area an eye-catcher in the baby's room.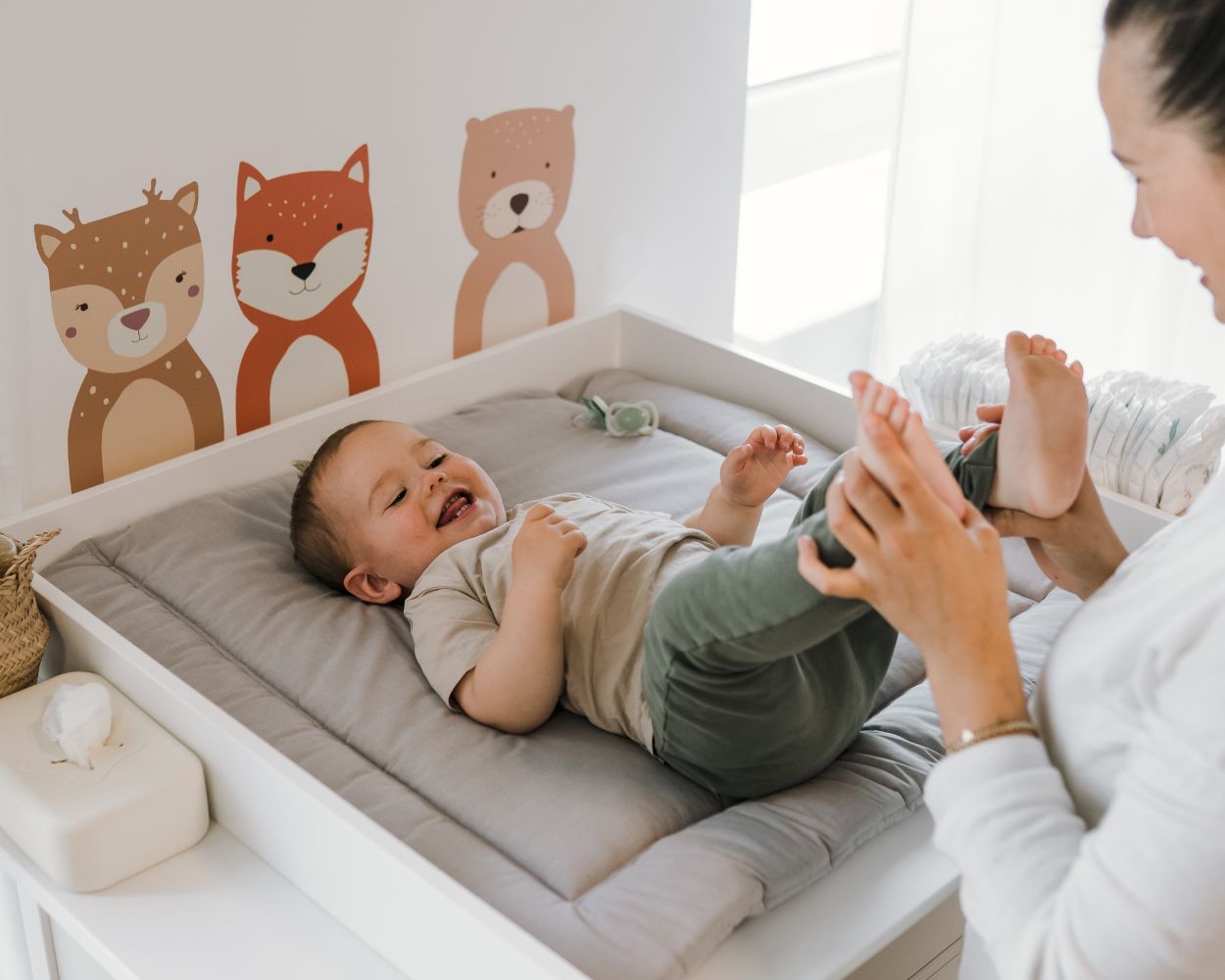 2. Changing table with ample storage space
Changing nappies will soon be part of your everyday routines. To make this as uncomplicated as possible, a changing area is a must in the baby room or bathroom. A fixed place for all your changing utensils helps you to stay well organised. We find a changing table particularly practical, as you can convert an existing chest of drawers such as the IKEA
MALM
or IKEA
HEMNES
for changing.
It's best to have everything organised and ready to hand - because sometimes your little worm doesn't really feel like changing. Then you'll be especially happy if you have all the utensils at hand quickly.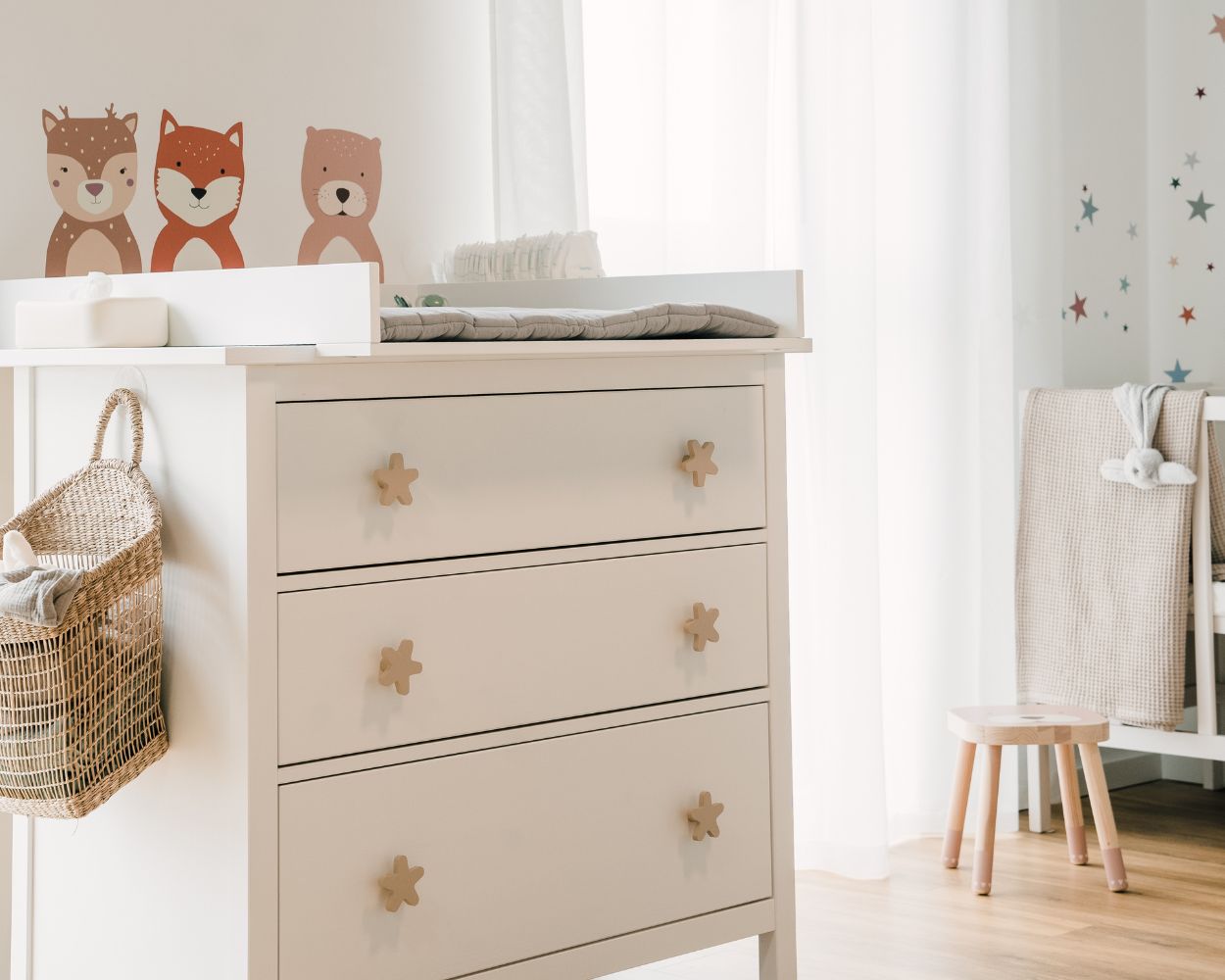 Checklist for your changing unit
Safety on the changing unit

make sure that the construction of your changing unit is stable and that it stands securely chest of drawers. If you want to attach a wall shelf, it must be fixed professionally. Your baby should not get any creams or oils in his or her hands.



Sustainable purchase decision

do you already have a suitable chest of drawers at home? Many IKEA chests of drawers or vintage furniture can be converted into a changing unit with a changing mat . This means you don't need a new piece of furniture. This means you don't have to buy a new piece of furniture and can continue to use chest of drawers after the nappy-changing phase.

Everything ready for changing

a changing table with enough storage space for nappies, clothes and care products makes your daily routine easier. Use baskets or boxes in different sizes for nappies, care products or clothes. Dividers in the

drawer

are particularly practical for small items of clothing. A wall shelf can be used to store cosmetic products out of your baby's reach - but it should not be able to fall off under any circumstances.

Distraction on the changing table

to make sure that your mini enjoys changing nappies, you should have distraction items on hand. Toys, cuddly toys or even the hairbrush can be used to keep your little one focused while you change the nappy. However, it's best not to let your baby get his hands on cosmetics.

Cheerful decoration

: You can decorate the changing unit in the baby's room with handles and

cute stickers

cute stickers to make it child-friendly.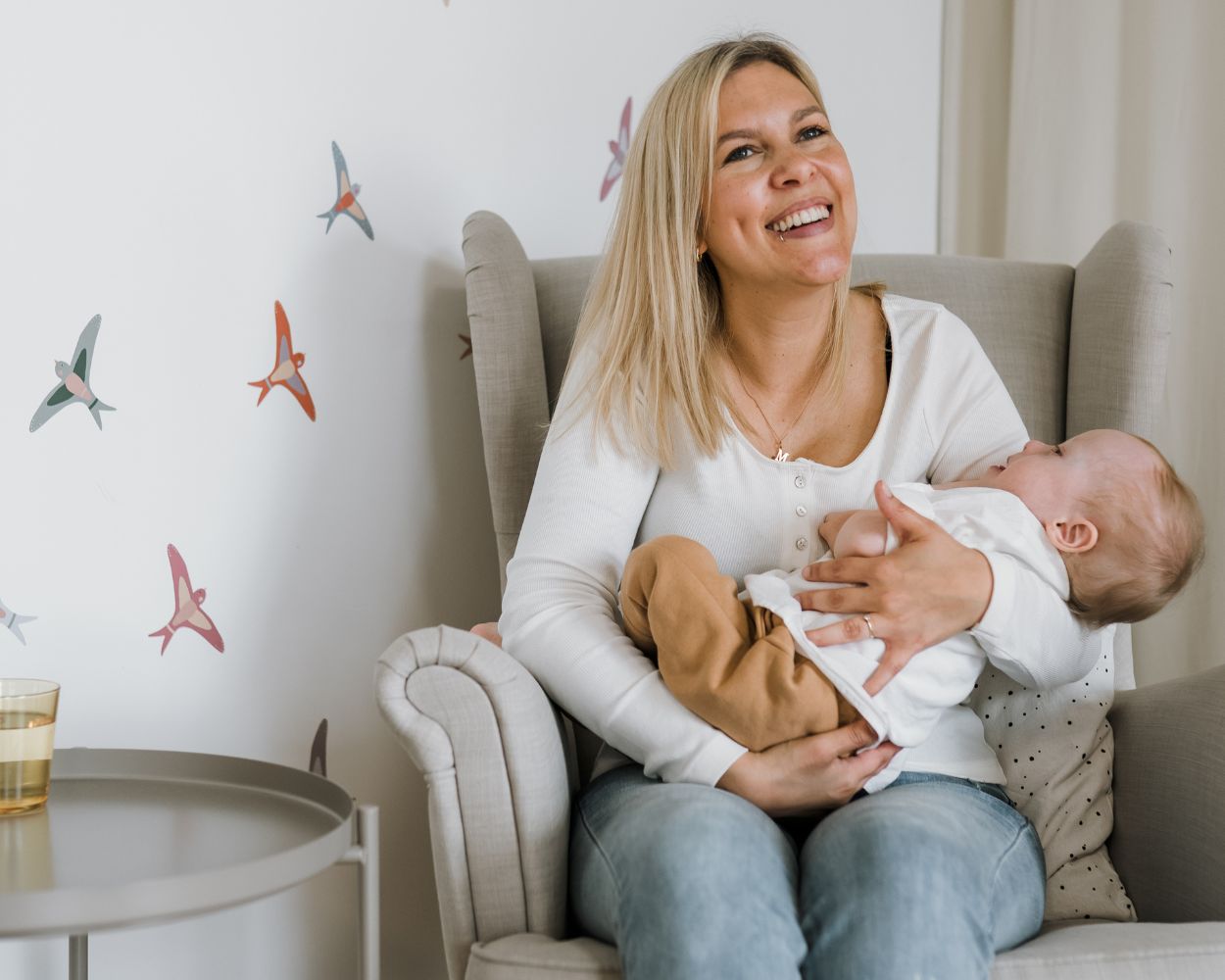 3. Breastfeeding and cuddling in the baby room
A comfortable armchair or a cosy sofa are ideal for cuddling with your baby or for breastfeeding. You can also sit comfortably when you accompany your baby to sleep.
Of course, you don't always have to breastfeed and cuddle in the baby's room. But a fixed place where you can retreat in peace promotes rituals and can have a calming effect on your baby.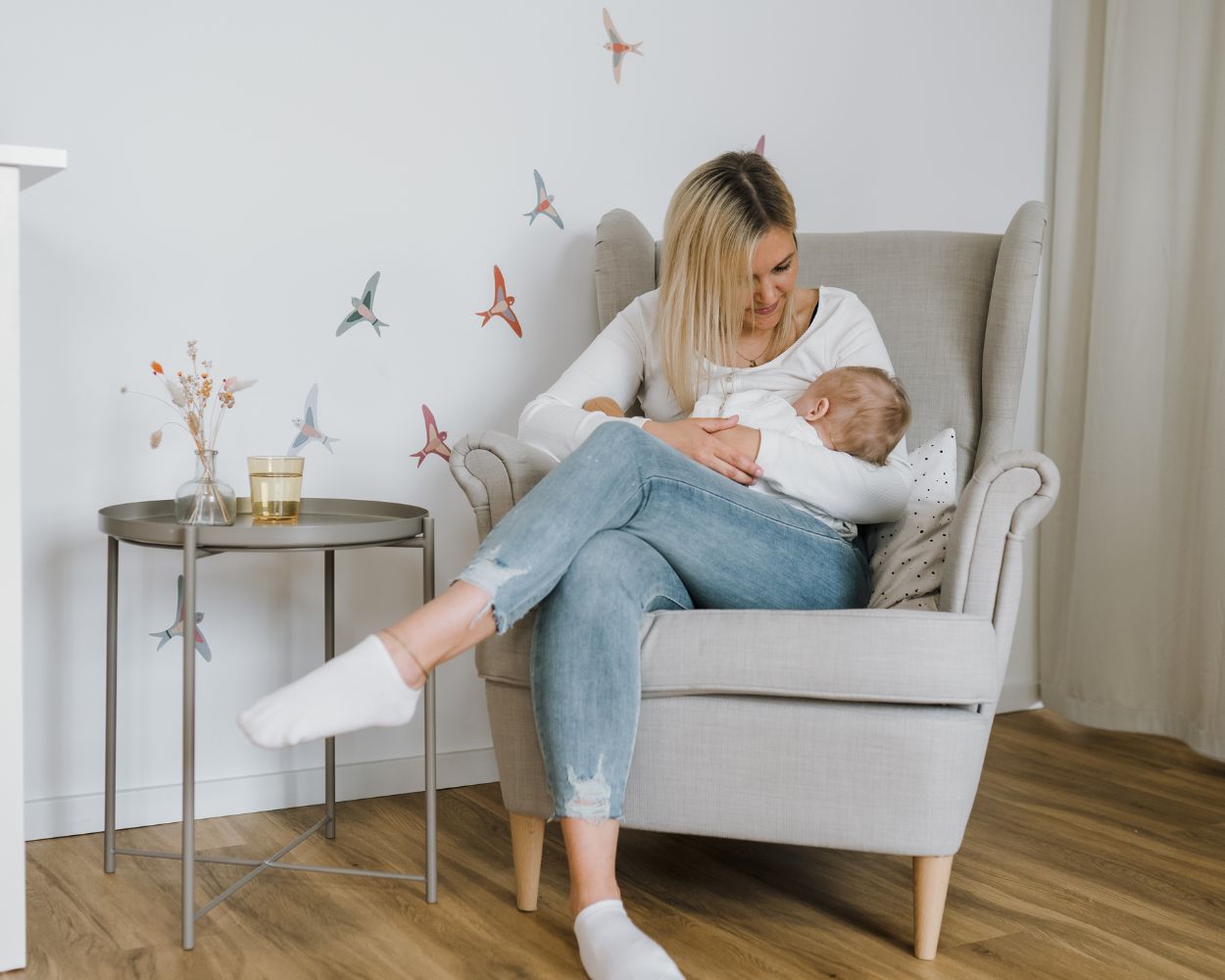 Checklist for the cuddle corner
Cosiness comes first: cuddling and breastfeeding (or bottle-feeding) will soon be part of your daily routines. Therefore, your breastfeeding area should be comfortable and inviting. You should feel comfortable sitting in it.
Sufficient space: Make sure that you and your baby have enough space in the breastfeeding chair. Even when your baby gets a little bigger. A side table also gives you the opportunity to put something down.
Quiet corner: Place your breastfeeding area in a quiet corner. With few distractions, your baby can relax best. And so can you, of course.
Non-sensitive material: When you are breastfeeding, you may occasionally spill something. It is therefore advisable to choose an armchair that is easy to clean. Non-sensitive textiles can be cleaned well with upholstery cleaner. Sensitive fabrics such as silk, on the other hand, are rather unsuitable in the baby room.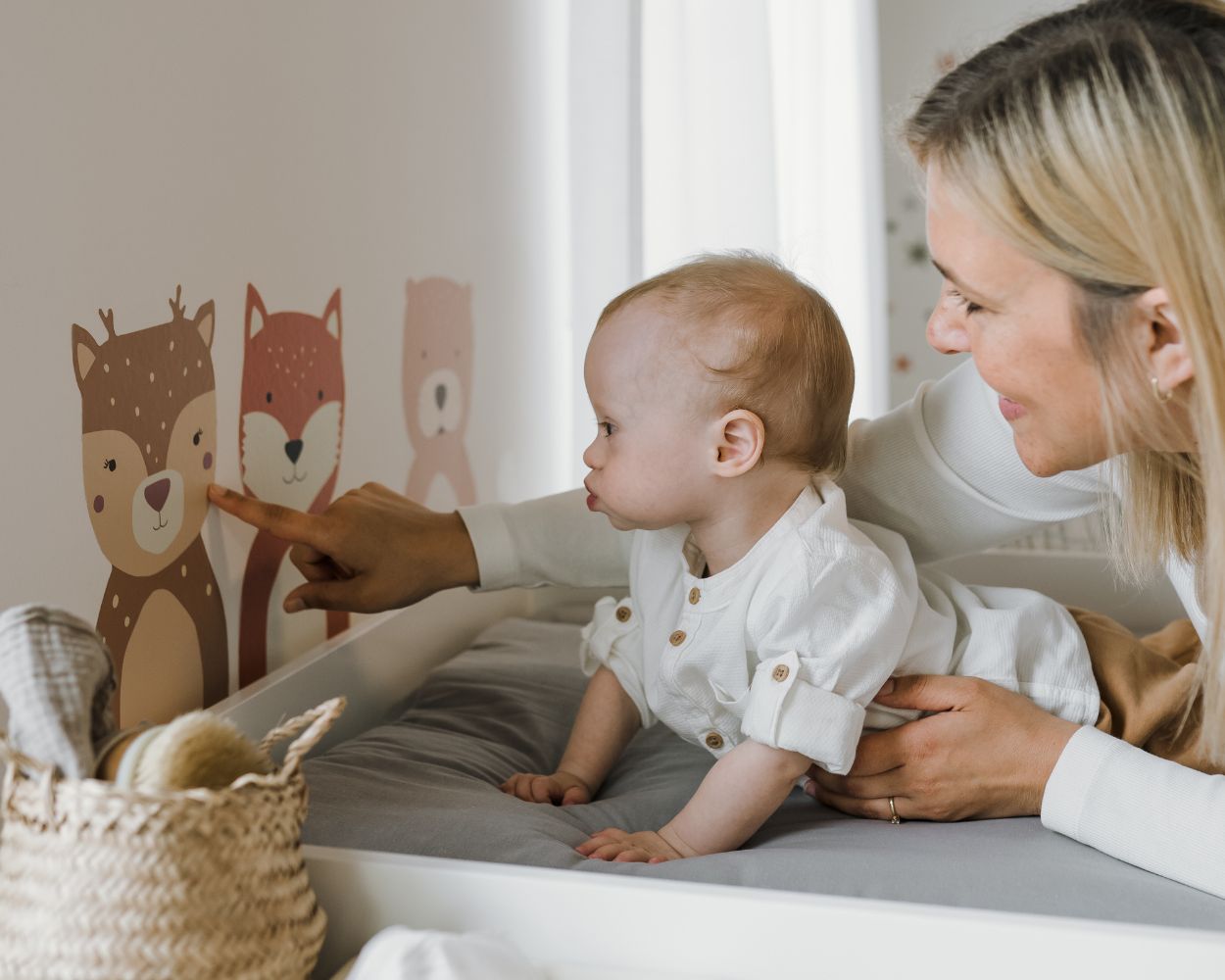 4. Storage & organisation in the baby room
Practical storage in the baby room is essential to keep organisation and have everything you need at hand quickly. Especially on the changing unit, but everything should ideally have its place in the rest of the room as well. Remember, the simpler the storage options, the more likely you are to use them regularly. So keep the room as minimalist as possible - less is often more!
Checklist for organisation in the baby room
Store small items well: Use baskets or boxes in different sizes for toys, nappies and clothes.
Organisation inthe drawer: Use drawer inserts with dividers. Your baby's clothes are so small that it is easy to lose track of them in a large drawer.
Closed storage space: In the beginning, your mini can't do anything by itself, but that will change quickly. And all objects that are kept open and within reach of your baby will become interesting. Therefore, you should also have closed storage space, for example in the form of a wardrobe. Keep in mind that this should also be attached to the wall for safety reasons.
Decorative storage space on the wall: Shelves on the wall save space on the floor and can be used to showcase beautiful things. Tip: Use wall foils to create cute shelves in your baby's room.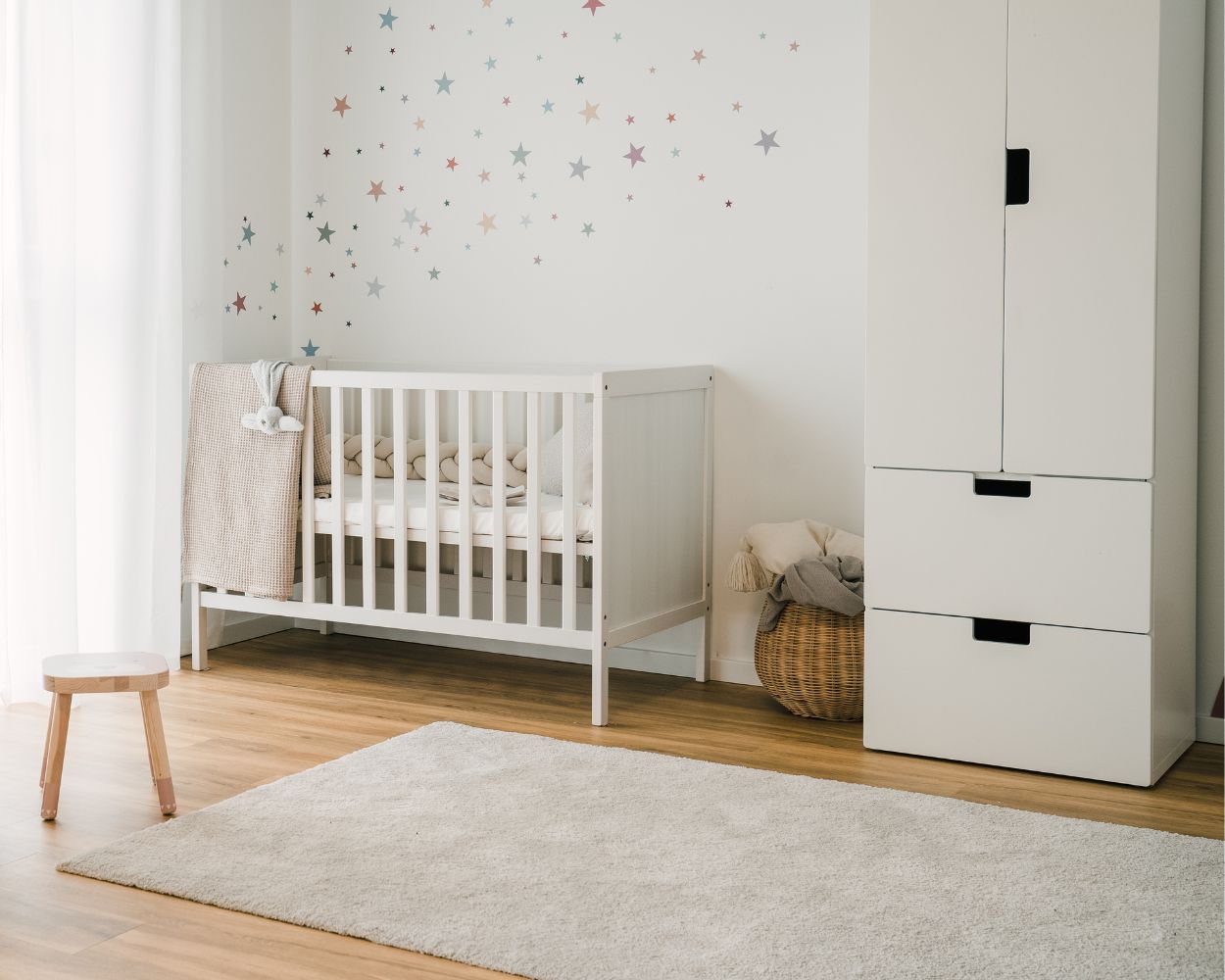 5. Carpet in the baby room
Carpets create a warm atmosphere in the room and ensure that your baby can also play barefoot on the floor. It is best to choose models without harmful substances made of natural materials such as cotton or wool. A high-quality natural rug creates a cosy atmosphere in the baby's room, promotes your child's health and stimulates his creativity. So invest a little more money in a high-quality model - it's worth it!
Checklist for your rug in the baby room
Natural materials: These are not only more environmentally friendly, but also healthier for your child. Synthetic carpets can contain harmful substances and cause allergic reactions.
Easy to clean: Make sure that the carpet is made of durable materials that are easy to clean.
Safety: When buying a carpet, make sure that it is non-slip and does not pose a tripping hazard. Alternatively, you can place an anti-slip mat under the carpet. This is especially important later on in the children's room, where the little ones often run wild.
Child-friendly motifs: Choose a carpet with a child-friendly motif or pattern. This will turn your child's room into a place full of fantasy and adventure.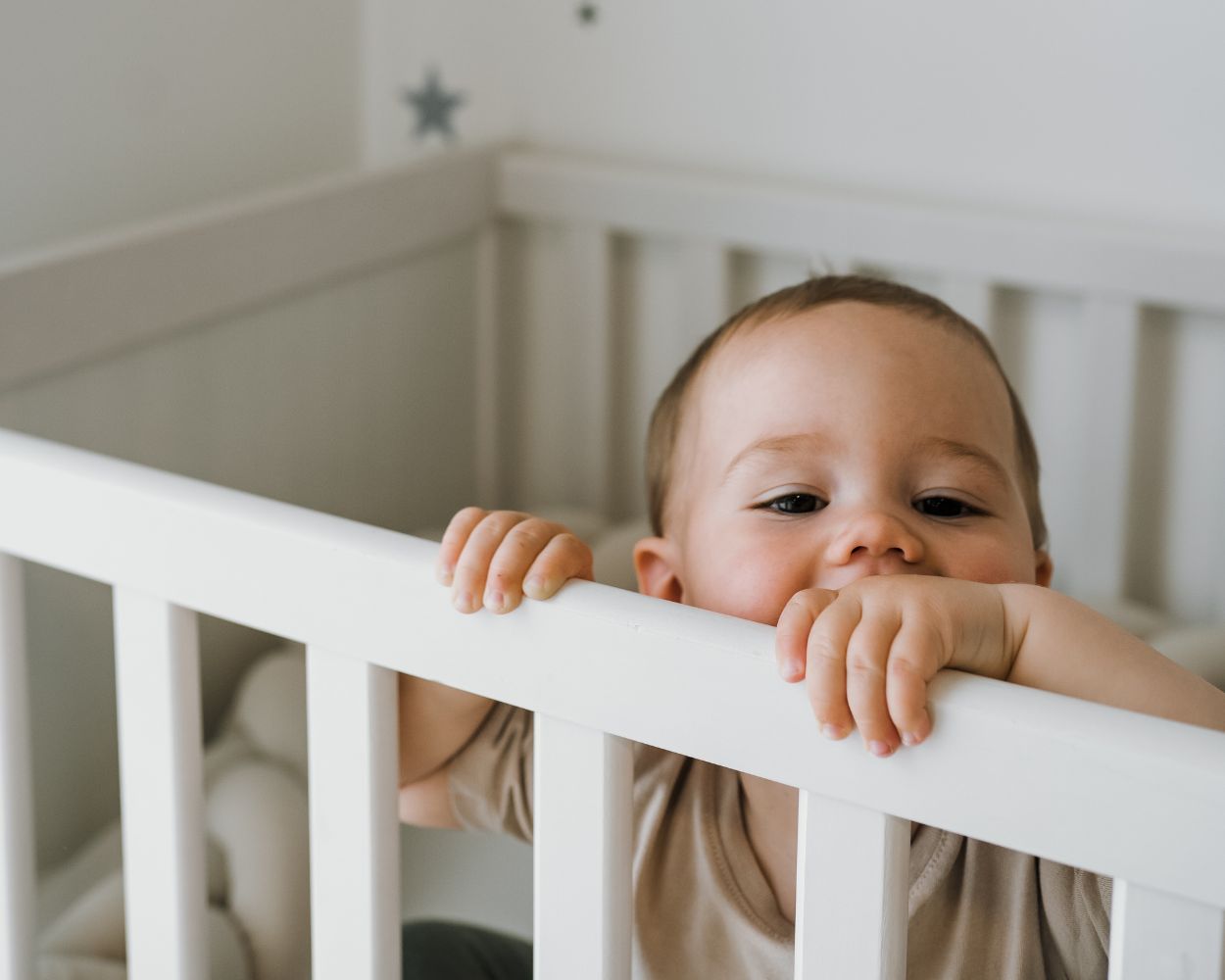 6. Lighting in the baby room
The right light in the baby's room is important for the well-being of your child. It should not be too bright, but also not too dark. A dimmable lamp or indirect lighting are ideal for this. All in all, the right light makes a significant contribution to your baby's well-being. With well thought-out lighting, you can create a cosy atmosphere in the room and support your child's healthy sleep and daily rhythm.
Checklist for light in the baby's room
Avoid dangers: Make sure that the lamps are securely and stably mounted and cannot pose a danger.
Indirect light: You should also make sure that the light does not shine directly into your baby's eyes. A good option is to install the light on the ceiling and cover it with a lampshade or a cover. Night lights can also create a pleasant atmosphere and help to soothe your baby to sleep.
Cosy colour temperature: However, make sure that the light in the baby's room is not only functional but also cosy. A warm yellow or orange light creates a pleasant atmosphere for relaxing and falling asleep. If you decide to use LED lamps, make sure they have a warm white colour temperature. This is particularly cosy and creates a comfortable ambience in your child's room.
Save energy: Another important aspect when choosing the right light for your baby's room is energy efficiency. Make sure you choose energy-efficient light sources - this way you not only save money but also do something good for our environment.
Strengthening rhythm with light: There are also special lamps for the baby room that have different colours and brightnesses and can thus support the natural day-night rhythm. These so-called "light alarm clocks" simulate a sunrise or sunset and help your baby to get used to a regular sleep rhythm.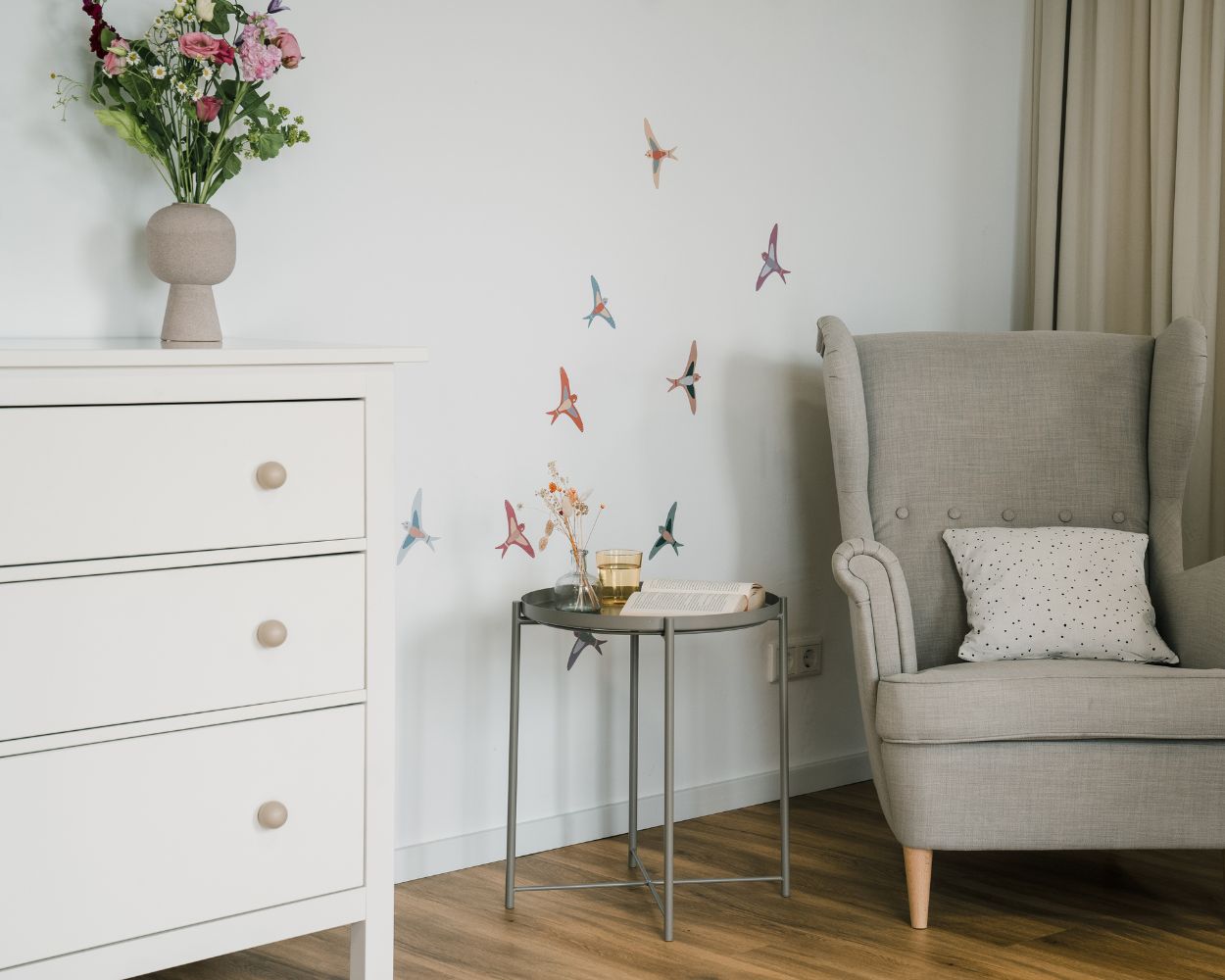 7. Decoration & colours in the baby room
In addition to functional aspects, the design of the nursery should not be neglected. With a harmonious choice of colours and cute details, you can create a cosy retreat for your baby. And decorating is, of course, the most fun.
Checklist for decoration and colours in the baby's room
Colour selection: Choose a calming colour palette for your baby's room, such as pastel shades or soft natural tones. Avoid bright and over-stimulating colours as they may irritate your baby. Remember that certain colours can have a calming effect, while others can be more energetic. Take this into account when making your choice.
Wall design Choose a neutral colour or a subtle pattern as a background. Ideally, use washable paints or wallpaper that is easy to clean if your baby smears something on the wall. You can also include wall tattoos to spice up your room.
Window decorations: Choose translucent curtains or blinds to let in daylight and create a pleasant atmosphere. Avoid long curtains with hanging cords or ribbons, as they could be a potential danger to your baby.
Mobiles: Hang a mobile above your baby's cot to provide visual stimulation. However, this should hang out of your baby's reach.
Safety: Make sure all decorations are secure and well fastened to prevent them from falling or tipping over. Remove small objects or decorations that could be a choking hazard for your baby. Check the safety of decorations regularly.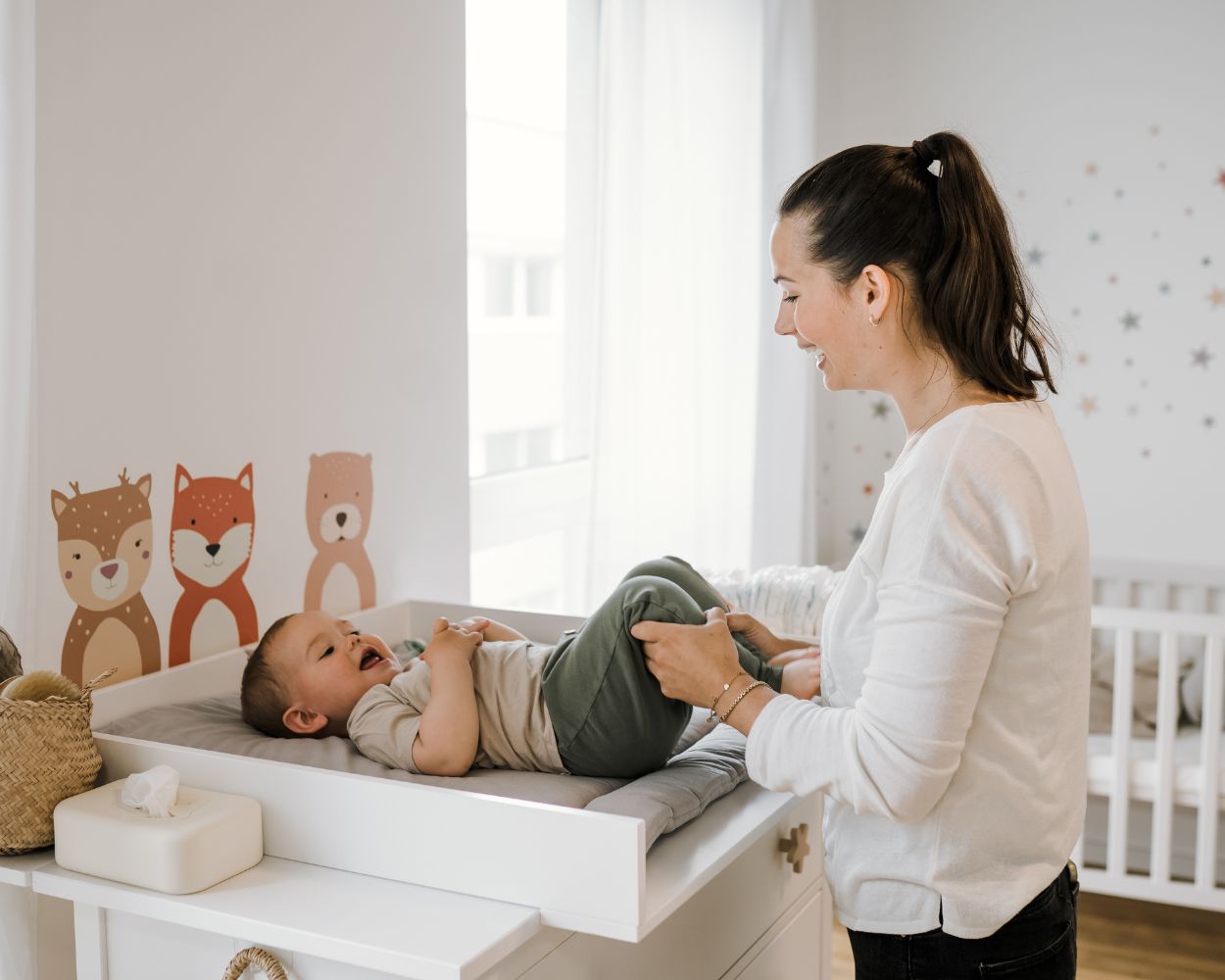 8. Music and sounds in the baby room
Music and sounds can have a calming effect on your baby. A soft melody or the sound of a waterfall can help your child to relax more quickly and fall asleep better.
Checklist for music and sounds in the baby's room
Choose the right music: There is special music for babies to fall asleep to that contains different natural sounds such as birds chirping or the sound of the sea. Just try it out!
Thedose makes the poison: Make sure that the music is not too loud and that there is no continuous exposure to sound. Too much noise can damage your baby's hearing and cause unnecessary stress.
Safety of the equipment: In addition, the source of the music should be safely installed - ideally out of your baby's reach. A Toniebox also makes sense. The sound system is specially designed for children and will accompany you with the funny figures throughout your entire childhood. You can personalise your Toniebox with the matching protective foils.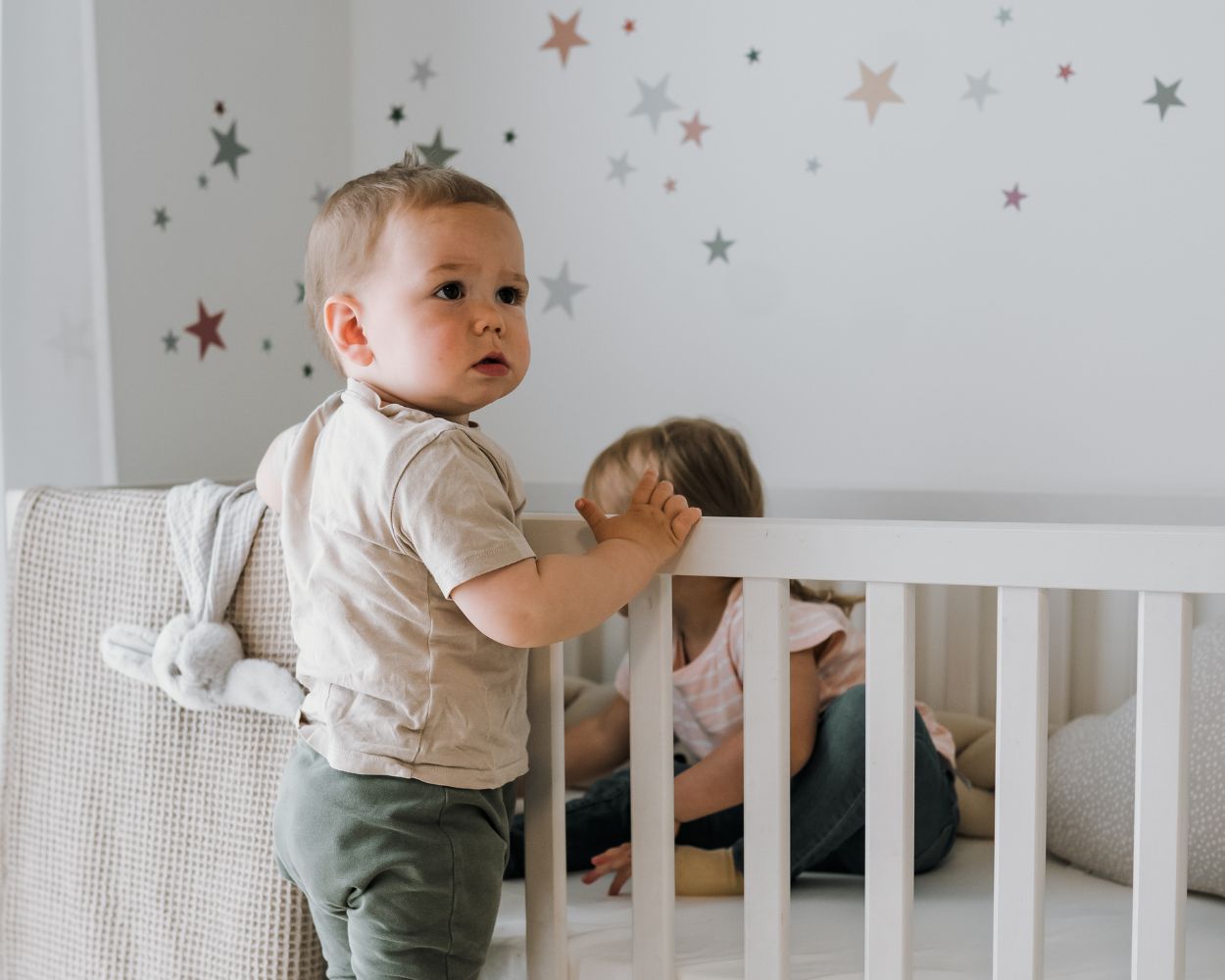 9. Safety in the baby's room: what you should look out for
With a baby in the house comes many responsibilities and tasks. While it's important that your baby has a cosy and safe place to sleep, you also need to think about safety when setting up a baby's room. With the help of a checklist, you can make sure your baby is well taken care of and safe in their room.
Checklist for safety in the baby's room
Reduce the risk of injury: Start by choosing furniture with rounded edges to minimise the risk of injury.
Secure sockets: Also remove any objects that your little one could reach and make sure that cables and plugs are protected by safety clips.
Stability of furniture: Make sure that the furniture is stable and cannot easily tip over - especially wardrobes and chests of drawers. These should ideally be fixed to the wall.
Curtain without risk: You also have to be careful when choosing window blinds. Avoid curtains or blinds with long ribbons or strings, as these can be a strangulation hazard.
Secure toys and decorations: To avoid strangulation risks, you should also avoid hanging toys or other objects on the wall near the baby's bed. You should also avoid too many and too large pillows, blankets or cuddly toys in the baby's bed.
In case of emergency: For further safety, you can install smoke detectors and have an emergency plan ready for all family members. You should also check that the home has a fire extinguisher and that it is easily accessible. A first aid plan for babies is also useful.
Check regularly: Check all furniture and appliances regularly. Make sure everything is stable, remove unsafe items and test smoke alarms. Then you are well prepared for a safe baby room!