Accessories for the IKEA highchair
The IKEA highchair ANTILOP is not only unbeatably cheap, but also quite practical. Especially if you upgrade the highchair for children with clever ideas from Limmaland.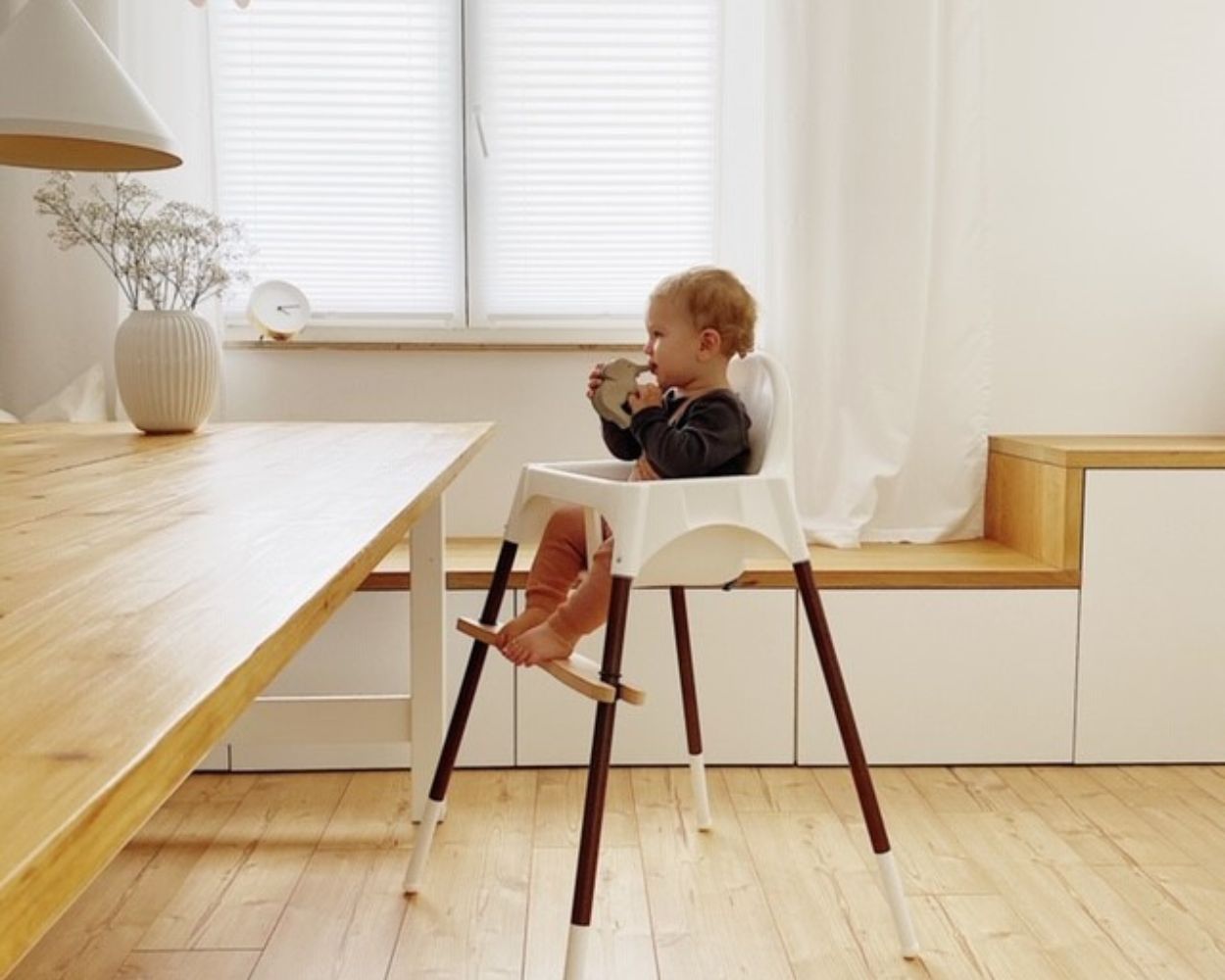 Very high quality and it was super easy to attach. Our daughter now sits much more calmly and can concentrate better on eating.
⭐⭐⭐⭐⭐ Eva via Reviews

Image Source: Instagram @etwasleben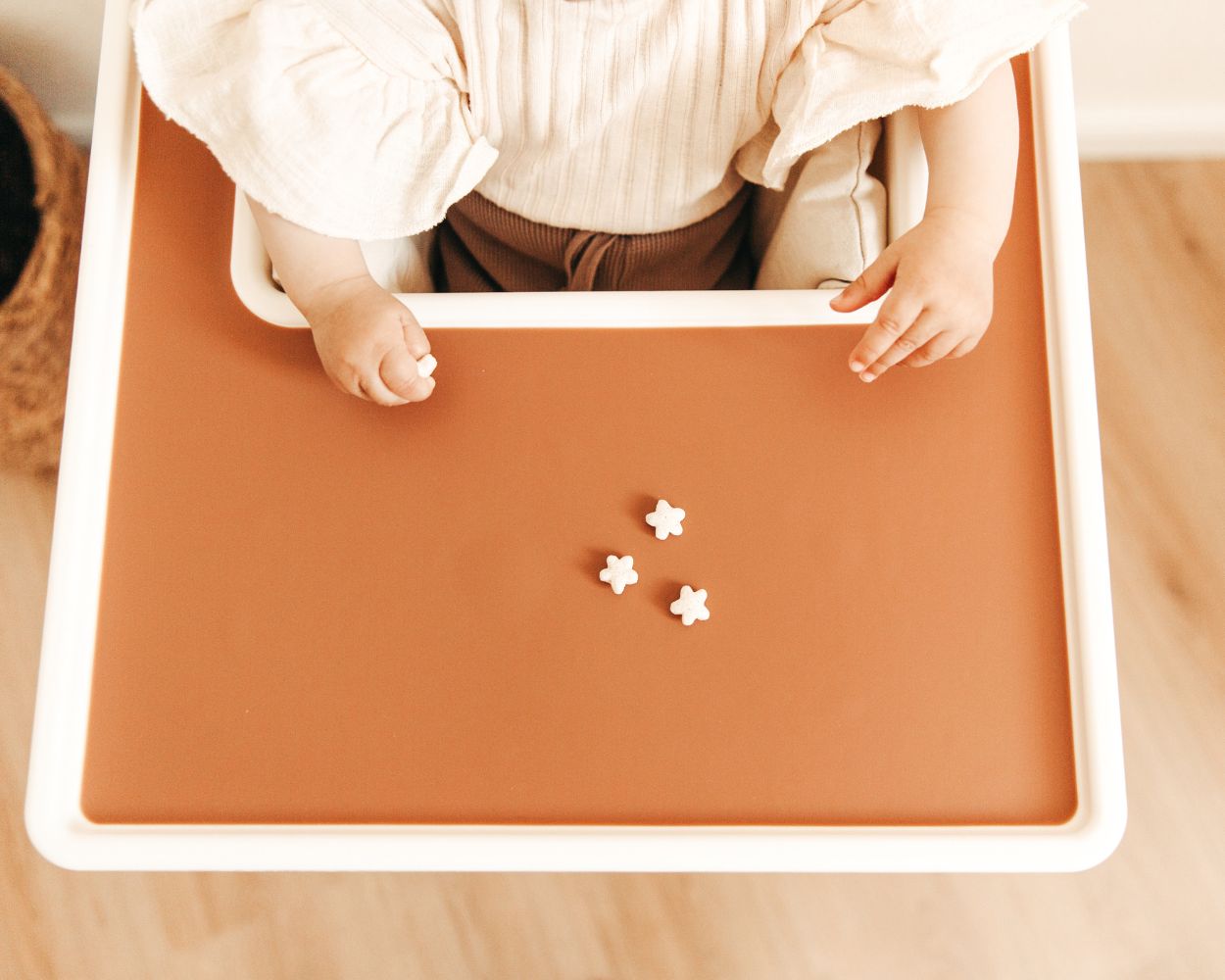 Beautiful silicone mat, easy to clean, space-saving foldable, pretty colour. Makes you want to have several colours to change.
⭐⭐⭐⭐⭐ Alexandra via Reviews
Image source: Instagram @anninasimental
Why is the IKEA highchair so popular?
The IKEA ANTILOP highchair is very easy to clean, space-saving and the price-performance ratio is convincing.
Practical: You can assemble the IKEA ANTILOP highchair in a flash and clean it easily and thoroughly.
Flexible: You can easily transport the IKEA ANTILOP highchair and store it in a space-saving way. You can use highchair with or without a tray and, if necessary, insert a suitable inflatable cushion insert for babies. Plus: several seats can be stacked.
Good value for money: The low-priced IKEA ANTILOP highchair gets top marks in tests in the categories safety, harmful substances and durability.
We are convinced by the IKEA highchair. That's probably why the ANTILOP highchair can be found in almost every family household. What's more, the small disadvantages can be easily solved with a little creativity. Just have a look around and discover our useful IKEA ANTILOP accessories!
How does my baby sit properly in the IKEA high chair?
Many parents have changed their baby's high chair positioning and noticed a great improvement when eating. An ideal sitting position on the highchair is characterised by a 90-degree angle at the hips, knees and ankles. With the ANTILOP highchair accessories, you can modify your child's baby chair to promote great stability and seating dynamics.
Make sure that your child does not lean to one side. If it does, you should use a seat reducer. You can buy one that fits the IKEA highchair at Möbelschweden. Alternatively, you can fold a towel or something similar.
Remember that your child should be able to sit on the floor on its own before highchair. Your baby does not need to be able to sit in this position for long. A little extra support can help him feel comfortable.
Make sure your highchair has a footrest that reaches your baby's feet. The best is a height-adjustable footrest, which you can flexibly adjust to your child's size.
The tray of the IKEA high chair should be at the right height for your baby to reach food easily. If your baby is too small to reach the tray, you can simply place a small pillow or folded towel under your baby. This way he sits higher in the IKEA highchair and can reach the tray more easily.
Frequently asked questions about the IKEA ANTILOP highchair
How much does the IKEA ANTILOP high chair cost?
If the baby is to sit at the table, mum and dad have to dig deep into their pockets. Models costing up to 300 euros are not uncommon. Only one stands out from the crowd: the IKEA ANTILOP highchair for children. At IKEA you can get the highchair for 15 euros without the tray or for only 19.99 euros including the tray. Accessories like the seat reducer are also cheap. You can also order the cheap IKEA highchair online .
What age is the highchair suitable for?
The high seat is designed for children who can sit upright without help. The IKEA highchair can be used up to an age of 3 years or a weight of max. 15 kg.
What are the dimensions of the IKEA ANTILOP high chair?
The popular baby chair has the following dimensions when assembled:
Width: 56 cm

Depth: 59 cm

Height: 90 cm

Seat width: 25 cm

Seat depth: 22 cm

Seat height: 54 cm


How is the IKEA highchair assembled?
The assembly is very simple and the ANTILOP children's chair is assembled without tools. You simply insert the legs into the indentations in the seat shell. A clicking sound is heard when the leg is correctly and firmly in place. The IKEA ANTILOP assembly is finished!
Is the IKEA highchair safe?
In July 2018, Stiftung Warentest tested children's high chairs. According to the test report, the IKEA ANTILOP highchair scored top marks in the categories of safety, harmful substances and durability.

IKEA writes on its own website: "We always follow the strictest guidelines in the respective region and ensure that ANTILOP meets them all through regular quality and safety tests. If a new law or standard is introduced, we test the chair again. All in all, ANTILOP proves that it is absolutely right to think differently when designing furniture." According to IKEA, ANTILOP meets the requirements according to EN 14988:2017 of the European Committee for Standardisation (CEN).
Why should I use the IKEA ANTILOP with a safety belt?
Older children like to stand up in their highchair. But this can be dangerous, because children in the IKEA ANTILOP highchair do not have the possibility to get down easily like in a stair high chair. All high chairs with a similar design have this problem, including other conventional folding high chairs. It is therefore especially important that you always strap your child into the chair with the safety belt. Older children too! When children become more mobile and can do more on their own, our confidence in their abilities also grows. This is generally a good thing. With a stair high chair, you might eventually remove the seat belt so that your child can climb into it themselves. However, you should not do that with this model. Make sure you use the IKEA ANTILOP safety harness!
Are you still unsure? Then try out highchair in a child-friendly restaurant. These chairs are often used there. They are easy to clean and robust.