Build your own IKEA play shop
Do your children always want to help out around the house? Whether cooking, doing the laundry, vacuuming or putting the shopping away. A great highlight is the play shop for children. Our design decal for the play shop makes the children's room and play fun more colourful!
The most frequently asked questions about the play shop
Does IKEA have a shop?
Our favourite Swedish store doesn't have a toy shop shop, but we at Limmaland have some great ideas for your DIY IKEA play shop shop. You can use existing IKEA furniture and boxes to create your own DIY play shop. Our high quality design decal makes it perfect for the kids' room!
How can I build an IKEA play shop myself?
You want to build your own play shop for your child? Great idea! And with Limmaland it's even easy to do! Do you still remember the play shop from your childhood? The funny miniature brand products, fruit and vegetables, play money and your own cash register were certainly part of your child's play shop. The play shop is one of the most traditional gifts for children. Even today, girls and boys like to play with shops and slip into different roles. The beauty of a homemade play shop is that it can grow with you every year. There are also endless possibilities for building and crafting accessories for the play shop.
Many parents ask themselves whether they really want to put up a play shop. Most toy shop are quite bulky and take up a lot of space in the often small children's room. That's why you're very well served with our wall foils - because they don't take up any space and you can flexibly set up your IKEA play shop with your existing furniture and boxes. We like to combine our small market hall with the following accessories:
IKEA KNAGGLIG boxes as fruit and vegetable crates

IKEA BEKVÄM shelf for small spices and tins

IKEA LACK TV bench as play shop cash register and sales counter
Of course, you can also use many other pieces of furniture to design your creative IKEA play shop. With our wall decal you can combine all kinds of things.
What are the advantages of play shop wall decal from Limmaland?
Space-saving: You simply stick the play shop LILLE BUD on the wall. You don't need an extra piece of furniture.

Flexible: With the wooden boxes, the play shop can be set up in a flash. After the game, you can pack the food into the boxes and store them in stacks.

Individualised: You can customise play shop LILLE BUD with your child's name. Choose from our gorgeous trendy colours now!

Expandable: Playing with the play shop never gets boring! New accessories mean that toy shop is always up to date.
What is included in decal set from Limmaland?
Building a play shop yourself from IKEA furniture from the great Swede is quick and easy. Most shops are general shops. And of course we also have a traditional market stall in our range - the beautiful play shop LILLE BUD. With a few simple steps you can build a unique play shop using IKEA furniture and a Limmaland decal. Of course you can also use other furniture. It doesn't have to be IKEA - many other furniture stores have furniture that also fits well. So go ahead and build your own play shop! With our design foil set, you get a whole range of stickers for your DIY play shop:
Awning with poles for the toy shop

Sign for the play shop - with children's names on request

Offer board

Lampshade

Pennant bunting for the play shop
Is there a play shop checkout conveyor for junior cashiers?
Of course, the children's play shop should be just like a real supermarket. And that also applies to the checkout conveyor belt! After all, in most shops the goods are placed on the conveyor belt and the barcode is swiped across the scanner. Payment by credit card included, of course! Maximum fun is guaranteed at IKEA play shop with checkout conveyor!
BTW: Children love to be someone else every now and then. Role-playing and learning games are important training and promote various social skills. Building a beautiful IKEA play shop yourself to stimulate your own children's imagination is more fun with this background knowledge, isn't it?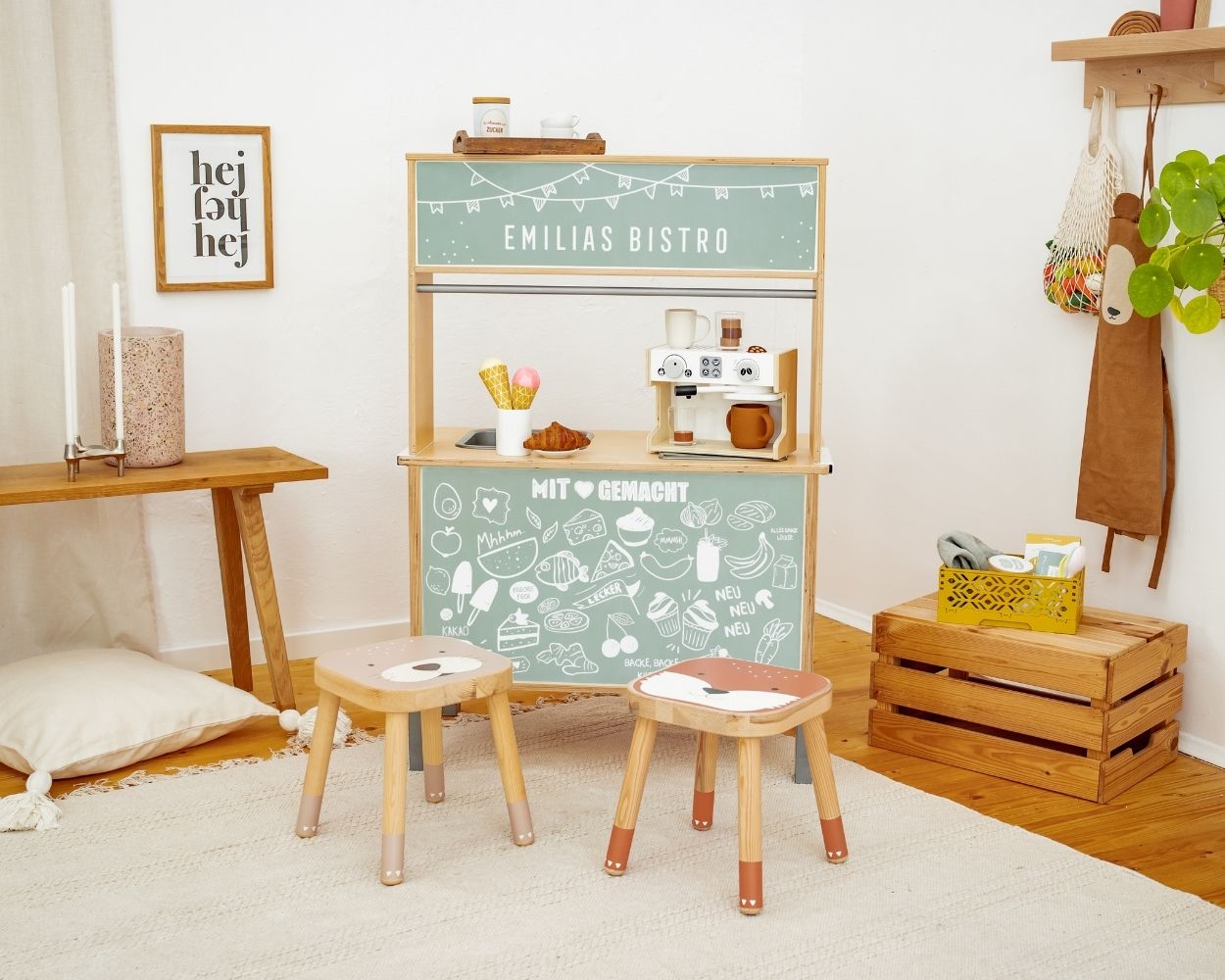 Can I combine the IKEA play shop with the play kitchen?
With a lot of imagination and fantasy, children are always thinking up new ways to play and give free rein to their ideas. They usually take adults as role models and therefore always want to help out, cook or wash. But usually you can't satisfy them with simple tasks, so they quickly turn to play kitchens with lots of accessories. This also quickly develops role and group games, because children love to be someone else every now and then. With our custom-fit adhesive foils, you can now combine the fun of play kitchen and play shop. The back side is transformed into a play shop, a restaurant or a small counter in no time! It's also a great idea for your DIY IKEA play shop.
Our design decal are exactly adapted to the back side of the DUKTIG play kitchen and can be stuck on in no time at all. This way, the small kitchen doesn't always have to stand against the wall. Instead, the decal transforms it into a great bistro counter and the delicious preparations can also be served directly to the guests. There is something for every taste - the adhesive foils for children's kitchens are available to match any children's room decoration. Of course, the chefs can also give their shops or restaurants a name. The adhesive foils for the IKEA play shop look incredibly great with individual design - and the little ones will be wide-eyed when they see their own name in their little adult world.
How can I make my own accessories for the IKEA play shop?
Of course, the fun at toy shop only starts with the right accessories! After all, toy shop needs to be filled with all kinds of goods. At your favourite Swedish shop, there are some textile foodstuffs on offer. In many small shops you can also buy beautiful wooden shop accessories. At Limmaland, we always like things to be simple and practical - that's why we have some great ideas for a variety of shop accessories! With our sticker set LÄCKER you can easily decorate small tins and packages laminate. Maybe you have a few small jam jars stored away, an egg carton left over or small boxes from the craft shop. You can simply decorate them with our stickers laminate and offer them at IKEA play shop.
Is there a craft kit for the IKEA shop?
We have also designed a great downloadable set for creative craft fans. You can simply print out our templates for mini milk cartons, biscuit boxes, labels and much more and make them yourself. In combination with our numerous ideas for handmade food, your assortment at toy shop will be perfect!
Have fun with your IKEA shop!