How to design your play kitchen in just 3 steps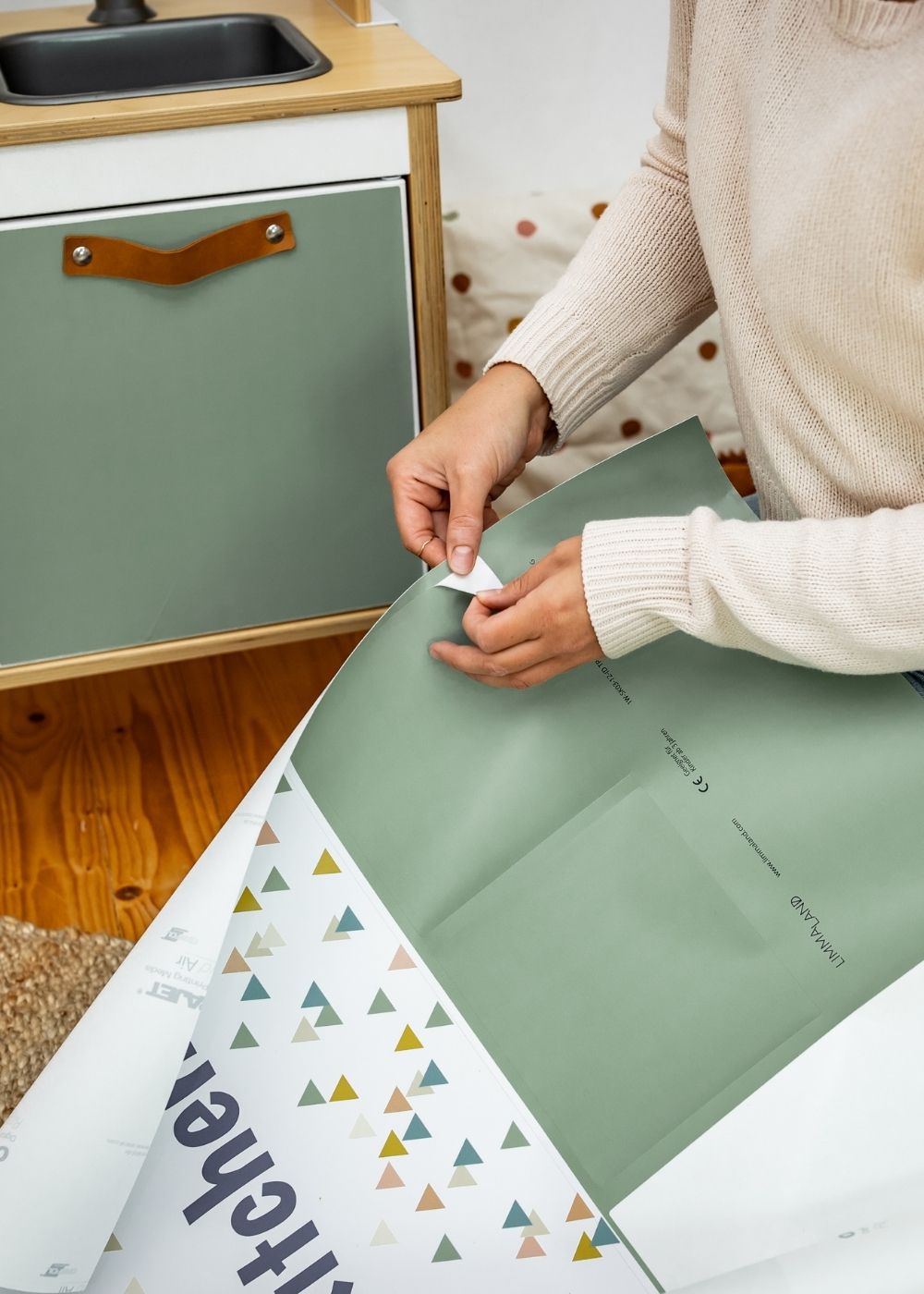 1. It's easy to apply a custom-fit design film
Apply the film to the fronts of your play kitchen and the chipboard from the DIY store. Tip: Remove the foil from the backing paper step by step - that's the easiest way!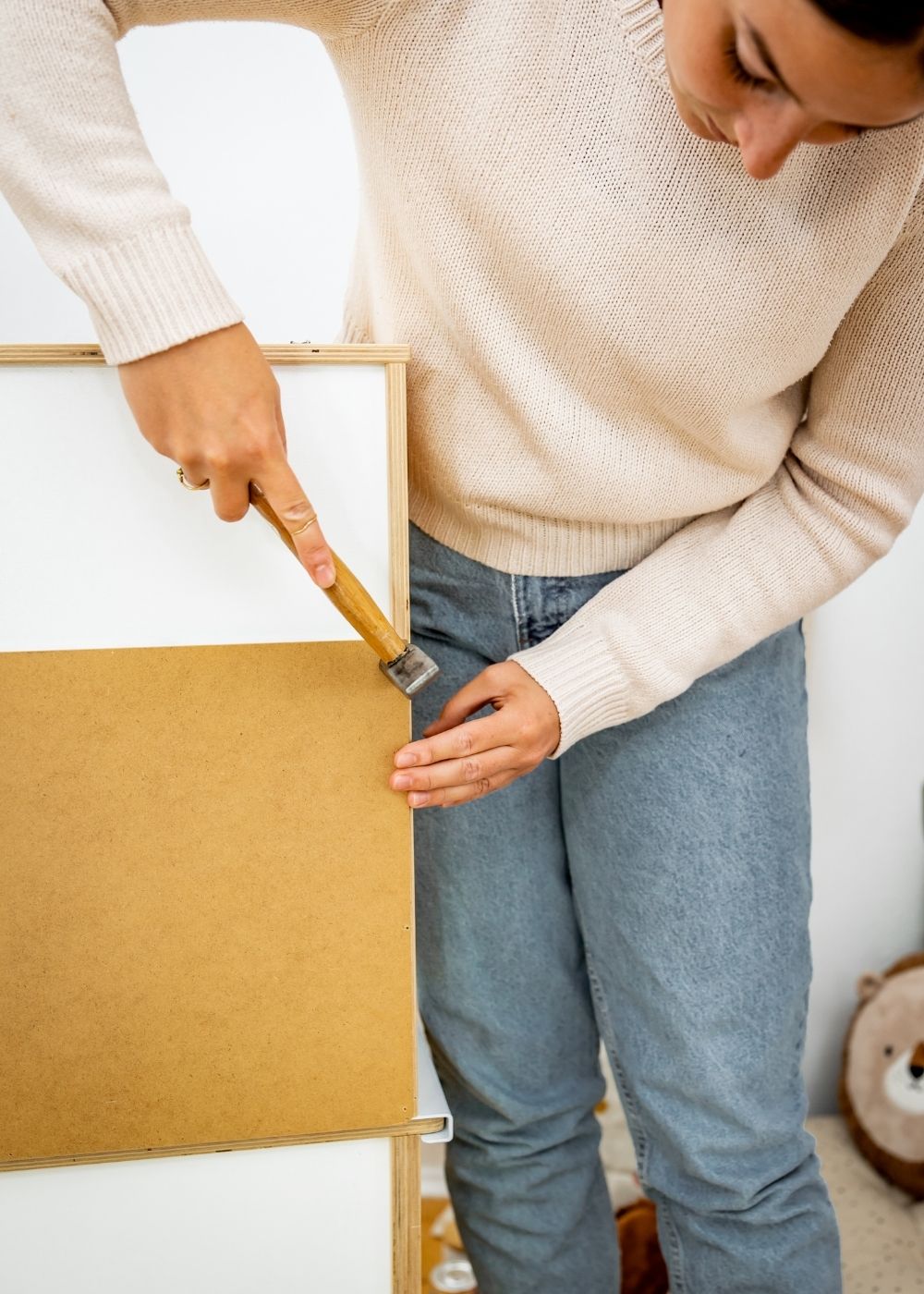 2. Backsplash attach to your play kitchen
Attach the backsplash to the back side of your play kitchen. It only takes 2 minutes with a hammer and a few nails!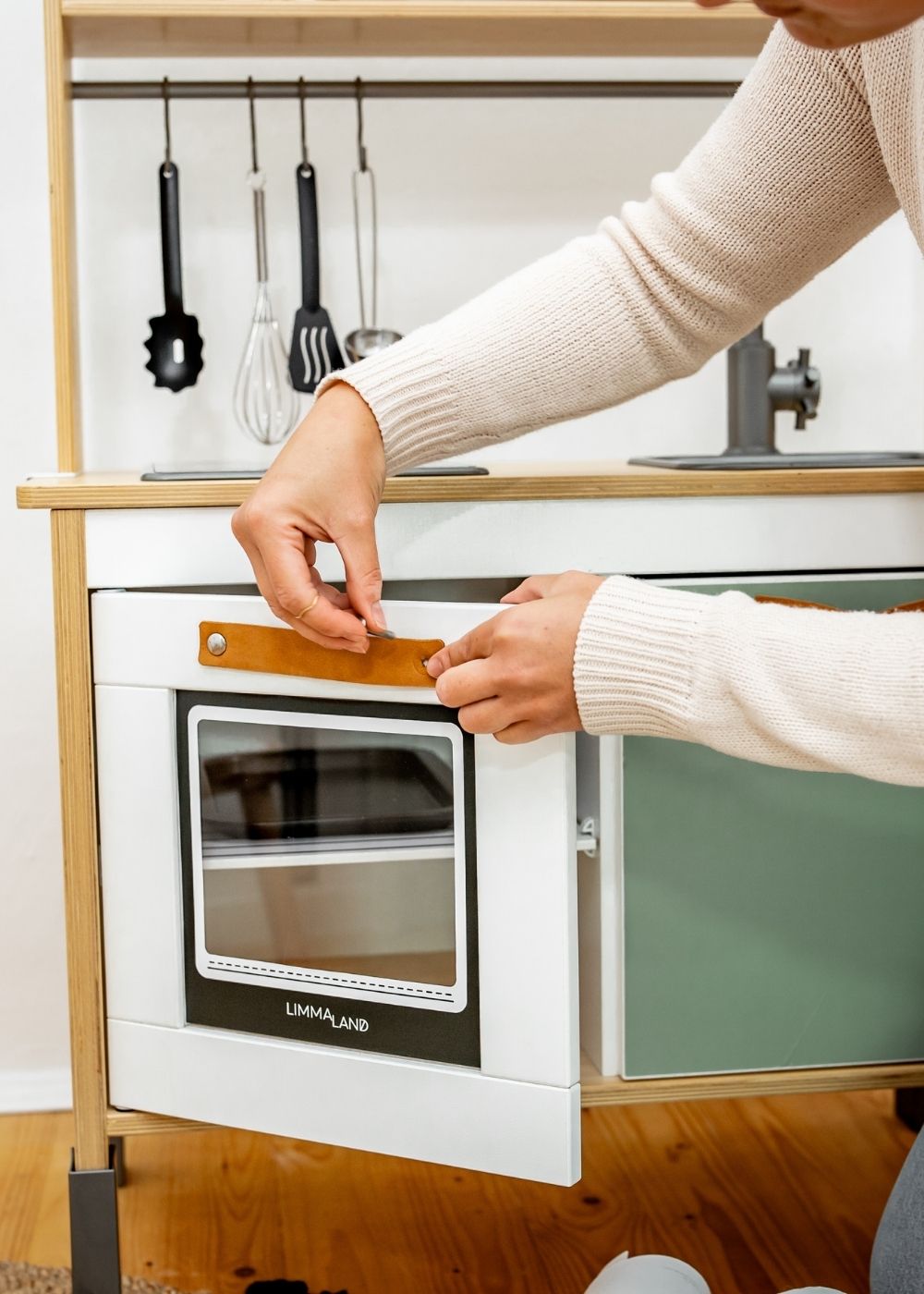 3. Play kitchen customise with details
Our leather handles makes the new style of your DUKTIG perfect. Your individual children's kitchen is ready!
Info on play kitchen
For generations, play kitchen has been one of the most popular play worlds of all. Because children love to cook and emulate adults. Would you like to buy a play kitchen and are looking for information to help you decide? We have compiled helpful tips for buying your play kitchen.
Tip: Buy used and pimp!
You can buy second-hand children's kitchens on classifieds portals such as eBay. Second-hand wooden play kitchens are often still in good condition and can be improved with a few simple steps. With a second-hand play kitchen you save money and do something good for the environment. And upcycling the kitchen can also be a nice project for you.
IKEA DUKTIG play kitchen
The IKEA DUKTIG is the most popular play kitchen. Here at Limmaland, you'll get the best ideas for spicing things up. And we have all the information you need about IKEA play kitchen.
Ideas for the DUKTIG play kitchen
There are many ideas on how to pimp your IKEA play kitchen. You can start with matching accessories made of wood, felt or paper and surprise your child with handmade or bought food. You can also simply redesign the kitchen itself. Beautiful handles and knobs for the play kitchen make a big difference. Children also have a lot of fun with a play kitchen with lights or a kitchen with sounds. However, with the latter you should bear in mind that you have to listen to them. Paint in the play kitchen also makes it unique. You can use a good varnish for your play kitchen made of wood. Or you can use decal for the play kitchen. This is particularly easy. At Limmaland, you can get precisely fitting foils for some models of play kitchen from the furniture supplier. And with the adhesive foils as yard goods you can also pimp kitchens from other manufacturers or your old play kitchen. Tip: You can even use the adhesive foils to convert back side from play kitchen to play shop.
We in Limmaland are big fans of the IKEA play kitchen. However, we think that the DUKTIG play kitchen would look good with some nice colours. After all, colours encourage creative play! We are not alone in this opinion. There are countless ways to pimp the IKEA play kitchen on the internet. However, what we find on the internet requires a lot of work. We think it can be done much easier. With our furniture foils, you can embellish the IKEA play kitchen DUKTIG and don't have to resort to brushes and paint. Parents like our Scandinavian design and are thrilled with the ease of application.
An individual look - even for the old IKEA children's kitchen!
It is not unusual for the IKEA DUKTIG play kitchen to be in the children's room for 2 to 4 years and to be played with almost every day. That's why many parents pimp the DUKTIG with our foils as a surprise and redesign the old IKEA play kitchen. The new look for the probably most popular piece of play furniture in the children's room thus experiences a new blossom. Embellishing the IKEA play kitchen with decal is possible in just a few minutes. When it comes to the adhesive films for the IKEA DUKTIG play kitchen, it is important to us that the materials are of a very high quality.
Foils suitable for children without dangerous softeners
Ecological printing
Easy to stick on without bubbles
Removable again
With love from Cologne
Clever accessories for your DUKTIG play kitchen
Children's kitchens are one of the most popular toys and can be found in almost every child's room or living area from the age of three at the latest. On the internet, however, we can also find lots of great accessories for children's kitchens that are especially often made from IKEA furniture and more. These are usually imaginatively designed and lovingly crafted. Unfortunately, in order to realise such ideas, you need not only craftsmanship, but above all time. To save you time and take away the fear of crafting, we at Limmaland have developed adhesive foils that help you to quickly build accessories for the IKEA play kitchen.
Expand IKEA play kitchen
You can easily expand the IKEA DUKTIG with smart ideas and make the play experience even more exciting for your child. With our creative accessories for the IKEA play kitchen you can get even more out of the DUKTIG. There are also lots of IKEA DUKTIG accessories available at IKEA. You can expand the IKEA play kitchen with cutlery, cooking pots and more. Or you can use our handicraft set and simply make the DUKTIG accessories yourself!

Play kitchen Accessories with foil sets
Simply design your own personal accessories for the play kitchen. From the fridge to the washing machine, you can get all the sticker sets you need from us to make your DUKTIG play kitchen perfect. It's up to you which pieces of furniture you put the stickers on. Many mothers have told us that they can easily dispose of the IKEA DUKTIG kitchen after their child has finished playing. After all, it is possible to return the play kitchen to its original state later. Simply heat the foil with a hairdryer and peel it off piece by piece - DONE!
Play kitchen accessories easy to make yourself
Building your own play kitchen accessories is really easy. We use high-grade decal, which enables bubble-free application. This cannot be compared with conventional films from the craft shop or DIY shop. That's a promise! You don't need to be a skilled craftsman or do-it-yourselfer to use Limmaland play solutions.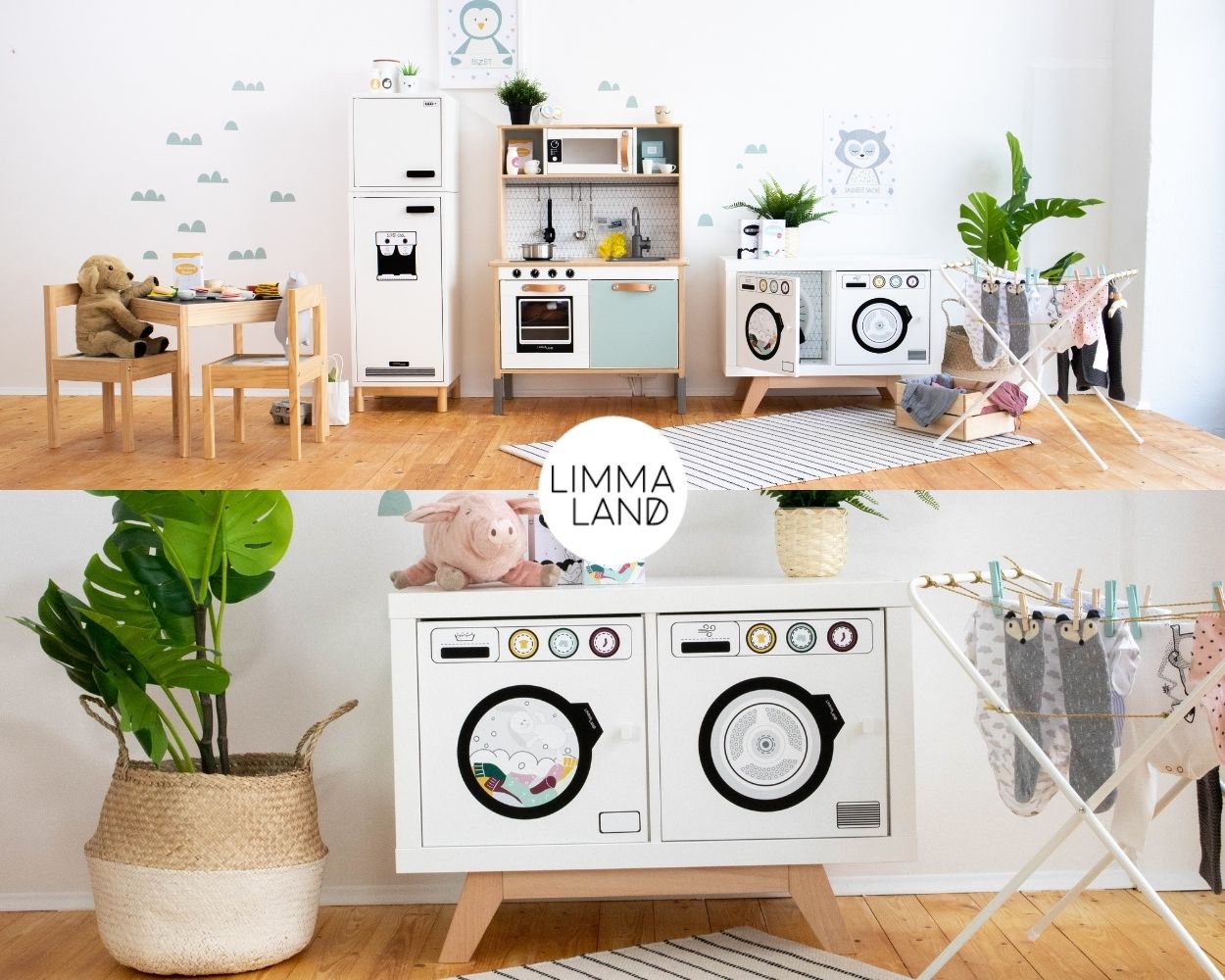 Role play with the IKEA play kitchen
With a lot of imagination and fantasy, the children always come up with new play variations and give free rein to their ideas. They take adults as role models and therefore always want to help and cook. Can they be satisfied with simple tasks? Not at all easy. That's why parents usually reach for the DUKTIG play kitchen, which allows children to develop role and group games very quickly. With the adhesive foils, which transform the conventional IKEA play kitchen into a realm all of its own, the role play of cooking is directly more fun. It also promotes motor skills, body language and self-esteem. See for yourself in our online shop and pimp your IKEA children's kitchen!
The most frequently asked questions about play kitchen
From when is the IKEA play kitchen useful?
The IKEA DUKTIG is a popular gift for children aged 2 or 3 for Christmas, birthdays or Easter. To answer the question, play kitchen yes or no, many parents start offering their child accessories for the play kitchen to play with at the age of one. If your child likes to play with pots or toy food, then you should think about buying a play kitchen. Playing with the mini kitchen is very creative and never gets boring. Because you can always expand the kitchen with different accessories for the DUKTIG play kitchen and make it interesting. In addition to the usual kitchen accessories such as pots and spoons, you can always buy new accessories for the IKEA play kitchen made of wood or fabric or make them yourself with paper. Buying a play kitchen is worthwhile because many children enjoy playing with it up to primary school age. So the question of how long the IKEA play kitchen is suitable for cannot be answered in a general way. However, there are so many ideas for the play kitchen that children will enjoy playing with it for a long time.
Play kitchen for boys?
Definitely! After all, toys should not be chosen according to gender, but should cater to your child's interests. In times of emancipation, the kitchen has long since ceased to be purely female territory - many men are also enthusiastic cooks. And it's the same at IKEA play kitchen: Not only girls are interested in play kitchens, boys also enjoy playing chef. The best way to find out is to find out for yourself. If your child enjoys pots & co., then you should think about buying the play kitchen for boys.
Play kitchen buy or build yourself?
Think about how you want to use your play kitchen. A weatherproof kitchen made of plastic is great in the garden - but the IKEA play kitchen made of wood is much more stable and durable. Of course, there are also different types of children's kitchens. You can start with a few pots and groceries and find out whether your child enjoys the play kitchen and whether it is worth buying a big play kitchen. When buying the play kitchen, make sure that the height of the worktop is appropriate for the child's height. Children grow very quickly, so many manufacturers of children's kitchens offer height-adjustable models that grow with them and can be played with for several years. A self-built DIY play kitchen, on the other hand, is a real one-off that you can design creatively. However, you have less effort if you buy a play kitchen made of wood or another material. You can pimp a bought kitchen with buttons, paints and adhesive foils.
Play kitchen or a shop?
Before buying a shop, many parents ask themselves whether they should choose a play kitchen or a toy shop. Both role-playing toys are clearly among the favourite play worlds in the children's room. We have compared the advantages of play kitchen and play shop for you:
In the play kitchen, children can play alone. In play shop, at least two people play together. For several children, a play shop is therefore probably more interesting, while the play kitchen is a great activity alone.
The toy shop often takes up more space in the home because it requires more accessories than the play kitchen.
The best variant is a combination of play kitchen and kiosk, which combines both play worlds.
How much does the IKEA play kitchen DUKTIG cost?
The play kitchen DUKTIG normally costs 89.99 euros at IKEA. However, there are always special offers - for example at Christmas time. You can also check the classifieds and buy the IKEA DUKTIG second-hand. Often, the kitchen is still in good shape after a few years of play.
What are the dimensions of the backsplash for the IKEA DUKTIG?
You can buy the IKEA DUKTIG backsplash in a DIY store - you can have a simple chipboard cut to size for a few euros. Dimensions: 32 x 67.5 cm