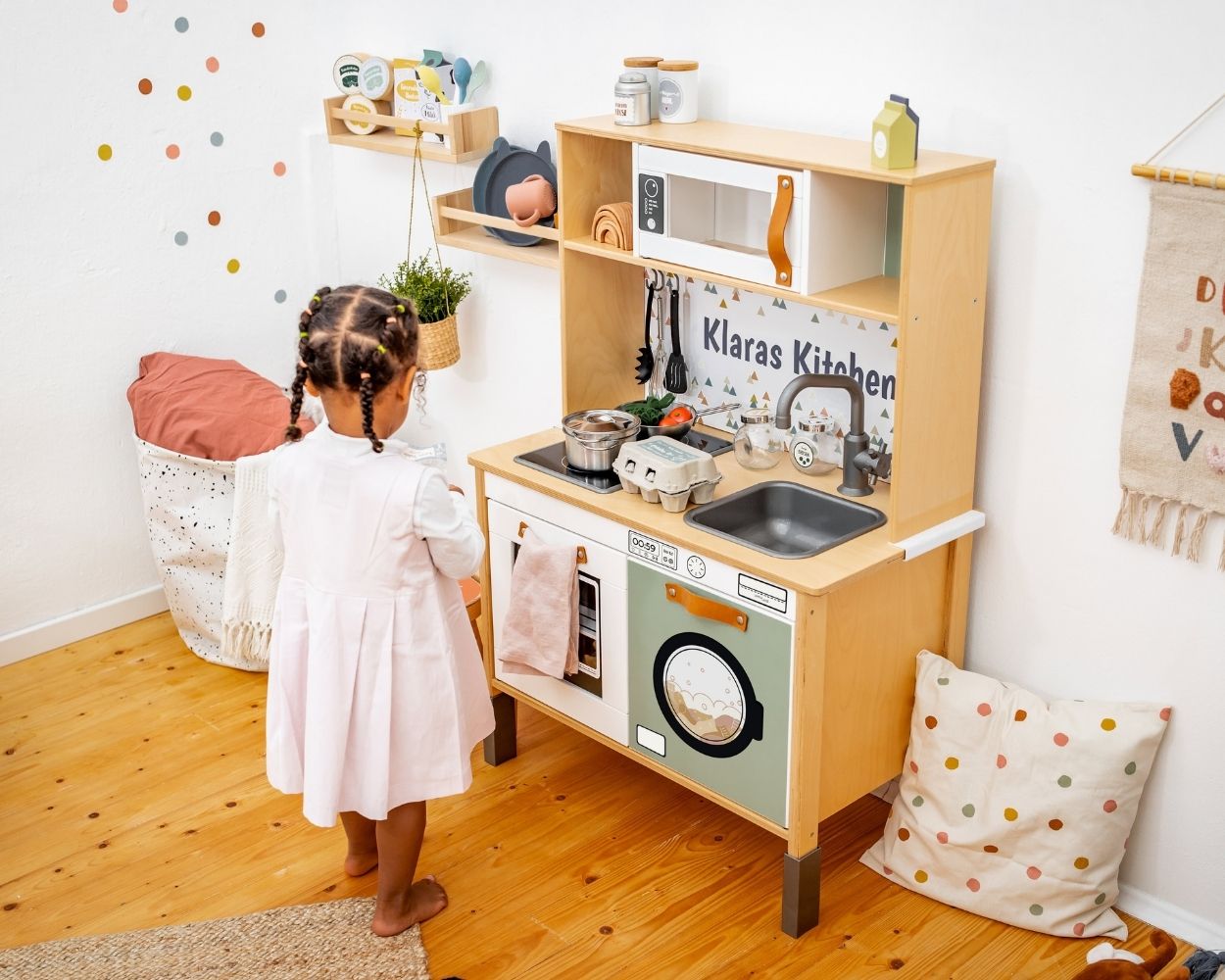 Montessori in the nursery: Help me to do it myself
Children bring us a lot of joy in life, but also situations in which we are stimulated to think and also doubt ourselves. Don't you often ask yourselves: "Am I actually doing this right?", "How am I really doing this right?" and "Is there even a right?". We believe that there is no "right" way. Everyone does it differently in every situation and in their own way. And that is exactly what Montessori does.

What does Montessori mean?
The Italian doctor and educator Maria Montessori (1870-1952) developed Montessori education. The guiding principle "Help me to do it myself" means: We offer our children a framework for playing, living and learning. We support them in discovering skills and interests themselves with their urge to explore and develop, and in learning through successes and failures.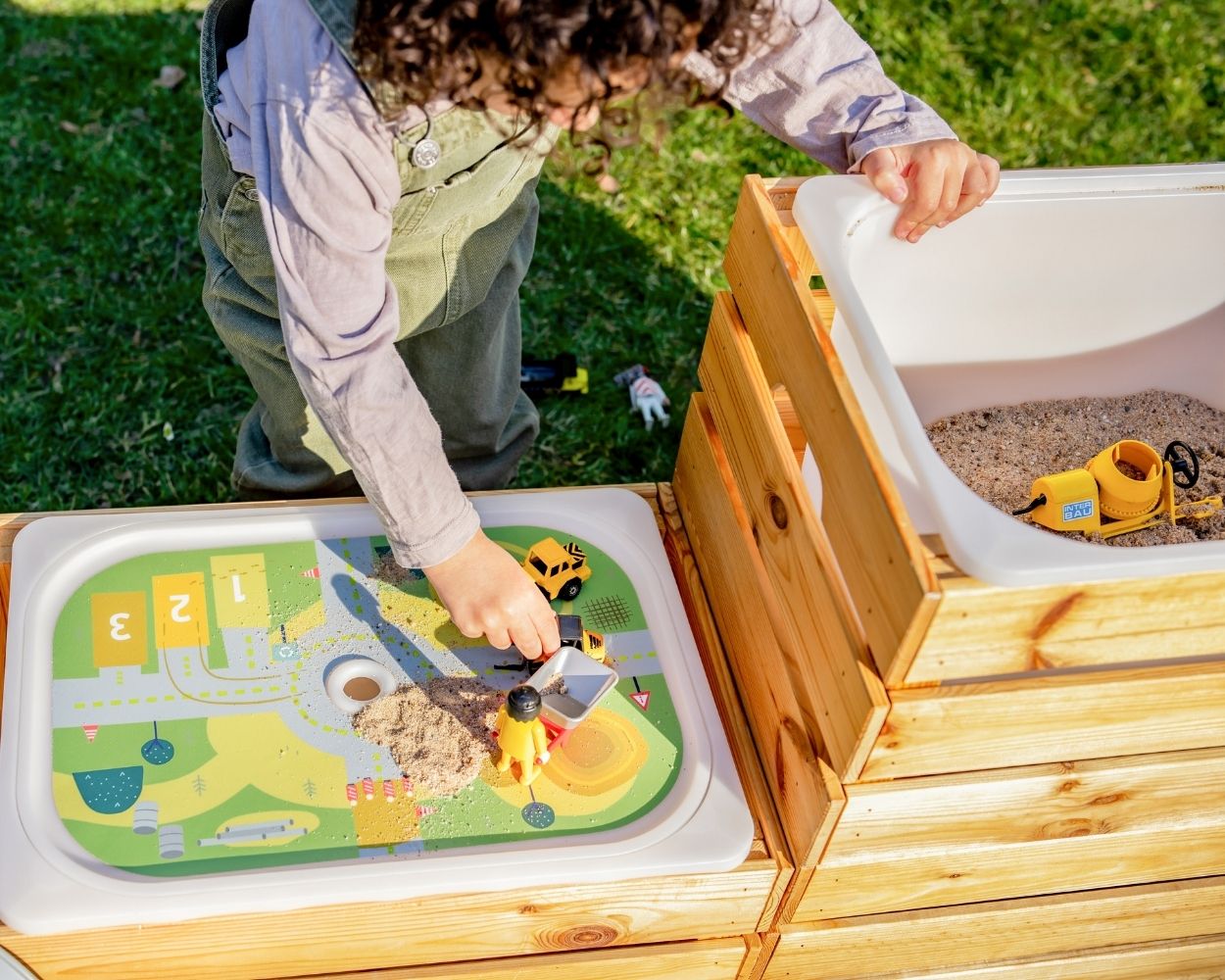 3 reasons for Montessori in your home
Montessori is an educational philosophy and practice developed by the Italian doctor and educator Maria Montessori. It emphasises independence, autonomous learning and the individual development of the child. But what does Montessori bring to your child?
Self-determined learning

: Montessori encourages independent learning where children can explore their individual interests and talents.



Concentration and independence: Montessori activities allow children to develop independence and concentration.
Freedom of movement: Montessori encourages children to be physically active and focuses on active learning.
How to integrate Montessori in your home
Supporting your child at home according to Montessori is not complicated at all. With simple means you can create an environment that supports your child's independence. We have collected some ideas for you.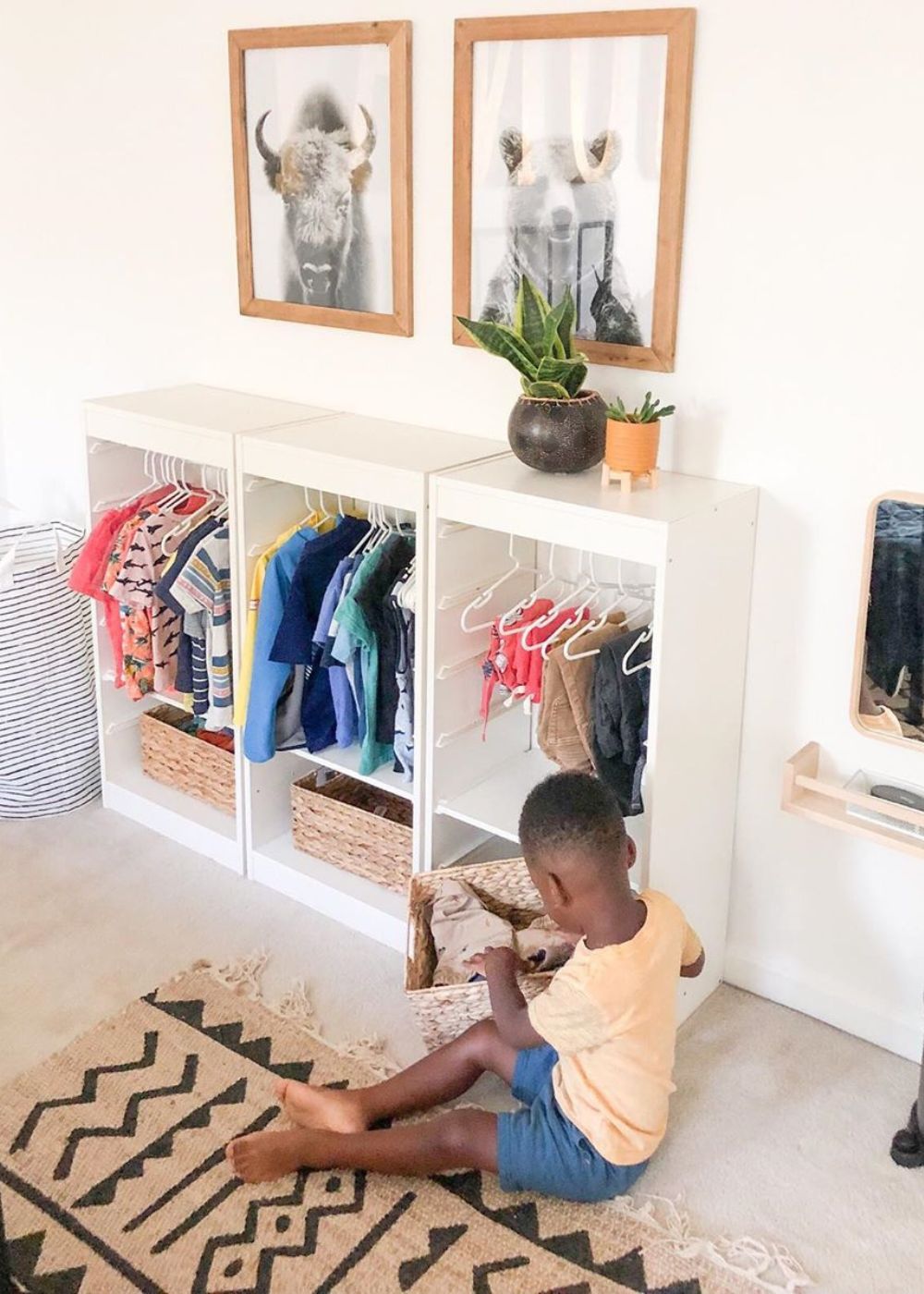 1. Self-determined choice of clothes
With a wardrobe at eye level, your children can learn to choose their own clothes. This can also be a small coat rack in the hallway where your child hangs his or her jacket after a walk. The more advanced version is the Montessori wardrobe, from which your child puts together his or her own outfit. Our tip: Don't overload the wardrobe, but equip the mini wardrobe with selected items of clothing for the current season. This way, your child will not be overwhelmed and you will avoid any discussions about thick woollen socks in high summer.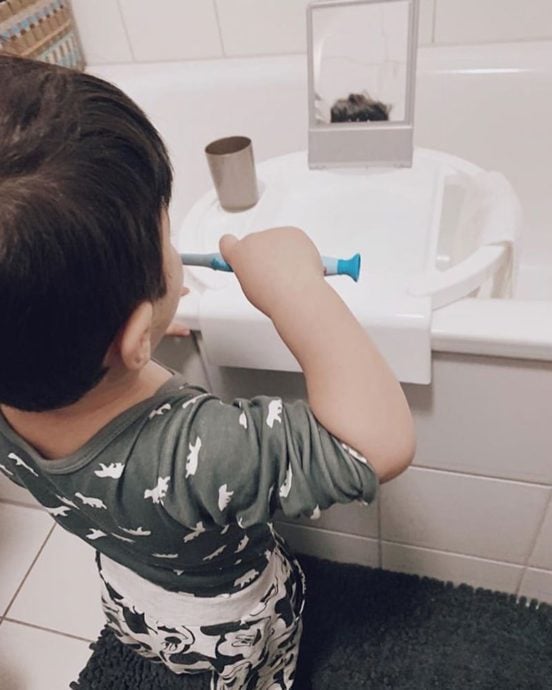 2. Washbasin at child height
Besides choosing clothes, brushing teeth, washing hands and combing hair are also on the daily agenda. Not exactly our little ones' favourite activities. But perhaps washing and styling on their own will be a little more popular than having mum or dad fussing over you. Many parents use a learning tower in the bathroom, which enables the child to stand at the sink independently. But there are also other ideas to help your kids become independent.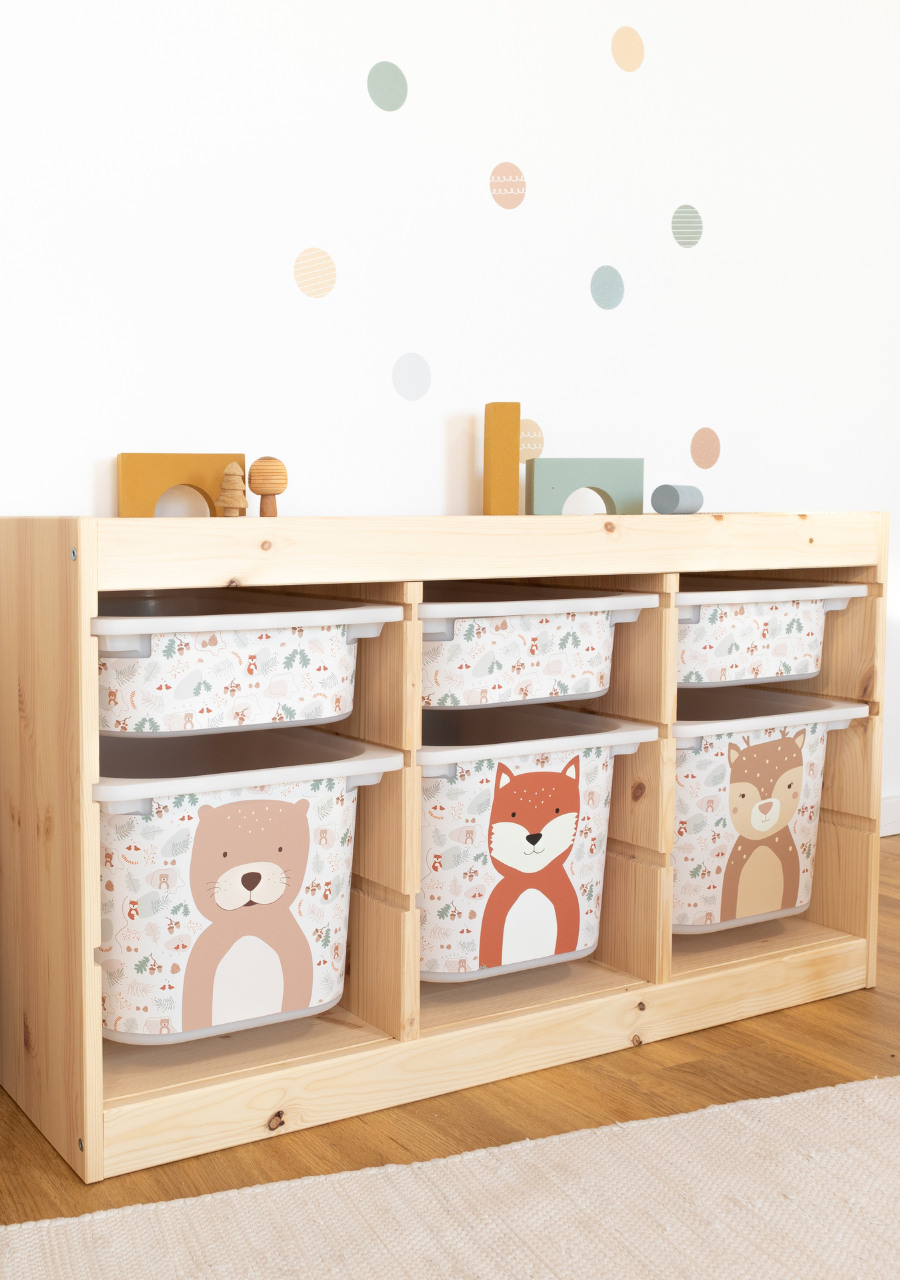 3. Tidying up together
When everything has its place, even tidying up after playing is fun. And it also promotes your child's independence and sense of responsibility. The best way to do this is with storage space that children can access themselves. If you store toys in boxes, order stickers with symbols can be a great help.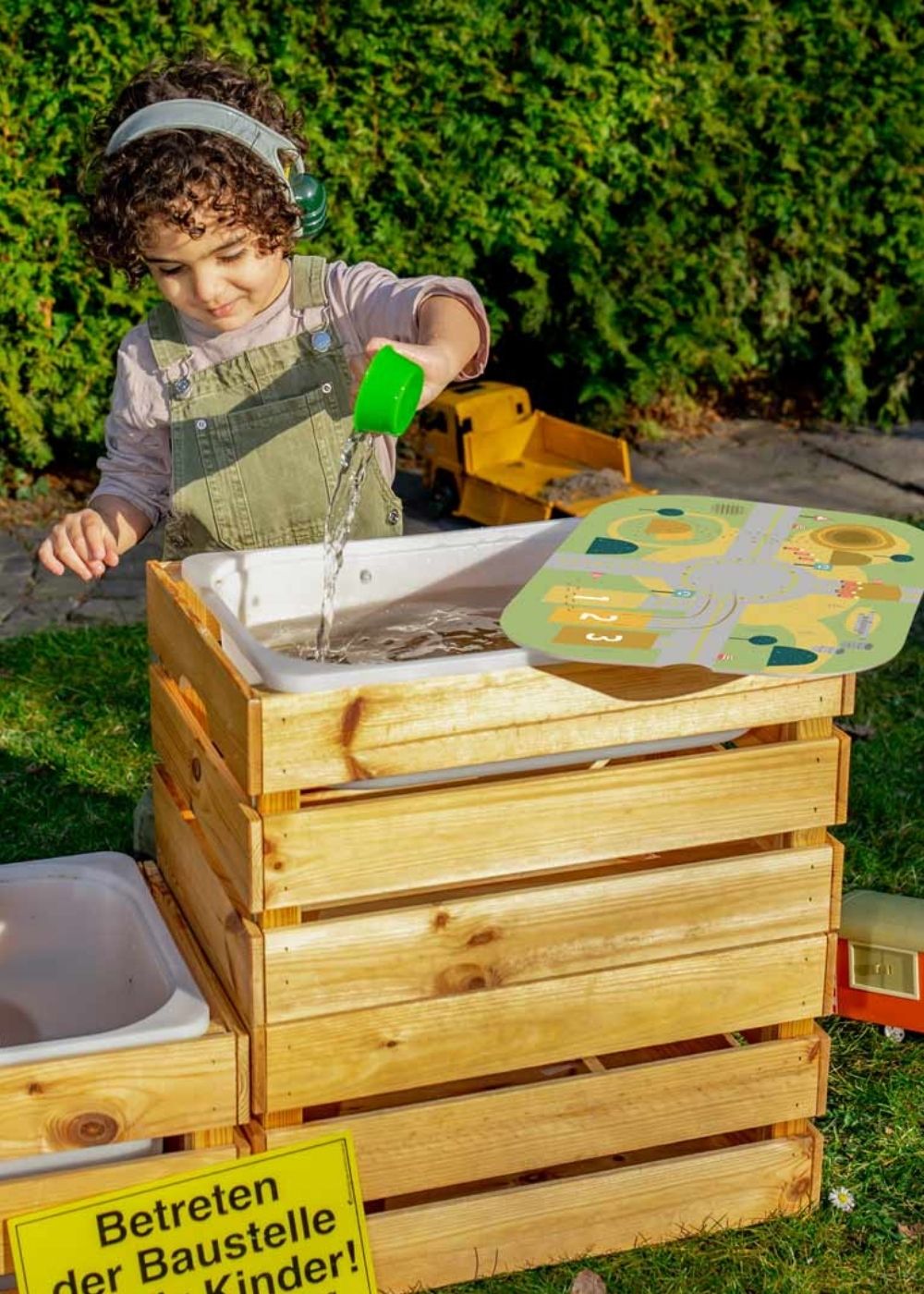 4. Nature exploration in the Montessori home
Montessori emphasises the connection to nature. Go outside with your child, collect chestnuts, shells or leaves and observe animals. Independent discovery also promotes your child's individual development. Your child can dig in the sandbox or help you water and care for plants. If you don't have a garden, you can build a mud kitchen even on the smallest balcony.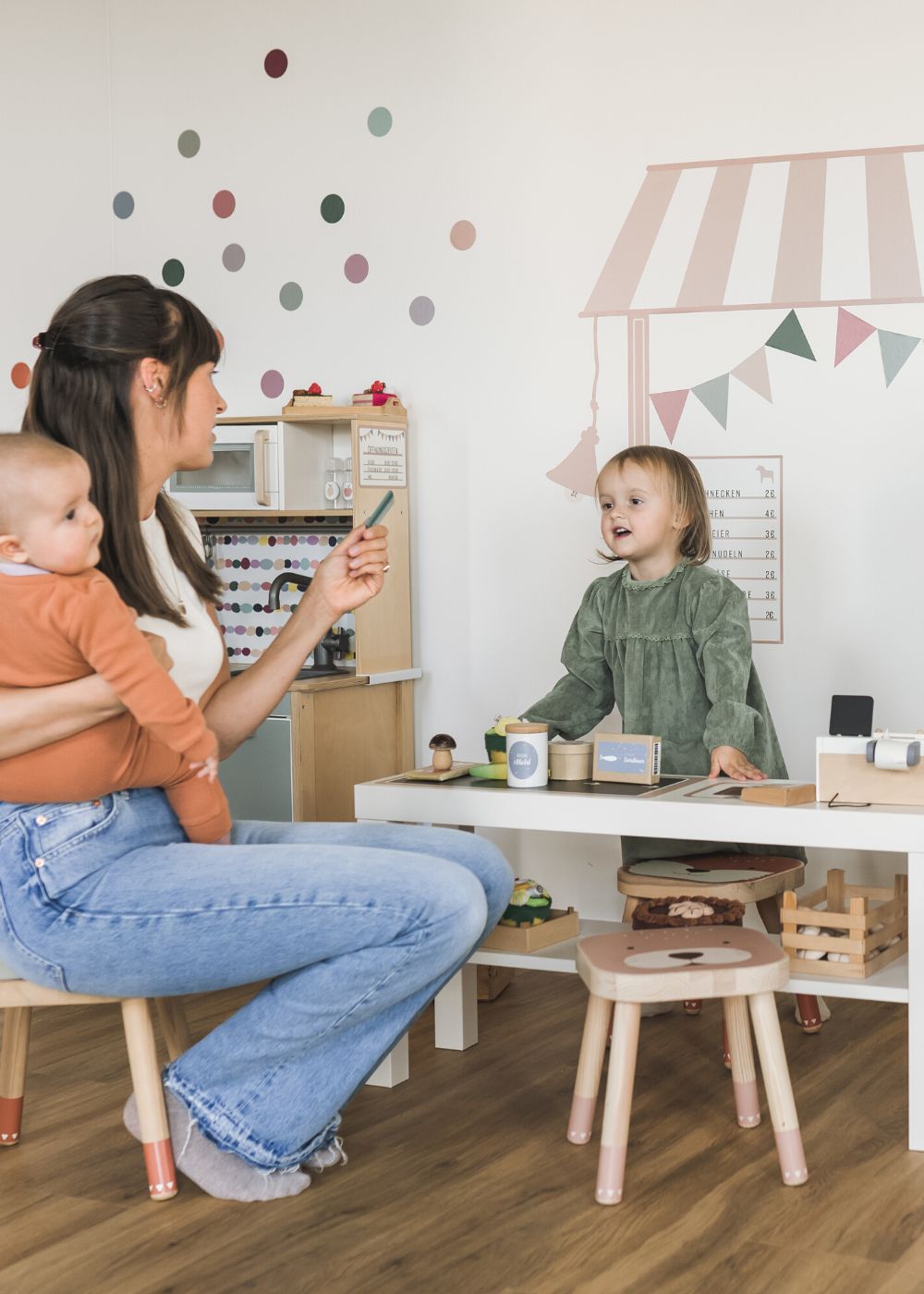 5. Imitating everyday life with role play
Maria Montessori observed and encouraged the active imitation of everyday life. She therefore focused on fantasy games and play materials that let the children imitate everyday life. With role-playing games like the play shop or the play kitchen you can re-enact and process everyday situations with your children. Playful preparation, for example for a visit to the vet, also helps your child to become independent.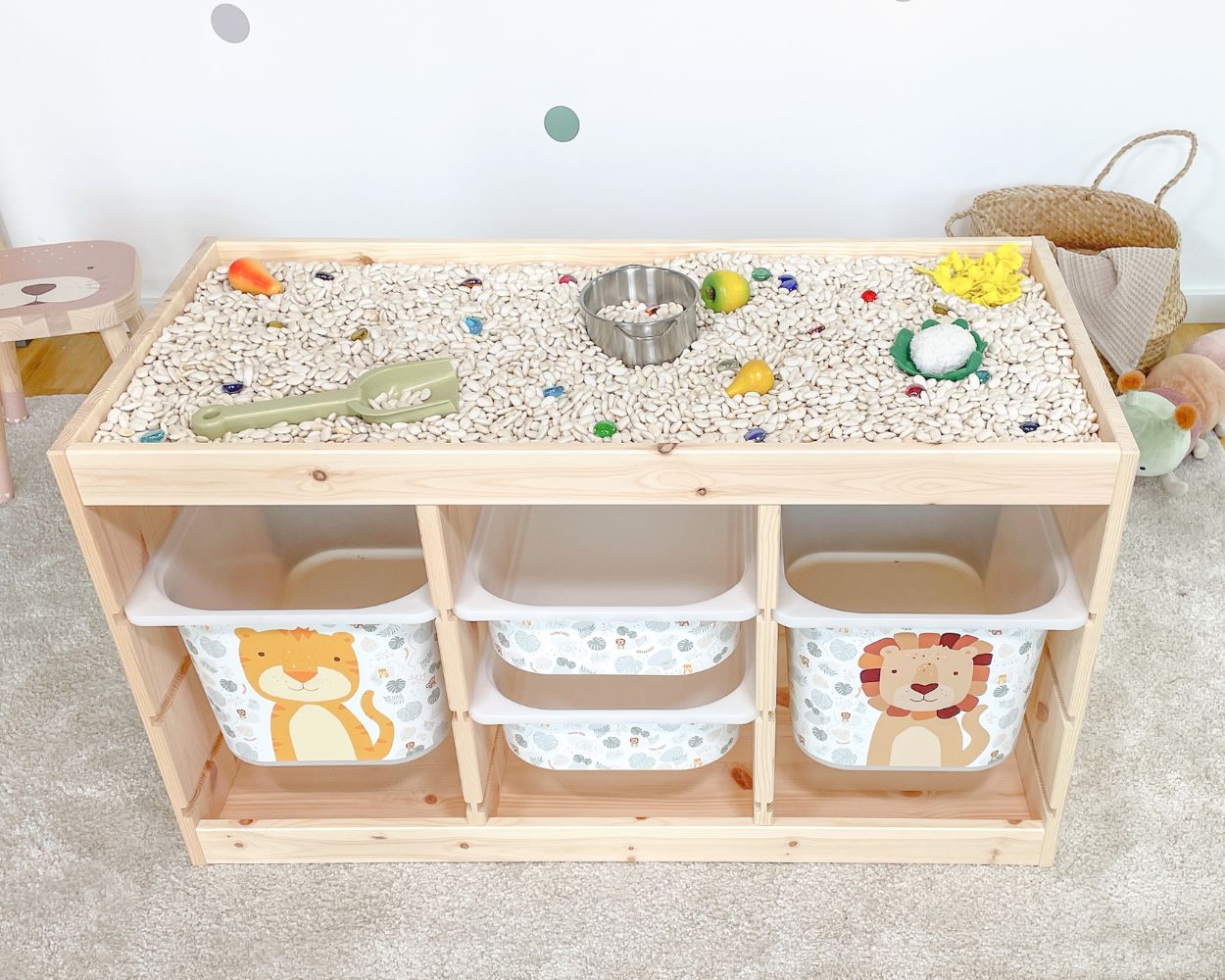 6. Sensory activities
You don't play with food! In Montessori education this is not quite true. Food may also be examined extensively. Touching different shapes and materials promotes your child's sensory abilities. Sorting by colour or smelling different scents are also exciting activities for your child.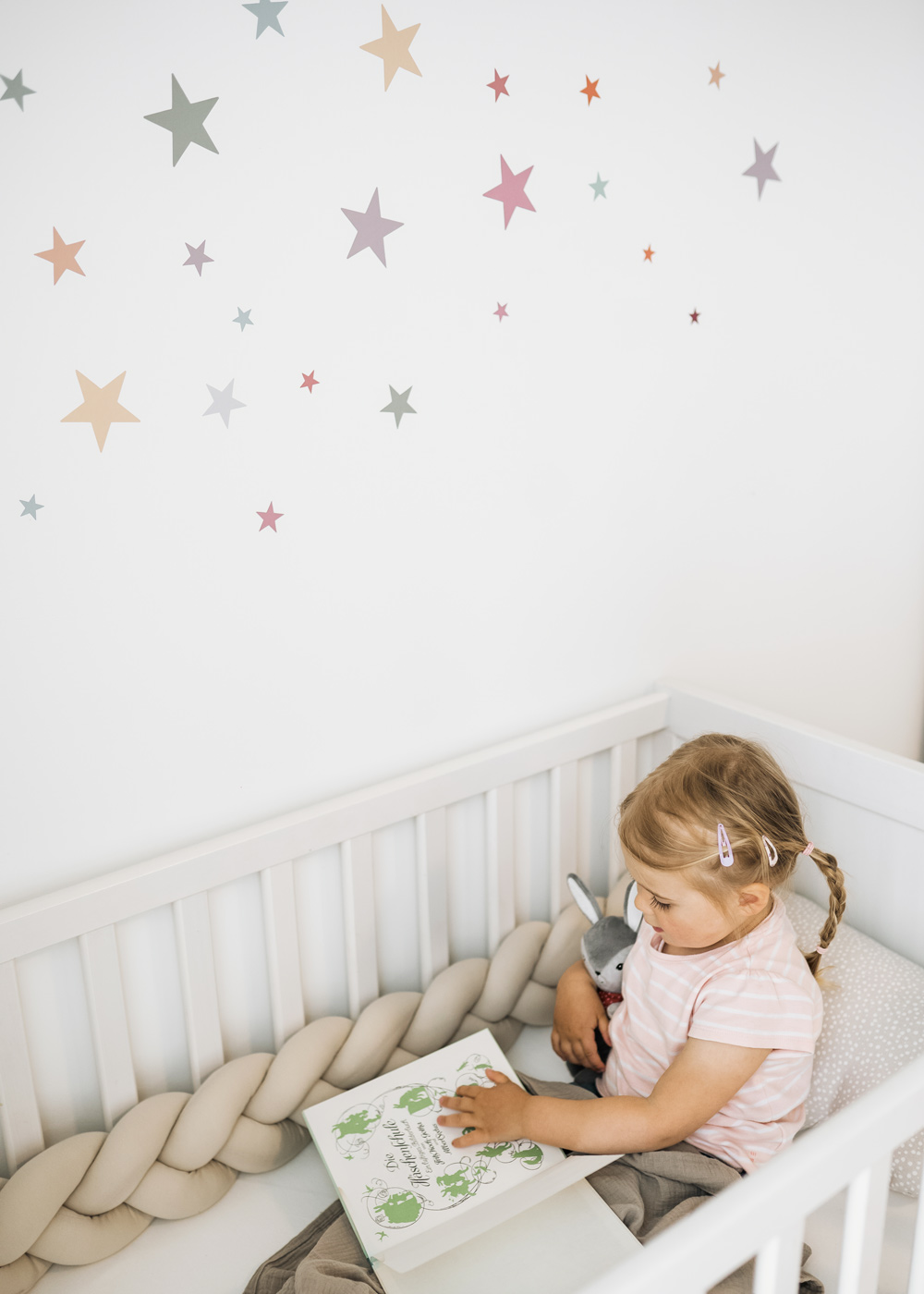 7. Creating zones in the children's room
In a Montessori children's room it is important to create zones. The play corner should be recognisable and stand out from a quiet corner or the sleeping area. You can create this very nicely by choosing the right wall colour. For a rest area that is cosy and quiet. In this area, each child can come down from the excitement of everyday life, read or be read to.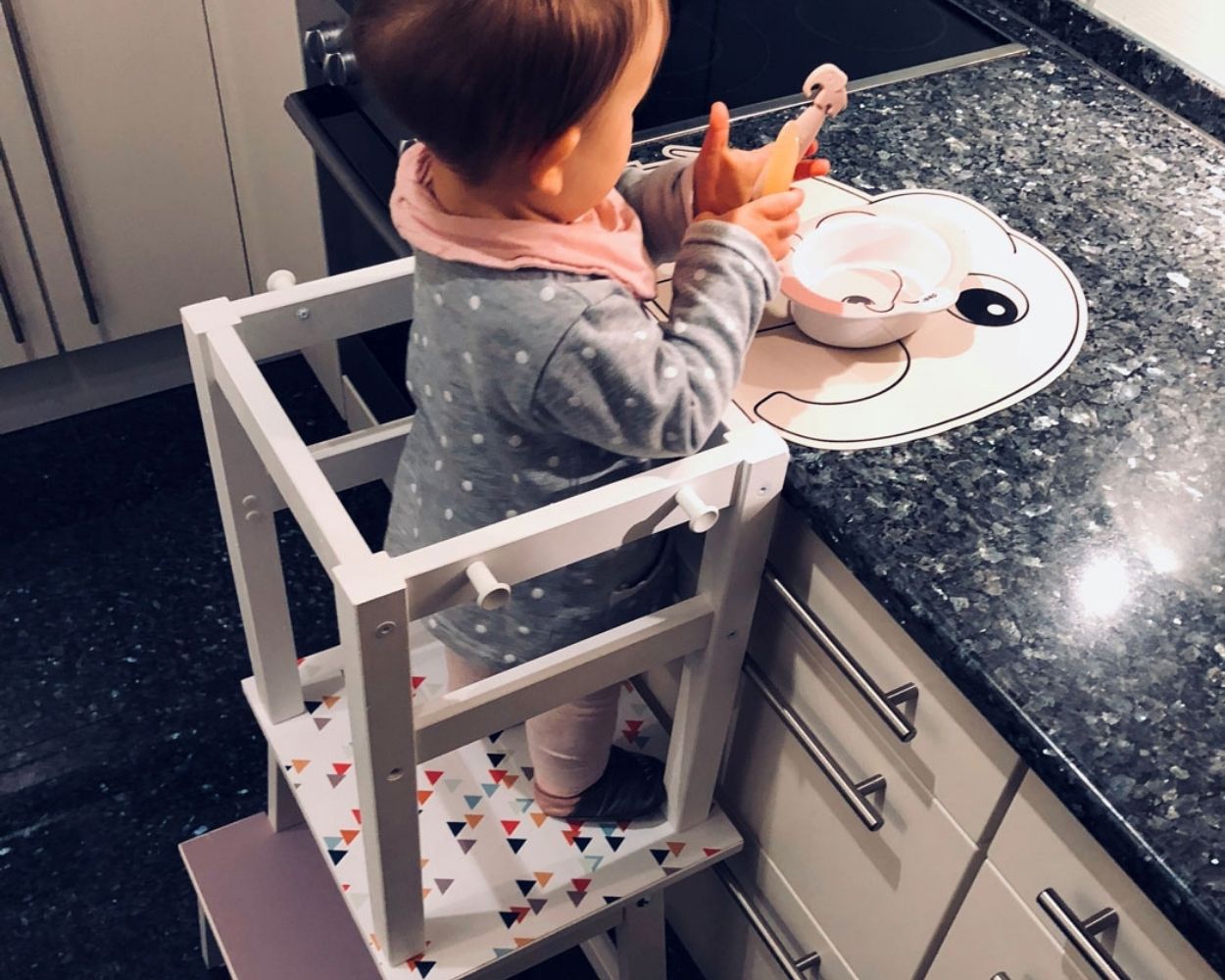 8. Simple food preparation
Wash fruit, top bread or tip together baking ingredients: Let your child help in the kitchen! The best way to do this is with a learning tower that gives your child access to the worktop. But be careful: never leave your child unattended in the learning tower.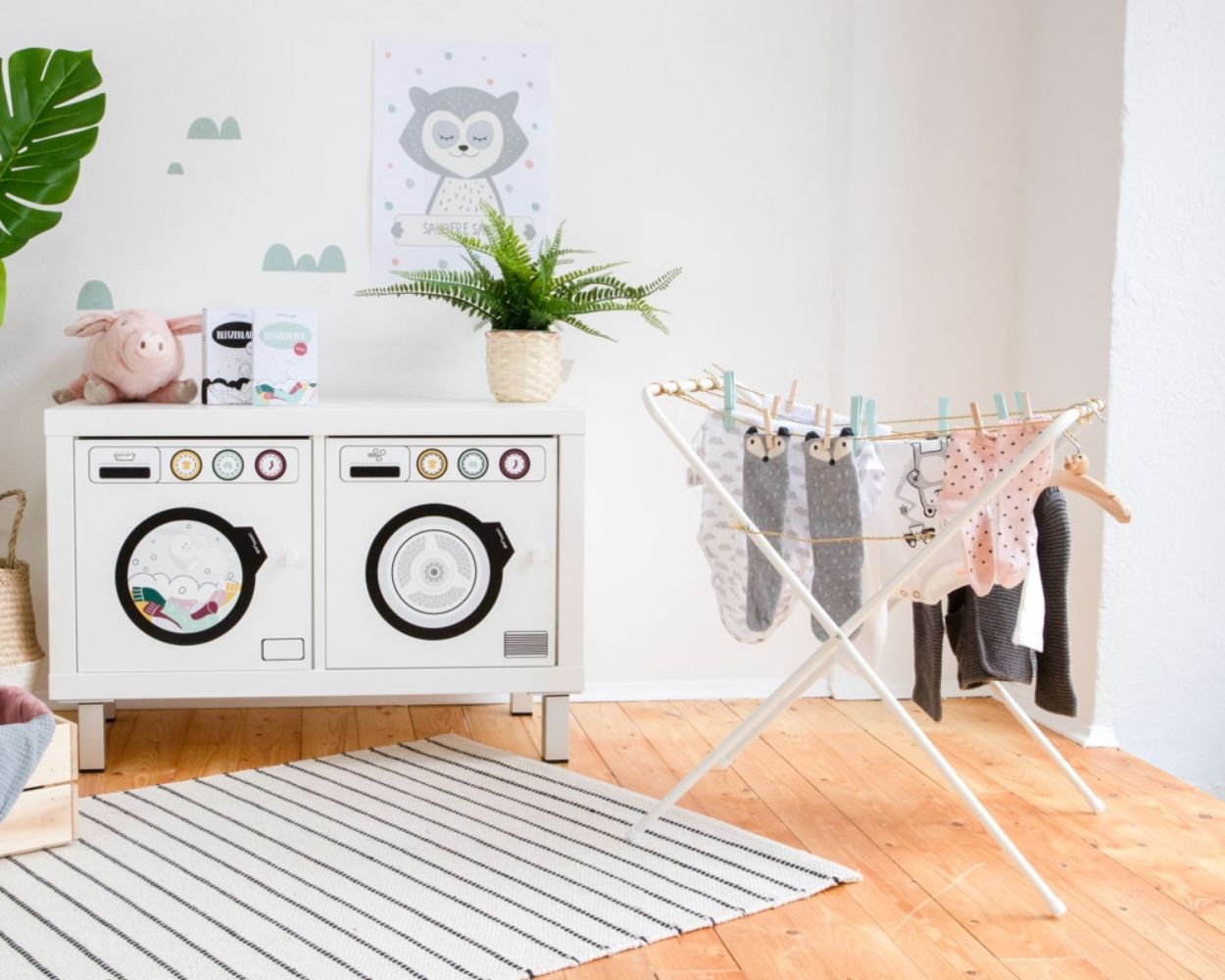 9. Sorting laundry
Even toddlers can learn to put dirty laundry in the laundry basket through play. Folding clean socks in pairs is also fun for many kids. If you feel like it, you can even build a washing machine and a clothes horse for role play.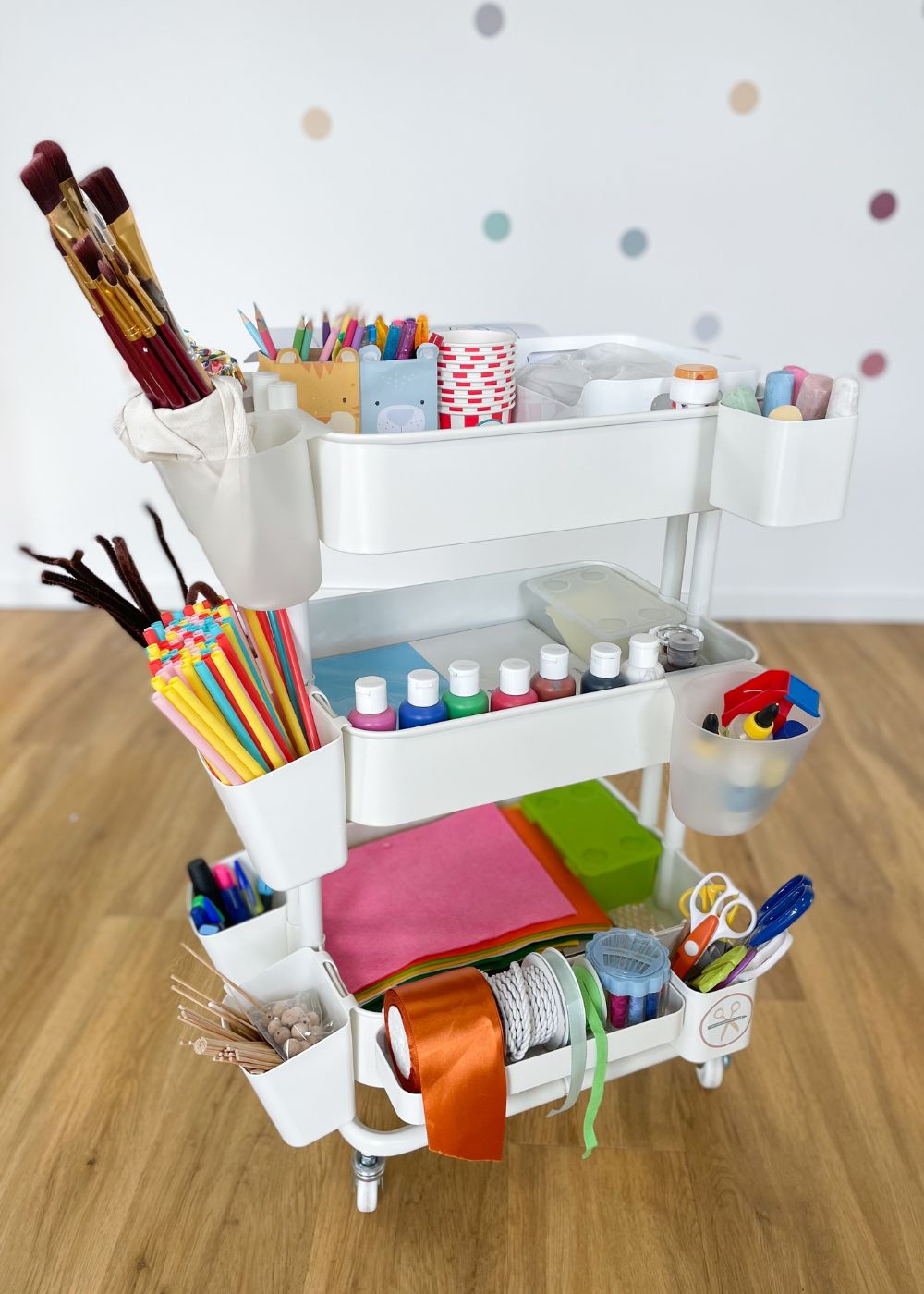 10. Encourage art and creativity
Offer your child materials to be creative, such as paper, paints, crayons, clay or handicrafts. This way, they can let their imagination run wild and develop artistic skills. A nice idea is to have a craft trolley that holds different pens, paints and materials.