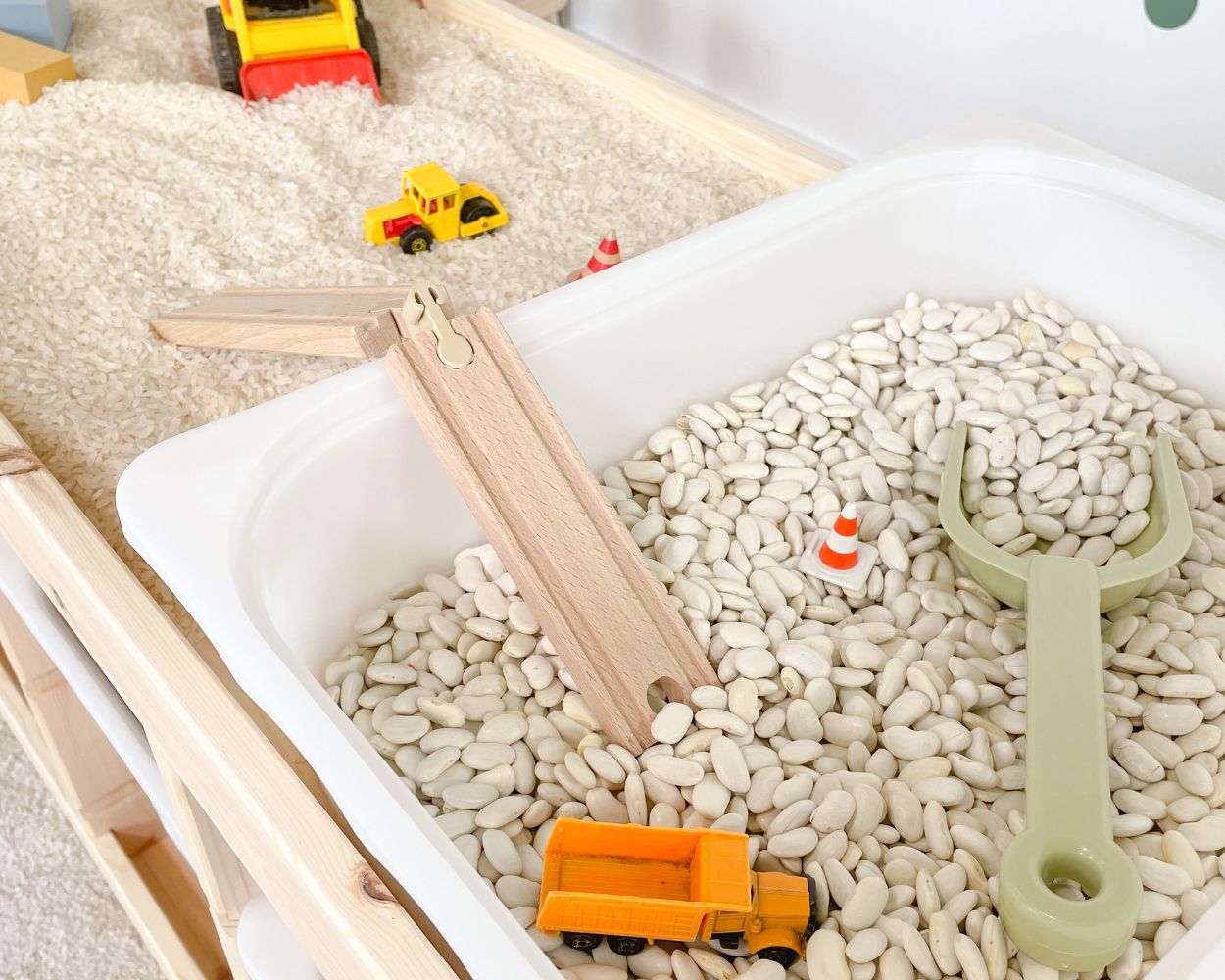 IKEA Hack: Spielerisches Lernen mit dem Montessori Sinnestisch
IKEA Hack: Playful learning with the Montessori sensory table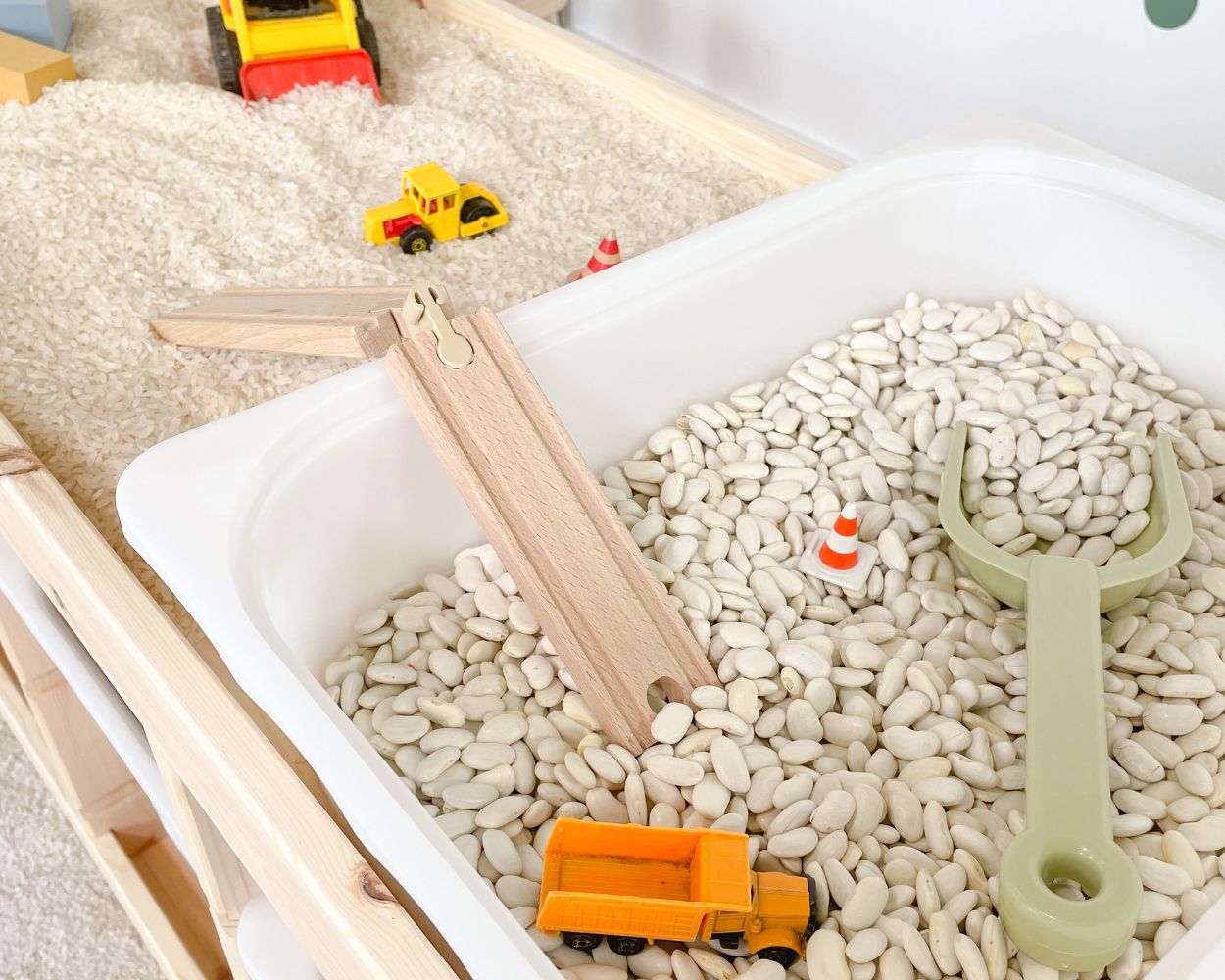 By consciously experiencing their senses during sensory play, children are supported in many areas of their child development. With a sensory table, you can support your child in a simple way. We have summarised everything you need to know about sensory tables and give you tips for your own sensory table.
What is a sensory table?
A sensory table is a table with embedded boxes that are filled with a variety of materials of different textures. The selected materials stimulate your child's senses and encourage them to feel and explore. A sensory table stimulates your child's sense of sight, hearing, smell and especially touch and often leads to deeper concentrated play.
Image source: @mandy_krahn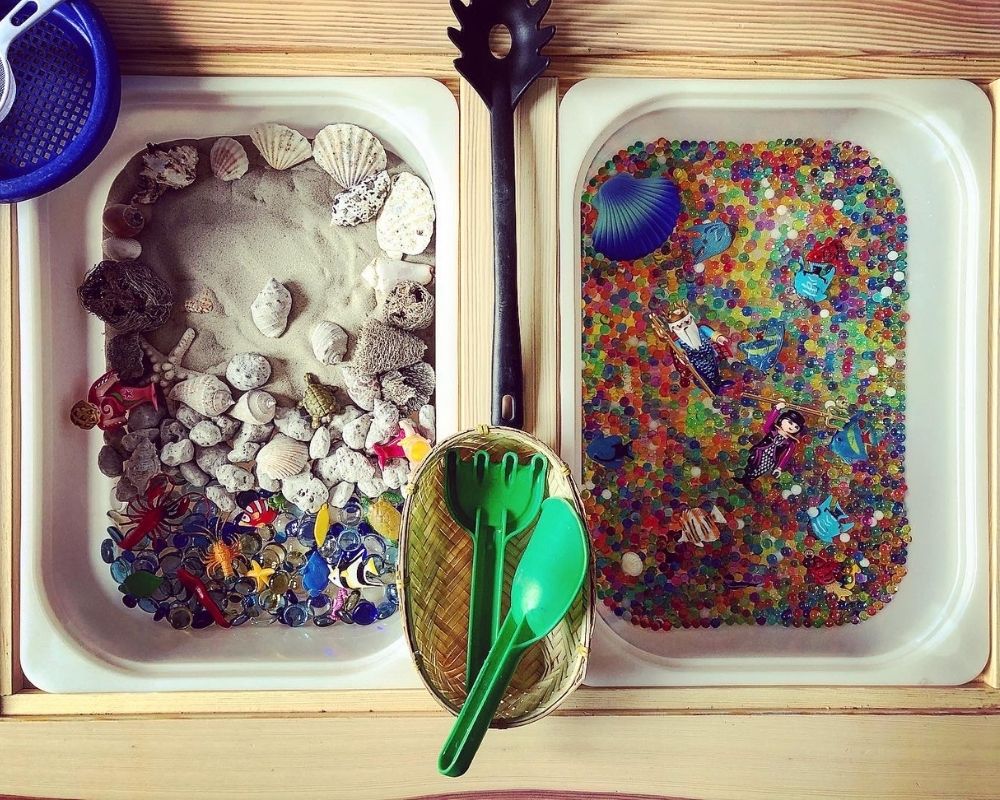 The importance of the senses in Montessori education
In Montessori education, the experience of the senses plays a major role. According to Maria Montessori, children want to train their senses and movements intensively. Through so-called sensory material they learn to grasp their environment more easily, to perceive it more consciously and to classify it better. Following the motto "Help me to do it myself", children can use the sensory table to immerse themselves in the materials, delve into them and satisfy their natural need to explore their senses. A sensory table is not meant to be a substitute for the experience of the senses in the child's environment and in nature, but a sensory table can be a simple extension of this in everyday life.
The IKEA FLISAT table as a sensory table
The
IKEA FLISAT table*
is perfect as a sensory table. The children's table already has two integrated
boxes*
that are embedded in the tabletop. So you already have a ready-made sensory table without having to prove your handicraft skills. The IKEA FLISAT table is also at the right height for your mini, so they can stand comfortably and explore their senses. The boxes can be closed again after playing through the light table top, so the sensory materials are well locked away.
Image source: @mandy_krahn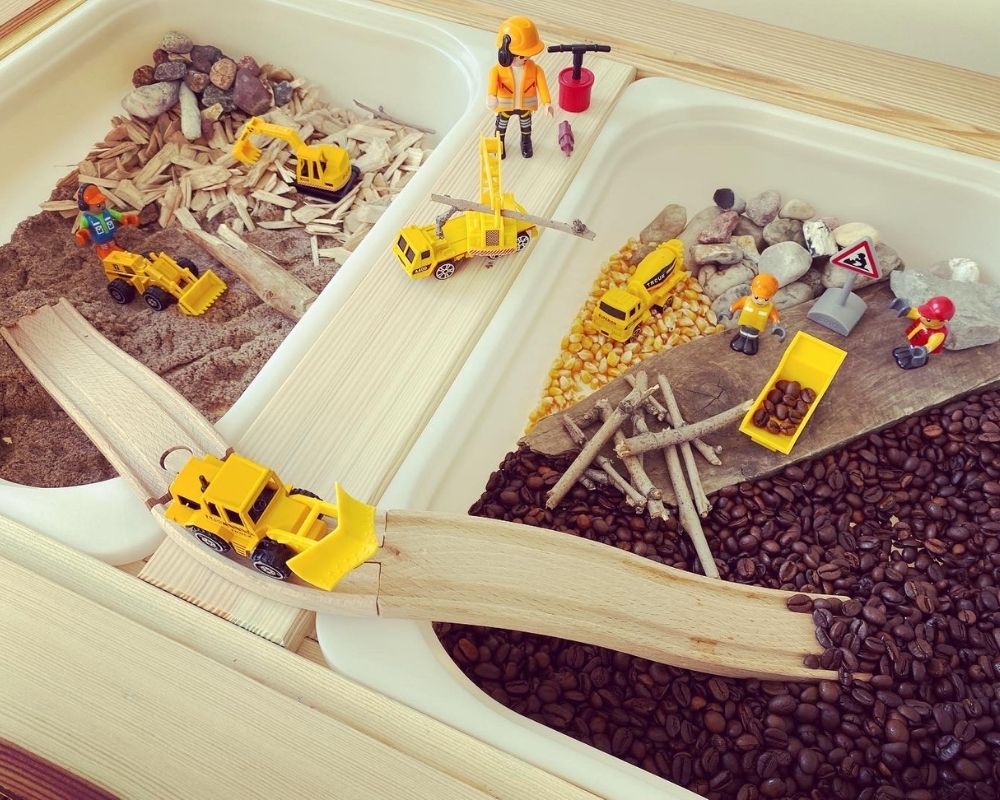 2-in-1 sensory table and play table
The IKEA TROFAST shelf as a sensory table
The IKEA
TROFAST*
can also be ideally transformed into a sensory table. What many people don't know is that the shelf also has a lot to offer upside down. To do this, turn the TROFAST shelf upside down. The bottom of the TROFAST now serves as a SPIELWIESE with a frame. In the next step, place a TROFAST
box*
on the shelf. The framed area and the box can then be filled with various materials.
Don't worry, turning the TROFAST upside down doesn't mean you have to give up the storage function of the shelf. You can still store several TROFAST boxes and their contents in the shelf. The TROFAST is a real eye-catcher, but only with additional front labelling
Front label
in the Limmaland design. Whether BLUMIG, DINO or TIERIG SAFARI, there is a suitable motif for every children's room.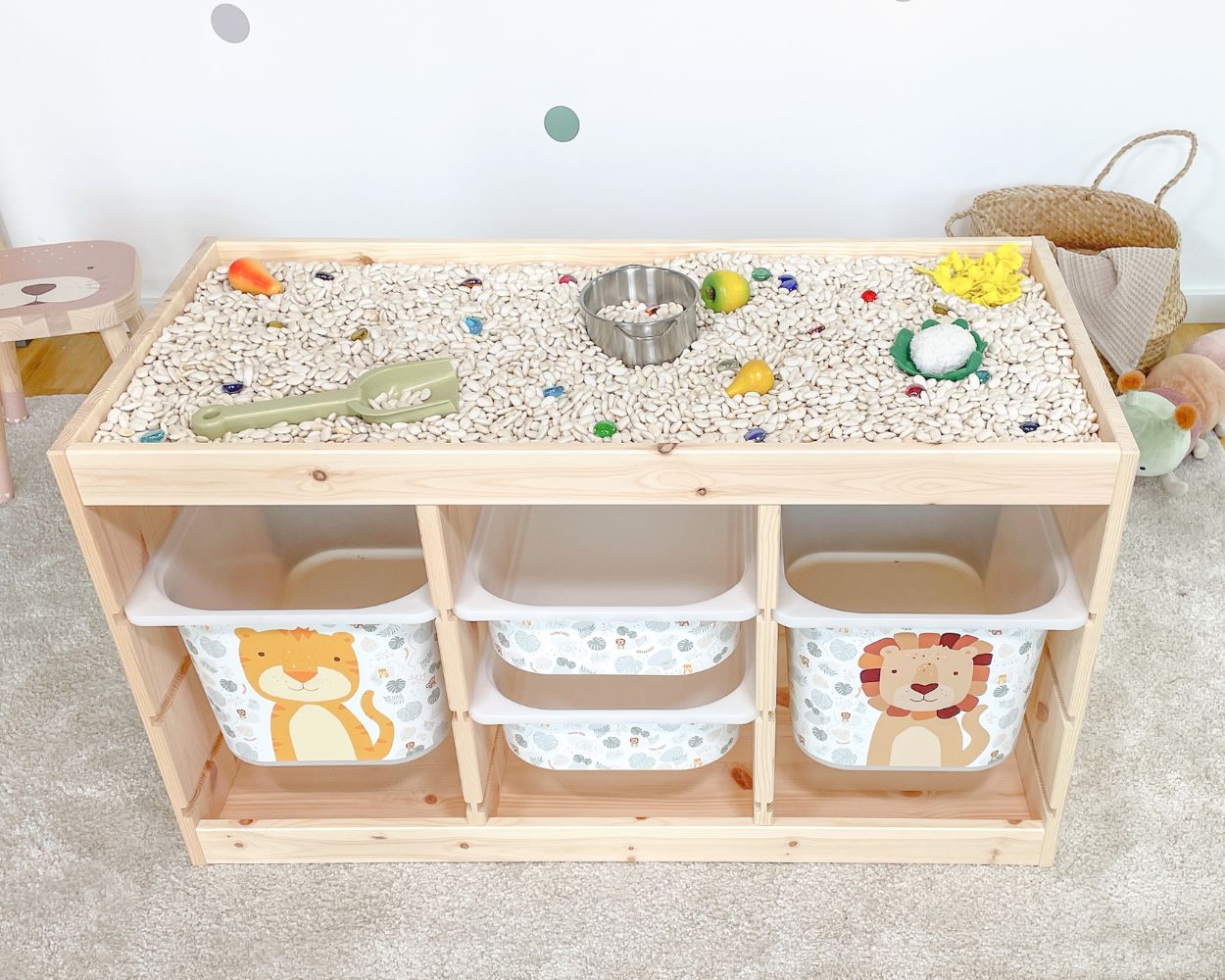 Playful learning with the Montessori sensory table
The
DÄCKEL
and the
decal for DÄCKEL
from Limmaland turn your Montessori sensory table into a unique playground. With the creative design motifs such as the
BAUPLATS-
or
EARTHY & FURIOUS film
you can stimulate your child's imaginative play while learning new textures at the same time.
What materials are suitable for sensory boxes?
There are endless possibilities for filling the sensory boxes. Just look through your home and think about what might appeal to your mini's senses. Cooking and baking ingredients like pasta, rice or flour are great. You can also go out into nature together and collect whatever appeals to you. How about rustling leaves, damp moss or fragile branches? However, there is one thing you should always keep in mind: depending on the age of your child, you should only let them play with the sensory table under supervision. There is a risk of swallowing many materials.
For
your very little mini, make sure to use larger materials.
Ideas for the sensory table
We have put together a list of ideas for the sensory boxes to make your choice easier:
Cooking and baking ingredients: Rice, lentils, pasta, oatmeal, flour, nut shells, coffee beans
Shaving or hair mousse
Feathers
Paper scraps
Things made of fabric, such as pompoms
Water beads
From nature: sticks, grasses, moss, shells, earth, snow, water, stones
Marbles
Lego bricks
Buttons
Blunt screws and nuts
Corks
Different coloured ribbons
Kinetic sand as a sensory material
In our list you will also find magic sand. It's a great alternative to regular sand because it's less sticky and more suitable for indoors. The magic sand is airy and loose but can still be shaped nicely. And best of all, it's colourful.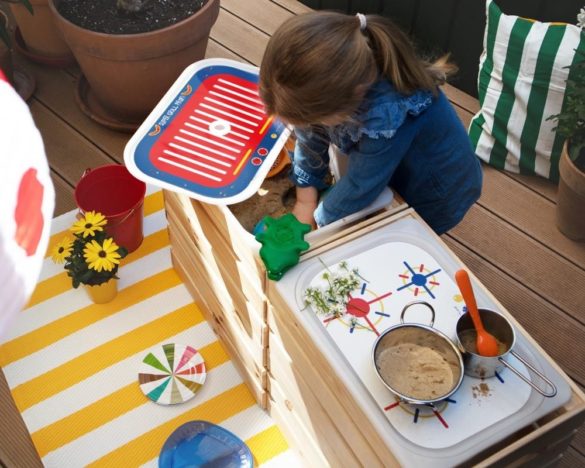 The mud kitchen as a sensory table
Your mini prefers to play with real sand and likes to suck around? Then the
mud kitchen
is perfect for you. It makes a great sensory table in the garden. The best choice is the mud kitchen from the
IKEA KNAGGLIG
* Box and the
IKEA TROFAST
* Box. Don't worry, the mud kitchen can be assembled in a flash in just 5 minutes. Your little one can explore his or her senses outdoors in the fresh air.
* All links marked with an asterisk are advertising links pointing to IKEA's website or to pages of other advertising partners.