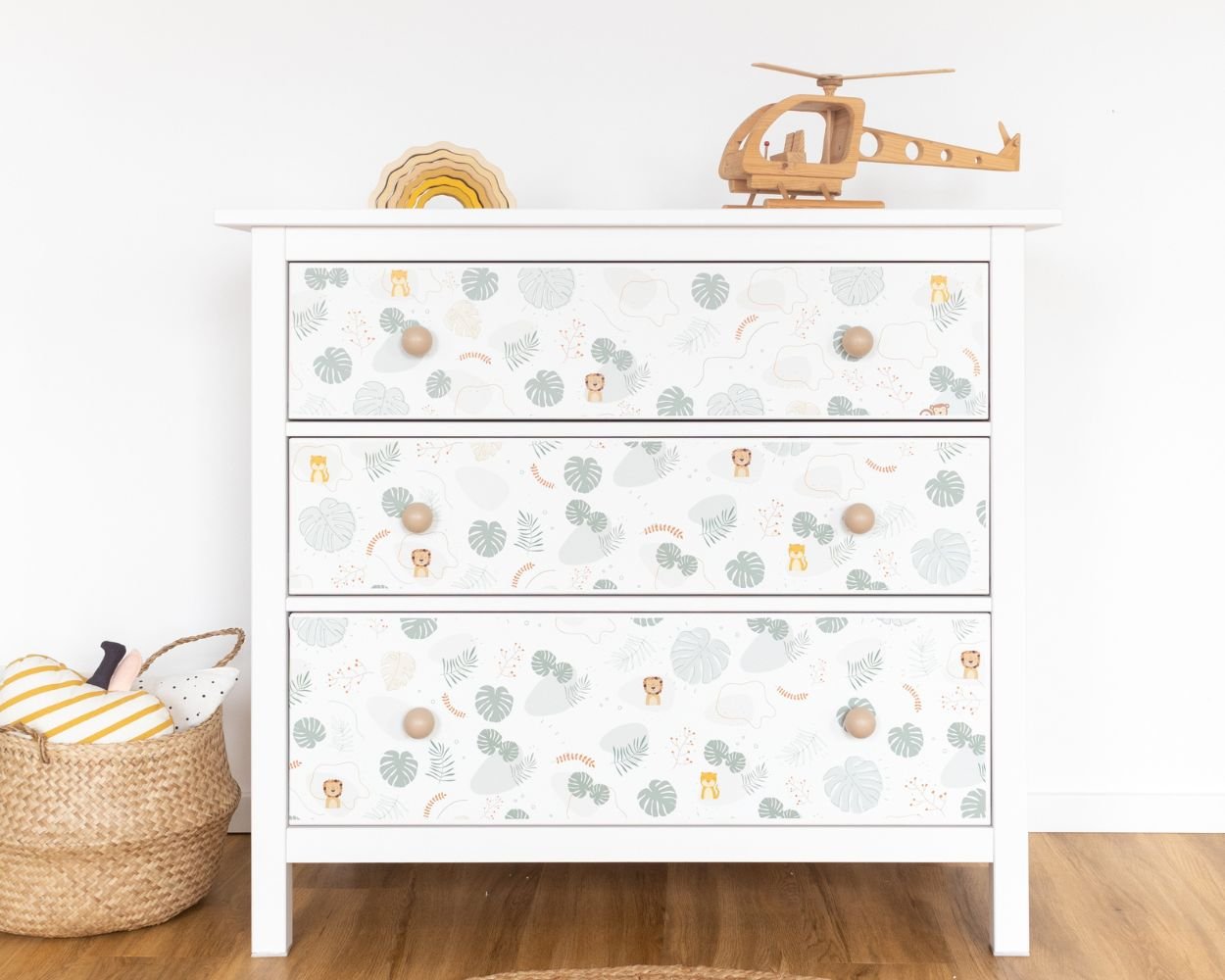 Stylish makeover for your IKEA chest of drawers
Cleverly upgrade your HEMNES chest of drawers with yard goods. And it's so easy:
Measure the drawer front,

Decal cut it to size,

... and laminate.
That's it! The result is really something to behold! The yard goods can do much more than just enhance the children's room. Instead of an animal motif, the HEMNES in a minimalist design can also be a real eye-catcher in the living room or other rooms. If you don't like the handles from IKEA, you can alsoenhance chest of drawers with the cute furniture handles from Limmaland.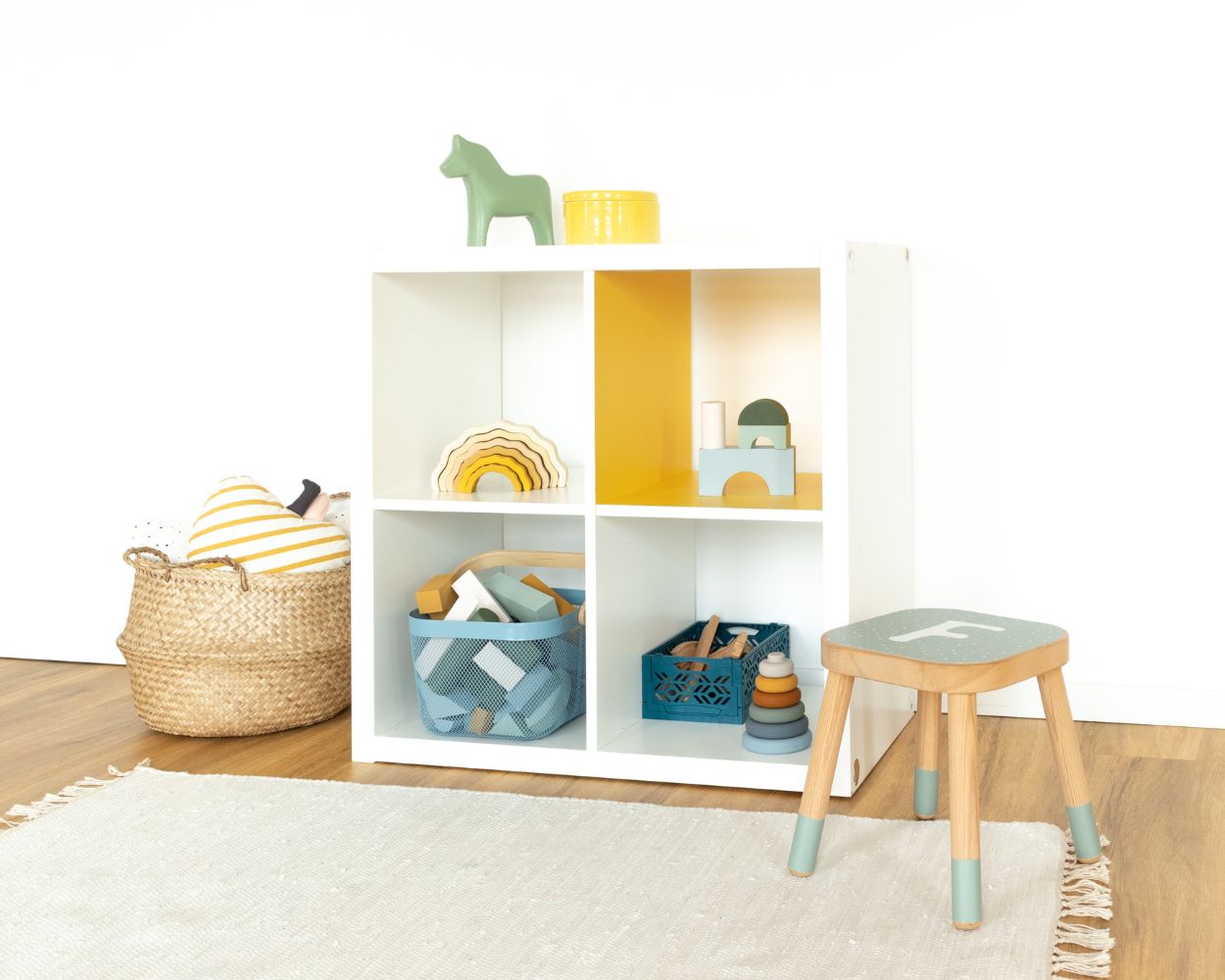 Bring more colour into your home
Almost every household has a KALLAX shelf, right? Why shouldn't they? The KALLAX is a practical shelf that helps to keep organisation everywhere. However, it is easy to get tired of the shelf, which is why it is also ideal for a makeover.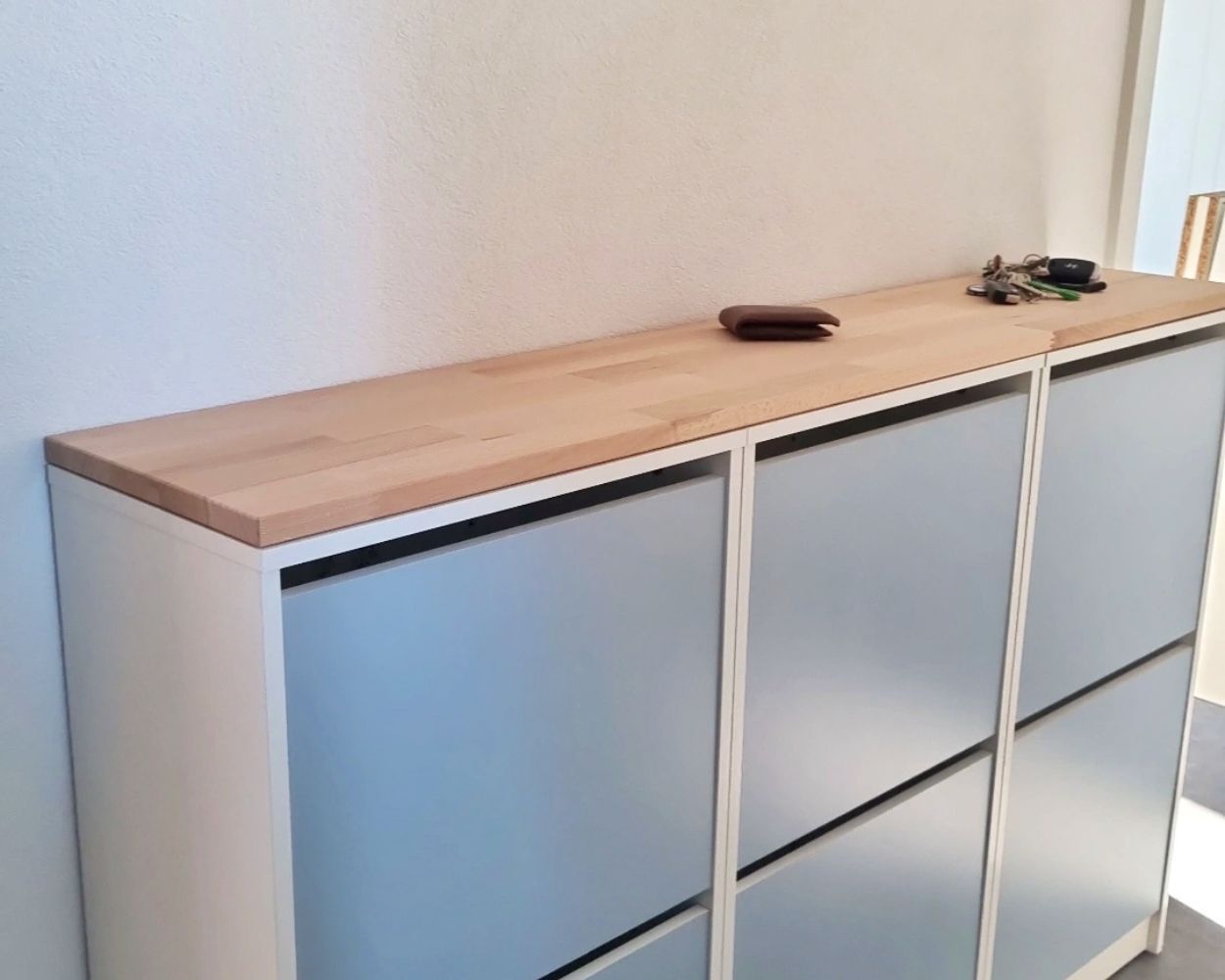 IKEA Hack for a neat hallway
Wow, this looks great! This idea comes from our creative community!
The unassuming IKEA shoe cupboard BISSA has never looked better with these two IKEA hacks. As a family, the small shoe cupboard is definitely not enough and having the shoes scattered everywhere is no solution either. A creative way to solve the space problem is to make a larger shoe cupboard out of several BISSA shoe cupboards and a wooden board that fits exactly (for example from the DIY store). We recommend attaching the individual parts to each other so that everything remains stable and there is no risk of injury. Then, to pimp the look, you can give the cupboard an individual look using yard goods.
Photo source: Tina M.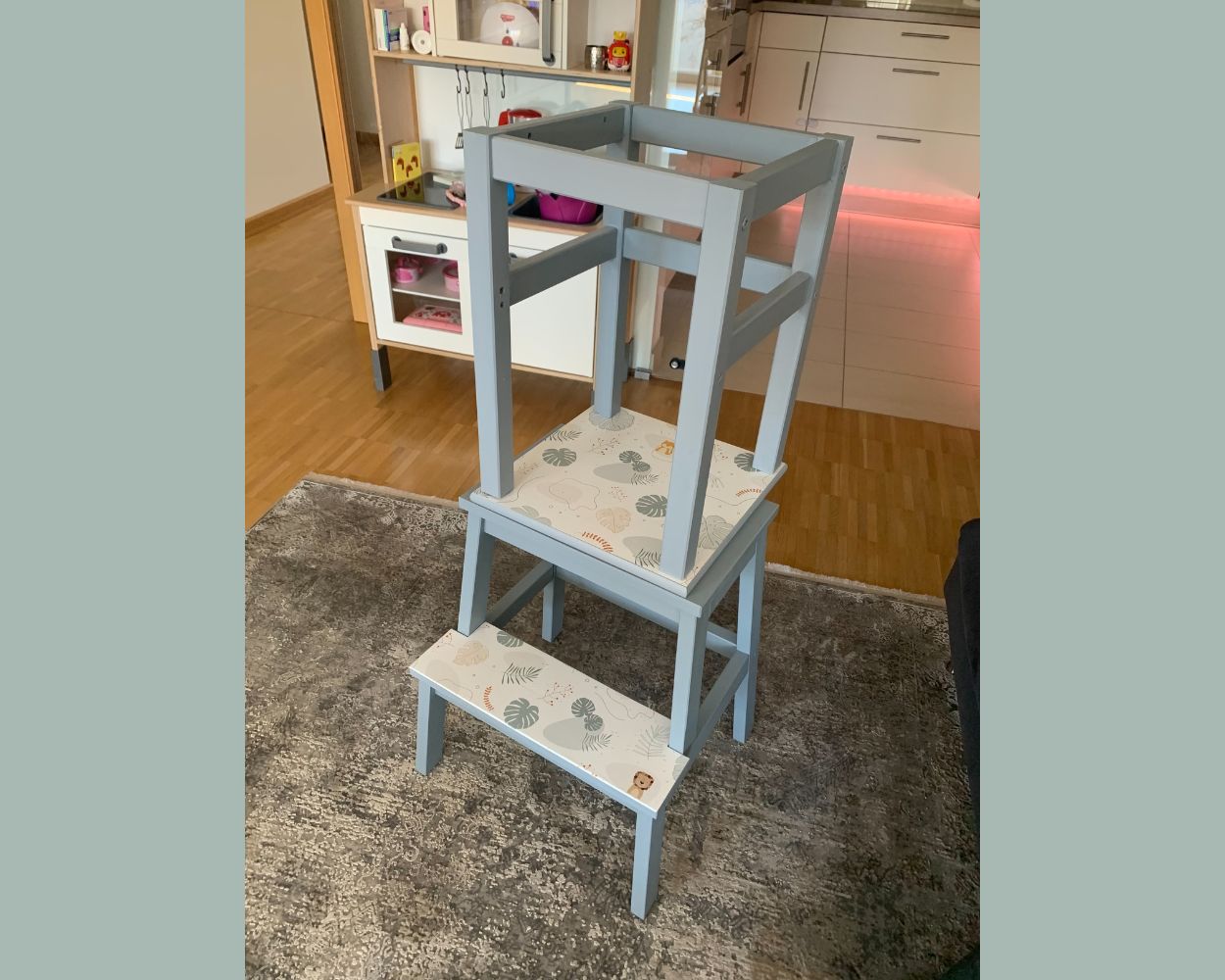 IKEA Learning Tower for Little Helpers
Does your mini love to help you in the kitchen? Then the IKEALearning Tower is just the thing for you! With just a few simple steps, you can build a learning tower out of the BEKVÄM step stool and the ODDVAR stool from IKEA. Although the learning tower is super practical, it won't win any beauty contests because of its appearance. So to pimp the learning tower, you can do what our community did with the yard goods. Again, there are no limits to your imagination!
Image source: Nadine G.
IKEA Furniture Foil - Realise your own ideas
Be creative and pimp beyond LACK, KALLAX and Co Or make your own IKEA hacks even more individual. You can also embellish other pieces of furniture as you like with Limmaland yard goods. Let your creativity run free and make your own DIY projects! Whether it's an IKEA hack or a decoration idea, Limmaland also offers the popular design decal as yard goods. No matter what you want to embellish: With decal you can let off steam creatively and design your home in your own style.
Do you have exciting ideas with furniture film for your home?
Then order the high-quality furniture film in the trendy Limmaland design now and give your furniture a very personal look. The self-adhesive film is available in different sizes - so you can realise your own DIY projects. Become an IKEA hacker now and bring creativity into your children's room, kitchen and the rest of your home!
The most frequently asked questions about furniture film yard goods
What makes the design film from Limmaland so special?
We at Limmaland place the highest value on the best quality. Therefore, our adhesive films are extremely robust and can be used in a variety of ways. The scratch- and tear-resistant film is particularly suitable for smooth IKEA furniture. You can even wipe the furniture film with a damp cloth and thus ensure hygienic cleaning of your IKEA furniture. Our IKEA decal is characterised by the following features:
odourless and without dangerous softeners
easy to stick without bubbles due to high quality materials
CE-certified for use in children's rooms
scratch-resistant and washable furniture film
ecological ink without solvents
removable again
What are the advantages of the IKEA furniture film?
The best thing about our self-adhesive furniture film is that you can upgrade your IKEA furniture quickly and easily. It's a great way to make used or boring furniture match your home. By upgrading your furniture, you give it a longer life and can always furnish yourself in the latest trendy colours. Our tip: Check out the classifieds for second-hand IKEA furniture! This is not only easy on your wallet, but also on the environment. Our different foil designs give your IKEA furniture personality and add that certain something to your home. Especially in the children's room, friendly colours create a positive atmosphere - because colours not only look good, but also encourage creative play. Now you can be artistic and realise your imaginative ideas. And with the furniture film for IKEA furniture, it's very easy. Simply choose your desired design, cut the decal to the right size and stick it on your furniture. Your DIY project is finished!
How can I upgrade my IKEA furniture with decal?
Choose your favourite design of our furniture film
Choose the right size of film for your project
Simply cut the IKEA furniture film to size - this is best done with a cutter knife or scissors
Apply the design film to your furniture
Your children will be thrilled and love the stylish colour accents. With the furniture film for IKEA from Limmaland, you can give your furniture an individual look without having to resort to paint and brushes. The self-adhesive furniture films for IKEA & Co. are applied in no time at all. And the Limmaland decorative film for cutting to size is of high quality and does not contain any dangerous plasticisers. Even the wildest games are no problem: the furniture and wall decal are extremely robust and stand up to particularly lively moments. And if you want to change your design again at some point, you can simply remove our adhesive foils. So you can redesign your furniture again and again without reducing its resale value.
What ideas can IKEA furniture film be used for?
The self-adhesive film is perfect for spicing up many Ikea pieces of furniture. If you still need inspiration: We have listed the best ideas for you with our decal yard goods.
IKEA kitchen fronts laminate
Embellish IKEA desk tops
Spice up kitchen tiles with decal
Furniture foil for IKEA cupboard doors