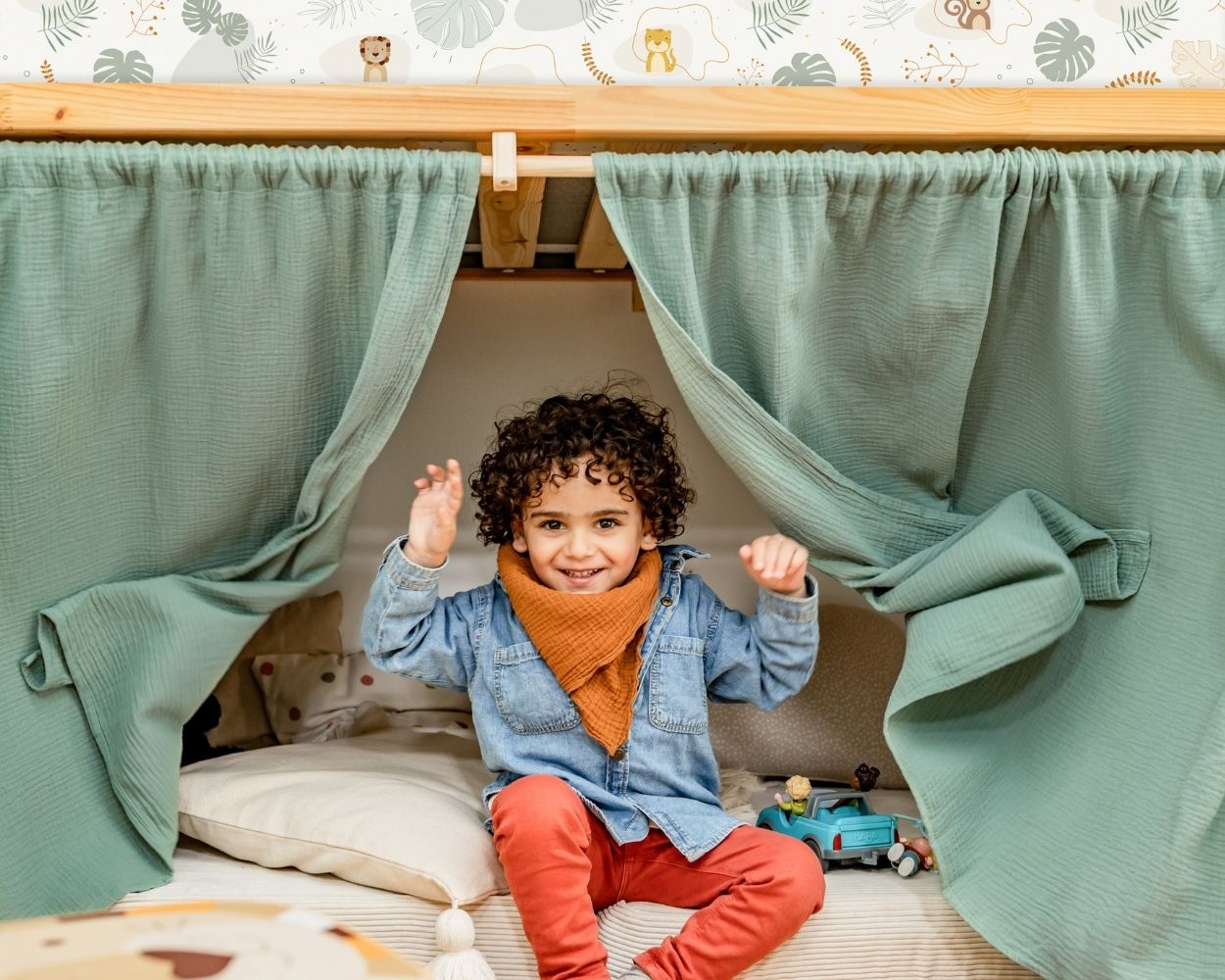 Curtain on for the KURA cuddle cave
The IKEA KURA bunk bed is definitely one of the classics in the children's room. Simple yet versatile, it is a true all-rounder. Discover everything about the popular children's bed and what else you can get out of this piece of furniture.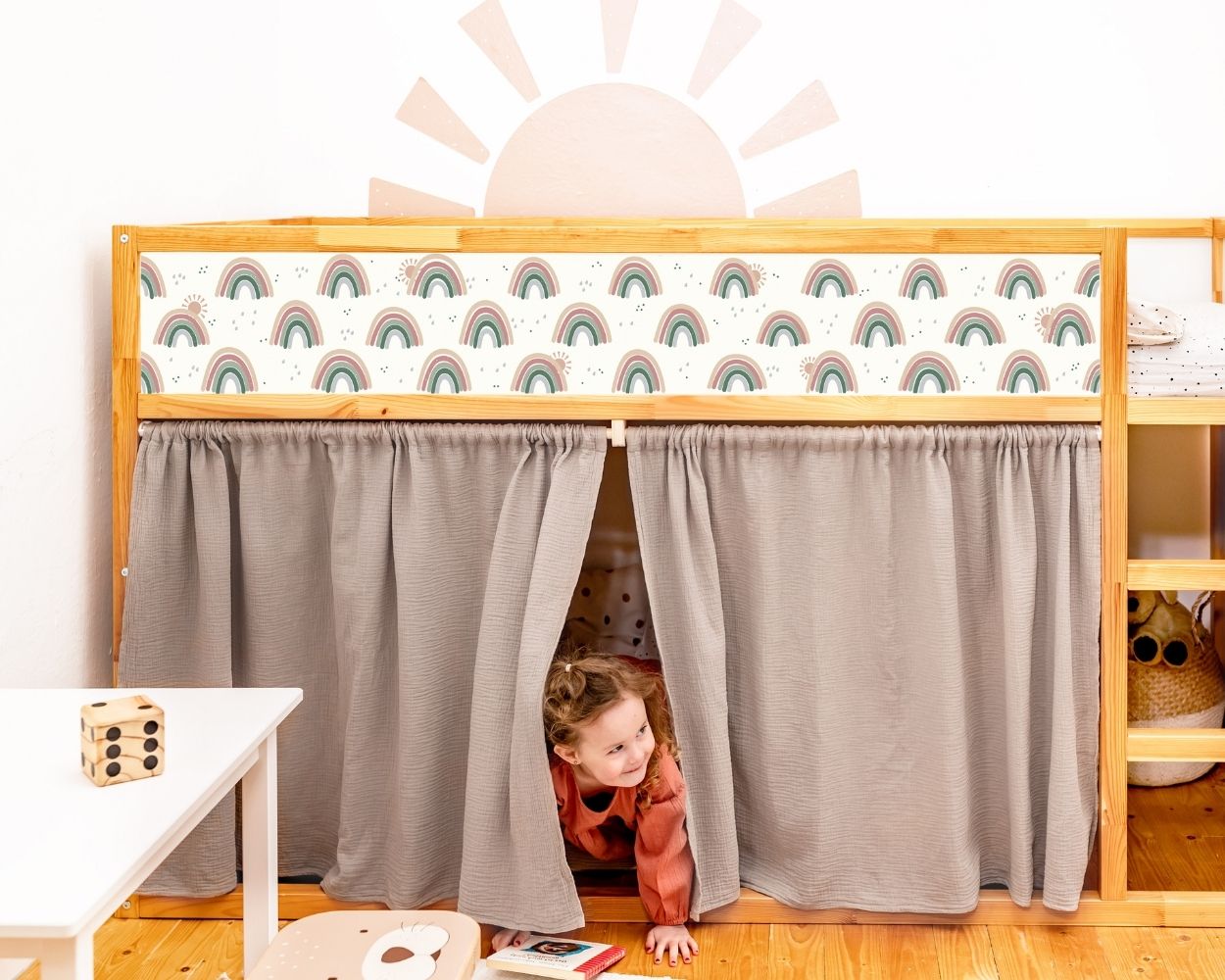 1. Build yourself a KURA cave
A retreat in the children's room allows your child to develop in a very personal way. Here you can cuddle up, read, listen to audio games or admire little treasures. And you can set up a little hideaway like this under the IKEA bunk bed. It saves space and makes for extra cosiness in the children's room.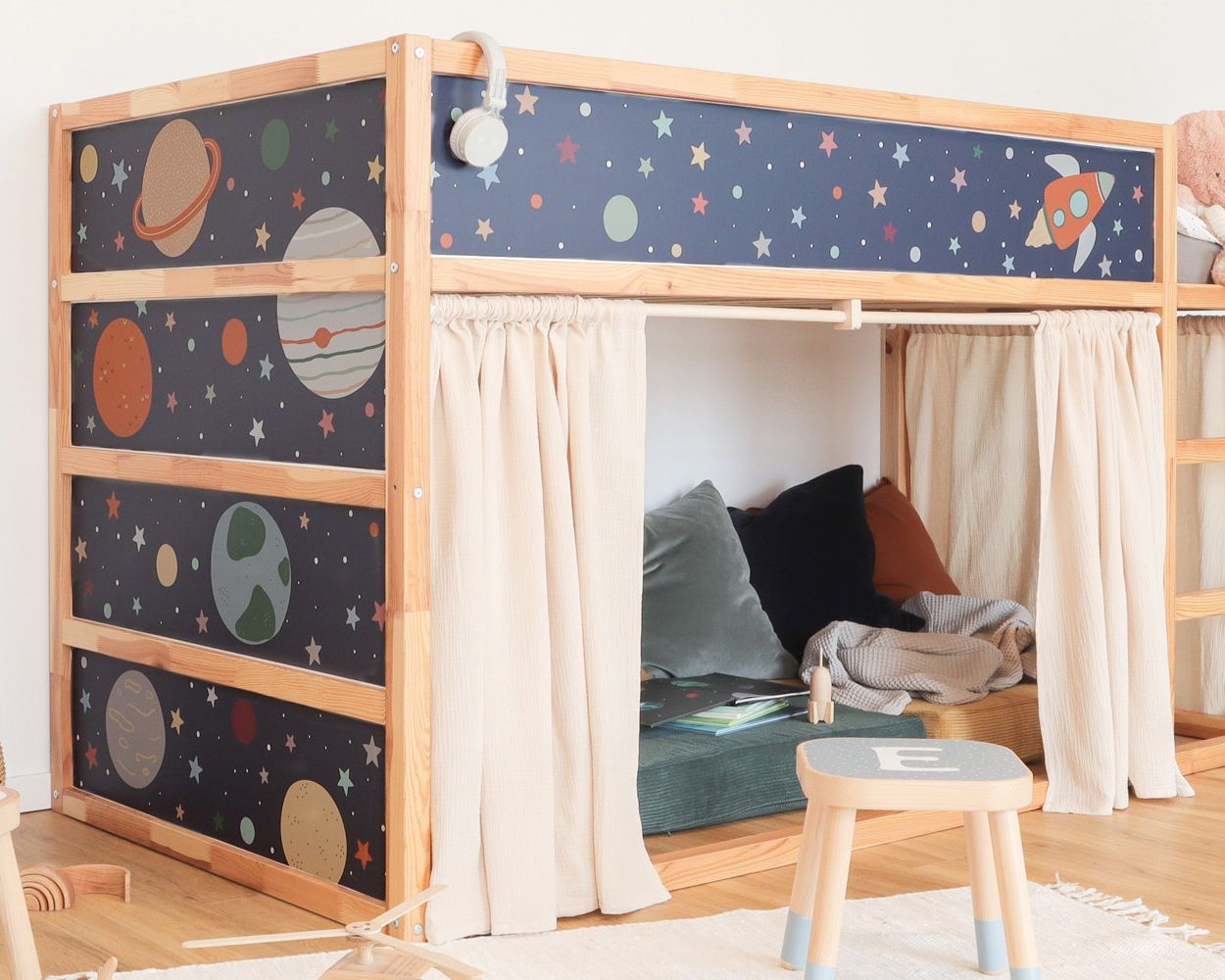 2. IKEA bunk bed becomes a play world
bunk bed and play world in one? Everything is possible with our clever IKEA hacks for the KURA bed. Our lovingly designed furniture foil transforms your bunk bed into the most beautiful play world. And all in just a few minutes: Our decal is cut to fit your IKEA KURA, is easy to apply without bubbles and is CE-certified for use in your children's room.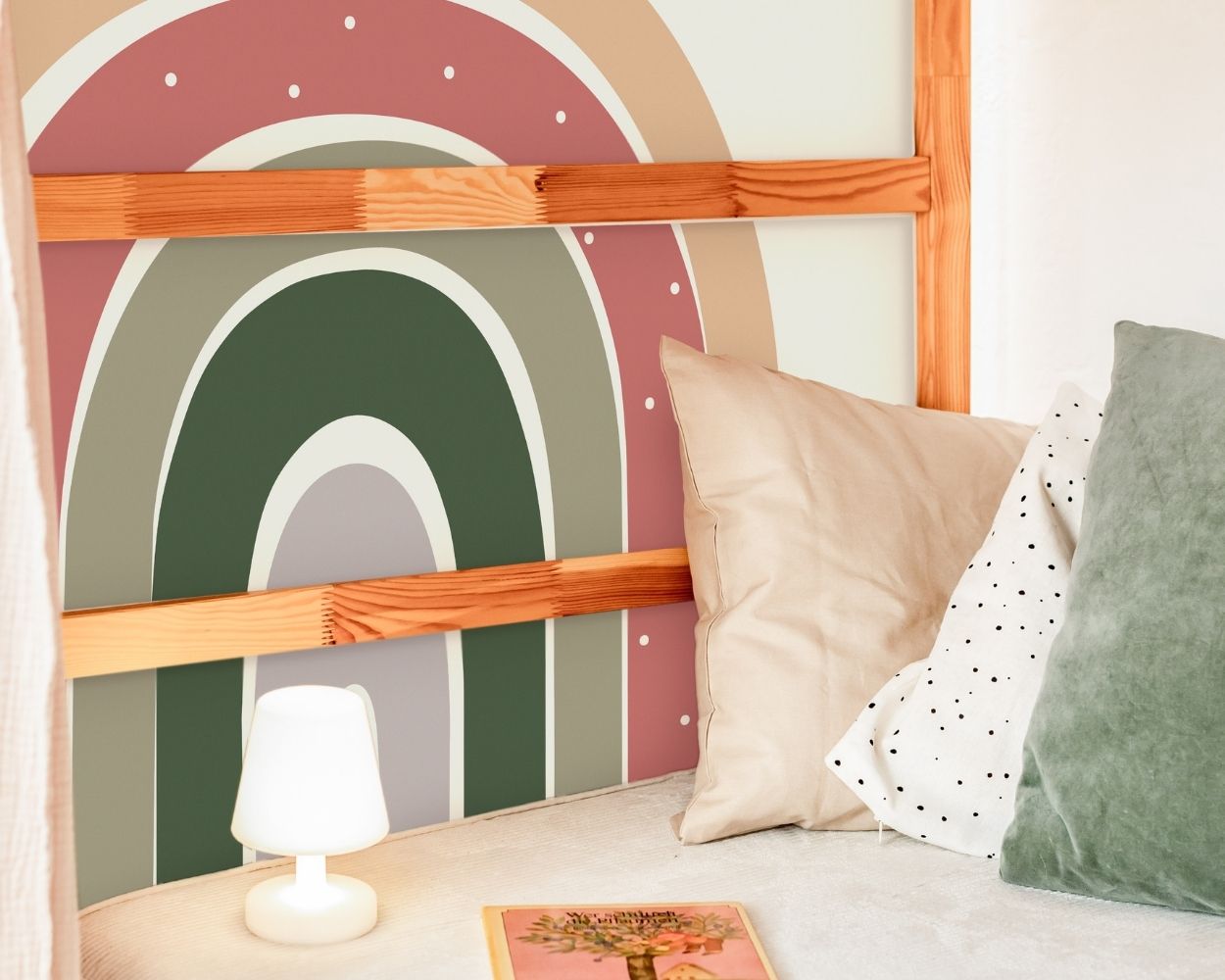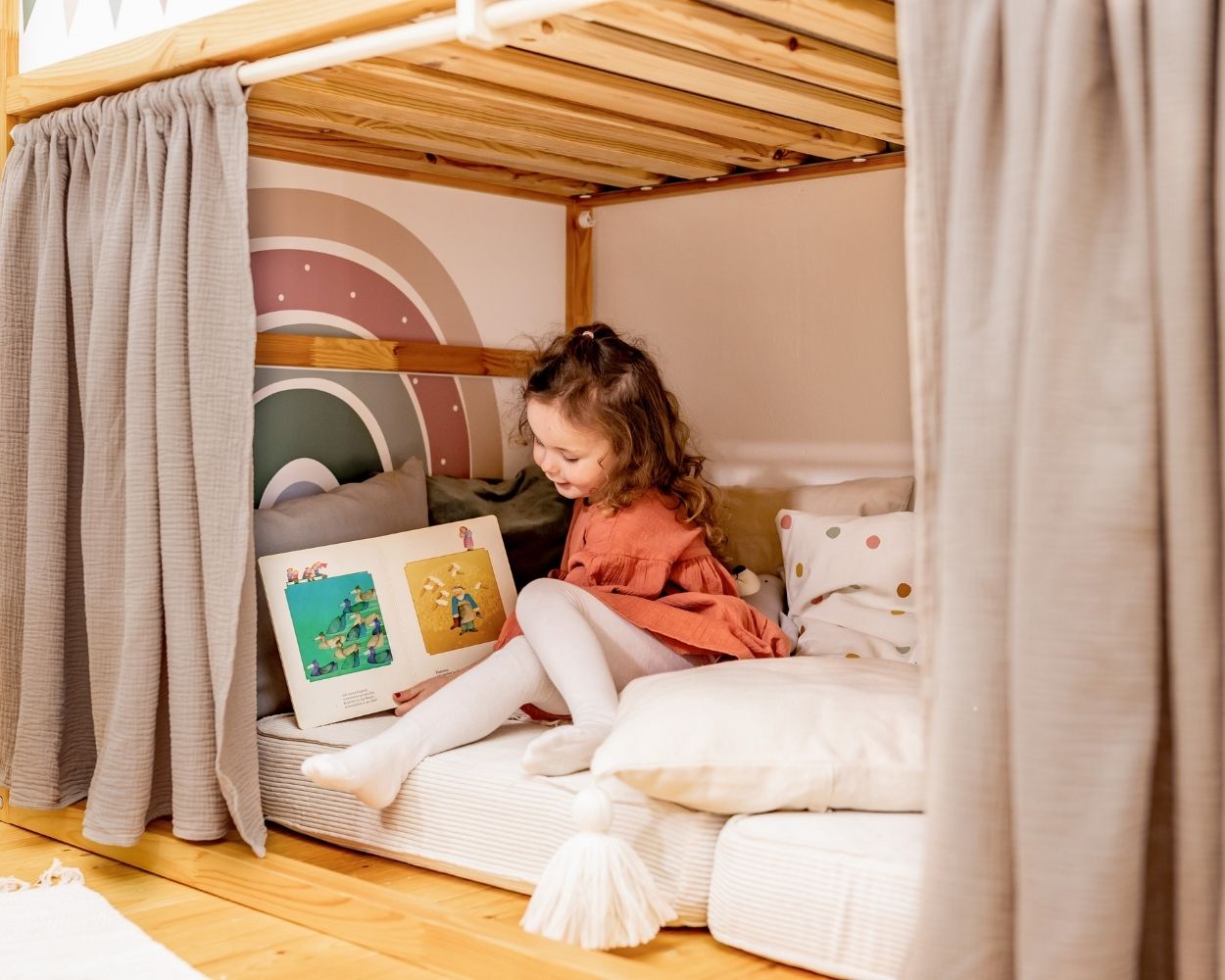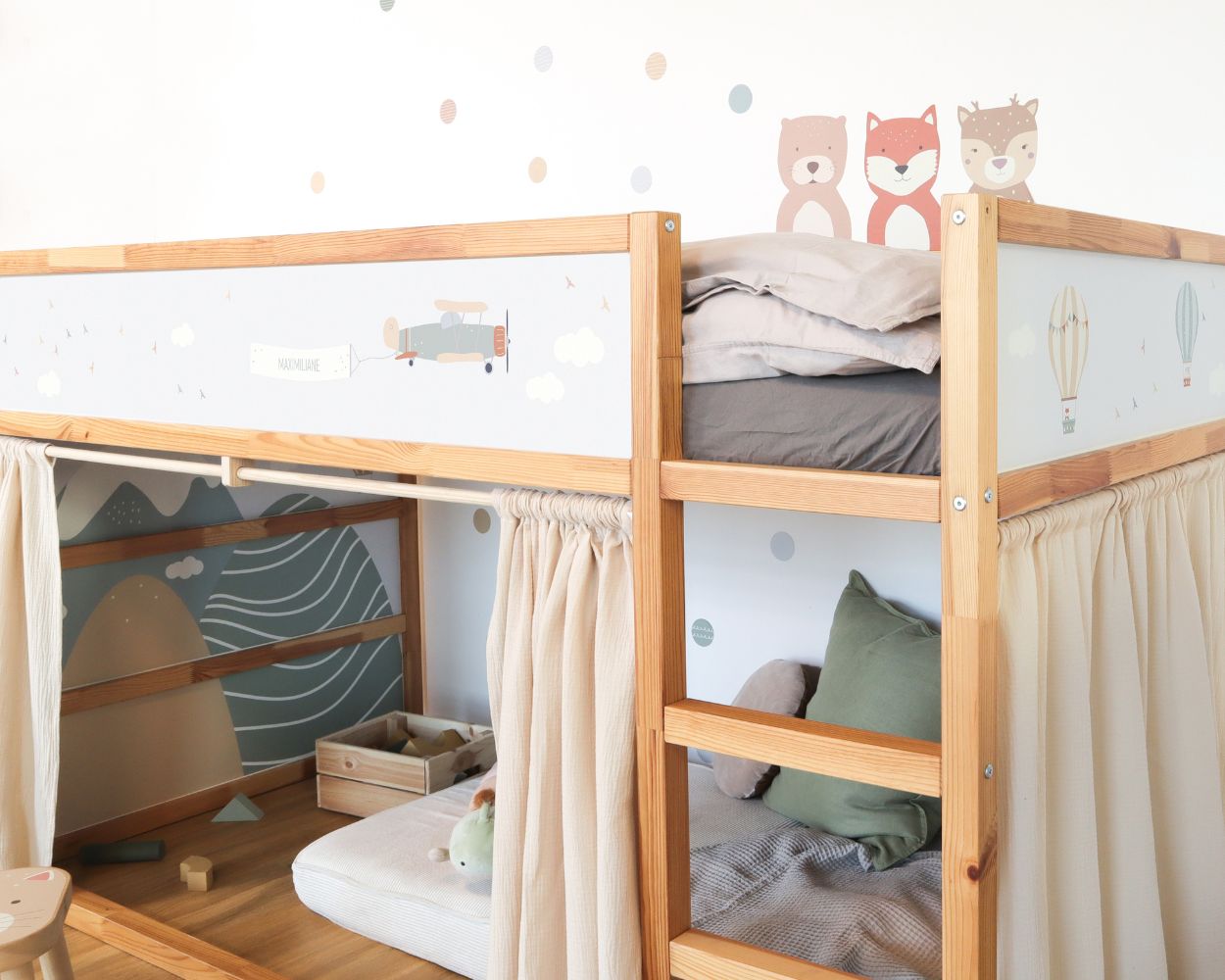 3. Inner values count too
Tip: You can transform your KURA bunk bed not only from the outside, but also from the inside. Your little hideaway in the children's room will be even cosier with our child-friendly films. For the inside, simply use our decal set for the head side.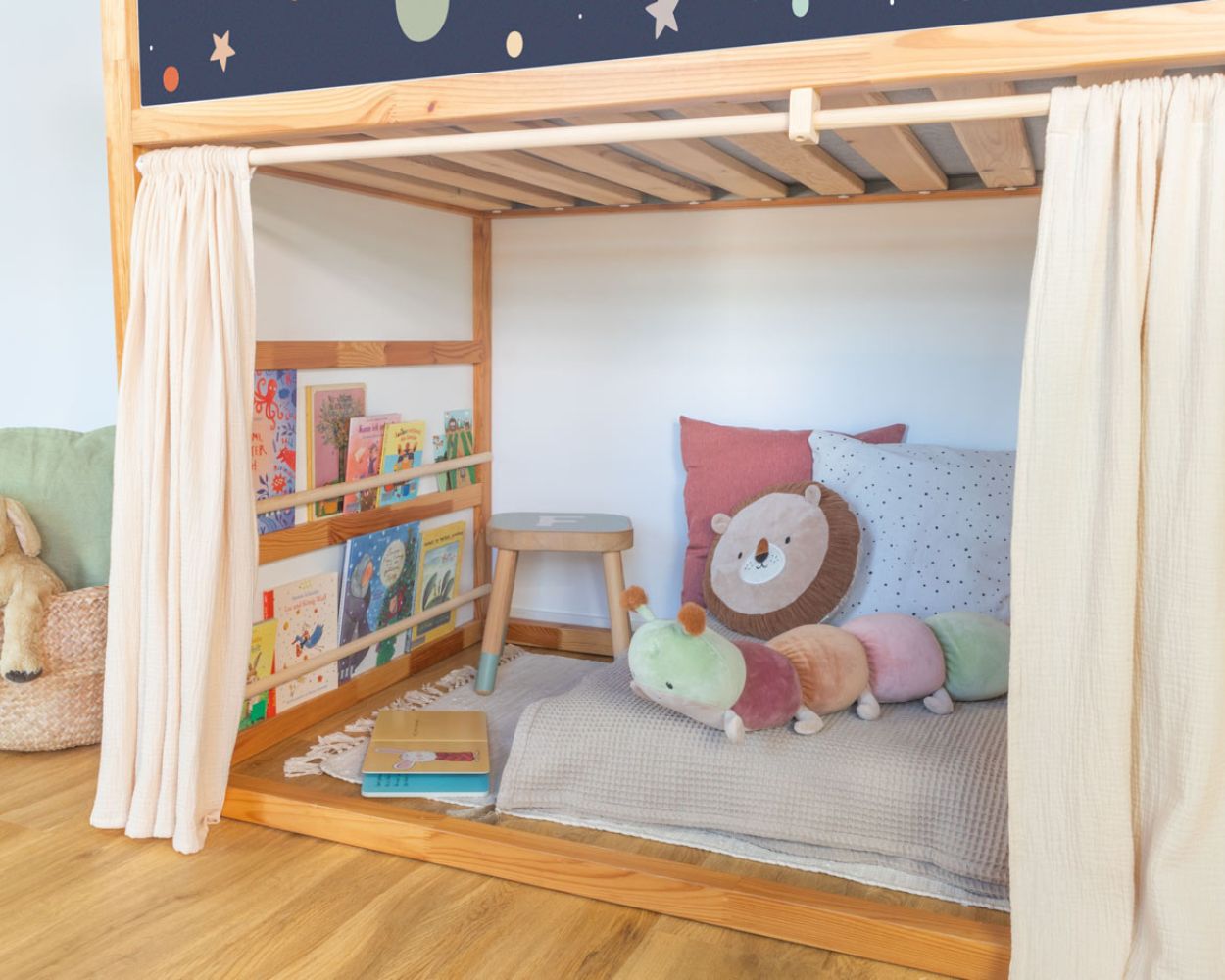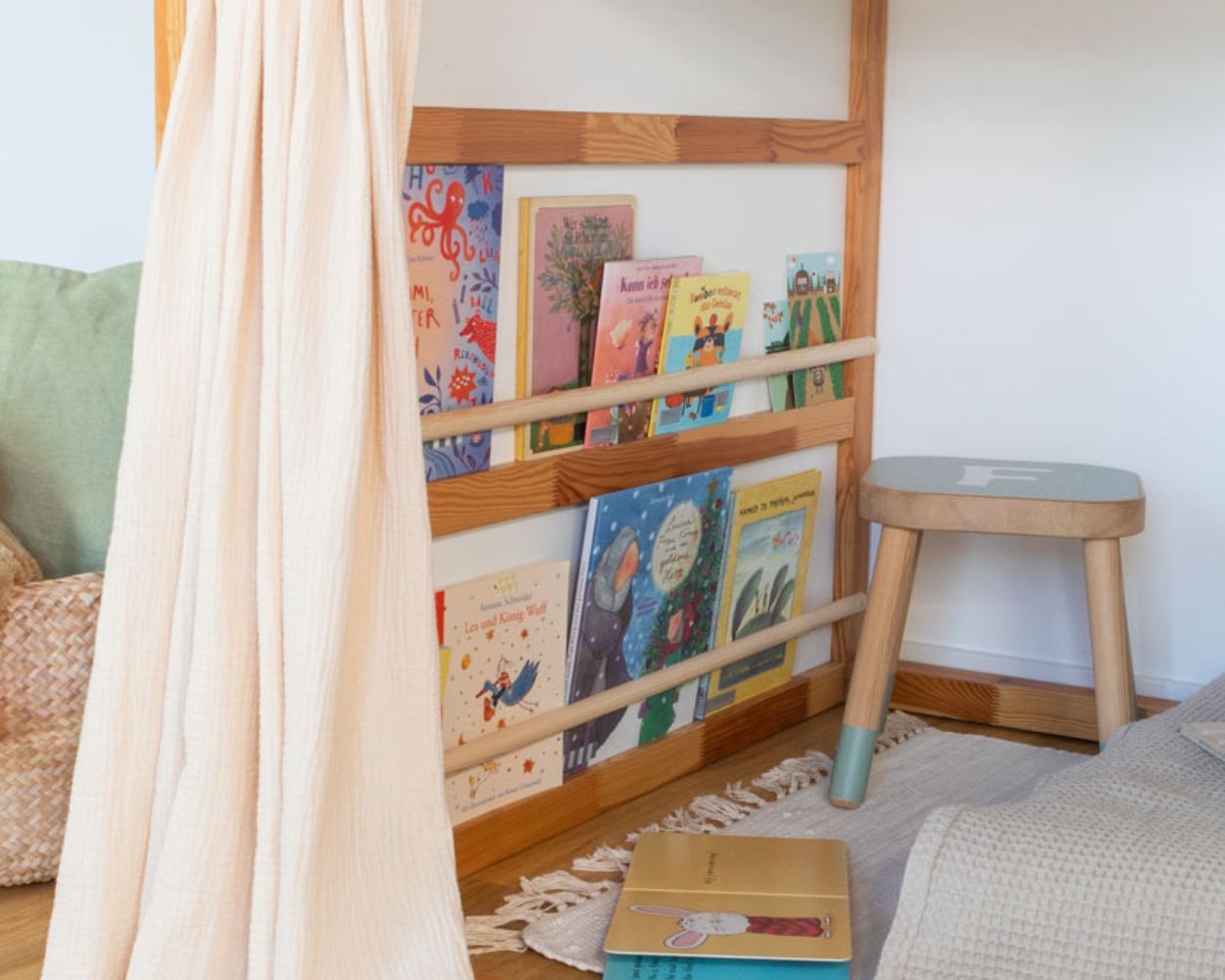 4. Favourite books in the KURA cave
What could be more cosy than rummaging through your favourite books in the little hideaway under the KURA bed? That's exactly why we have the practical book rails ready for you, with which you can conjure up a small bookshelf in no time at all. Super practical, isn't it?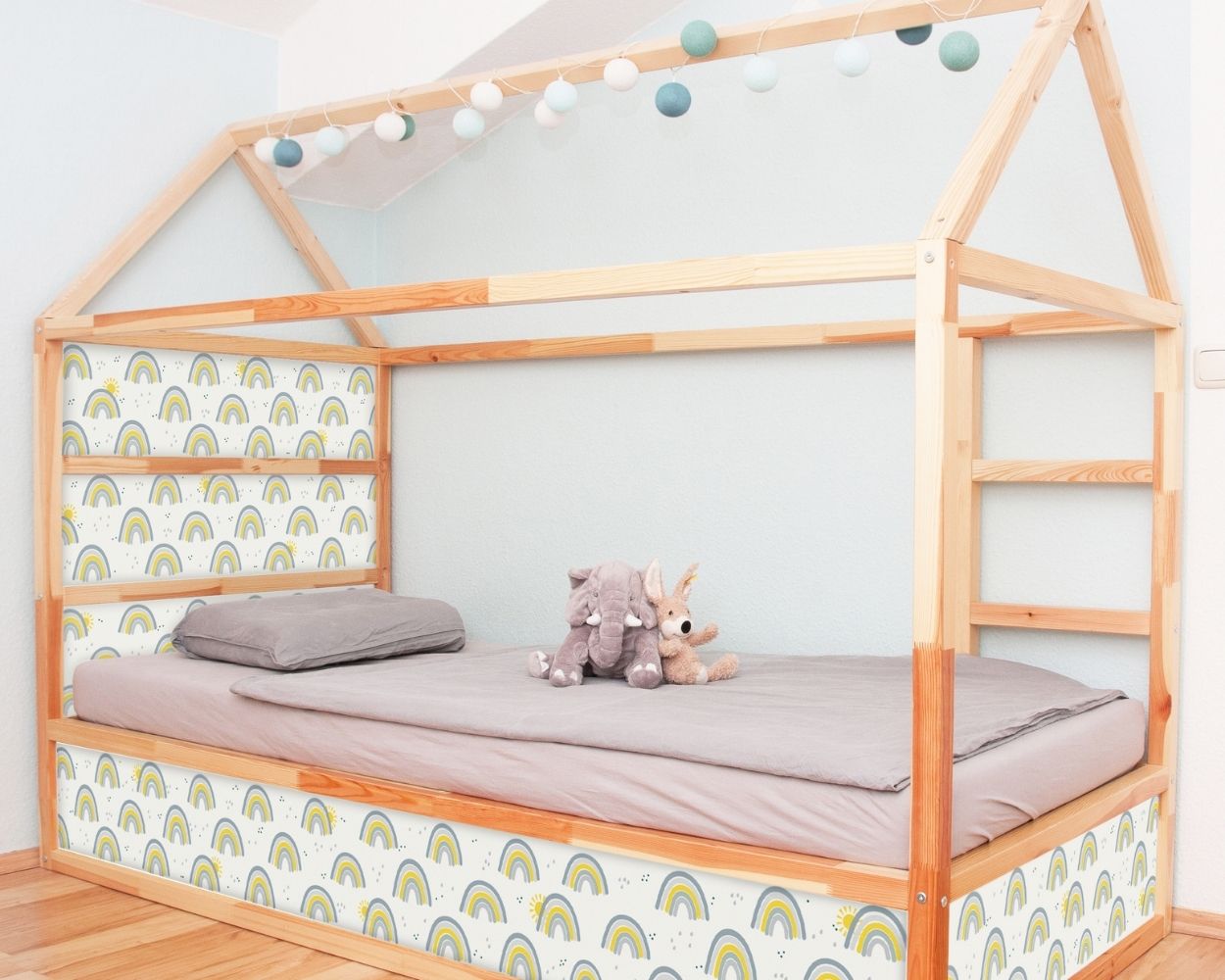 5. House roof or baldachin for the bunk bed
Very popular on Pinterest and Instagram is the house roof for the IKEA bunk bed. If it's too much work to build a little house with a roof out of the bed, you can also attach a baldachin to it. A canopy over the cot provides a sense of security and gives the child a cosy, very own cave under which creative thoughts can be given free rein and the child's imagination is given every freedom. IKEA offers canopies and canopies in various designs.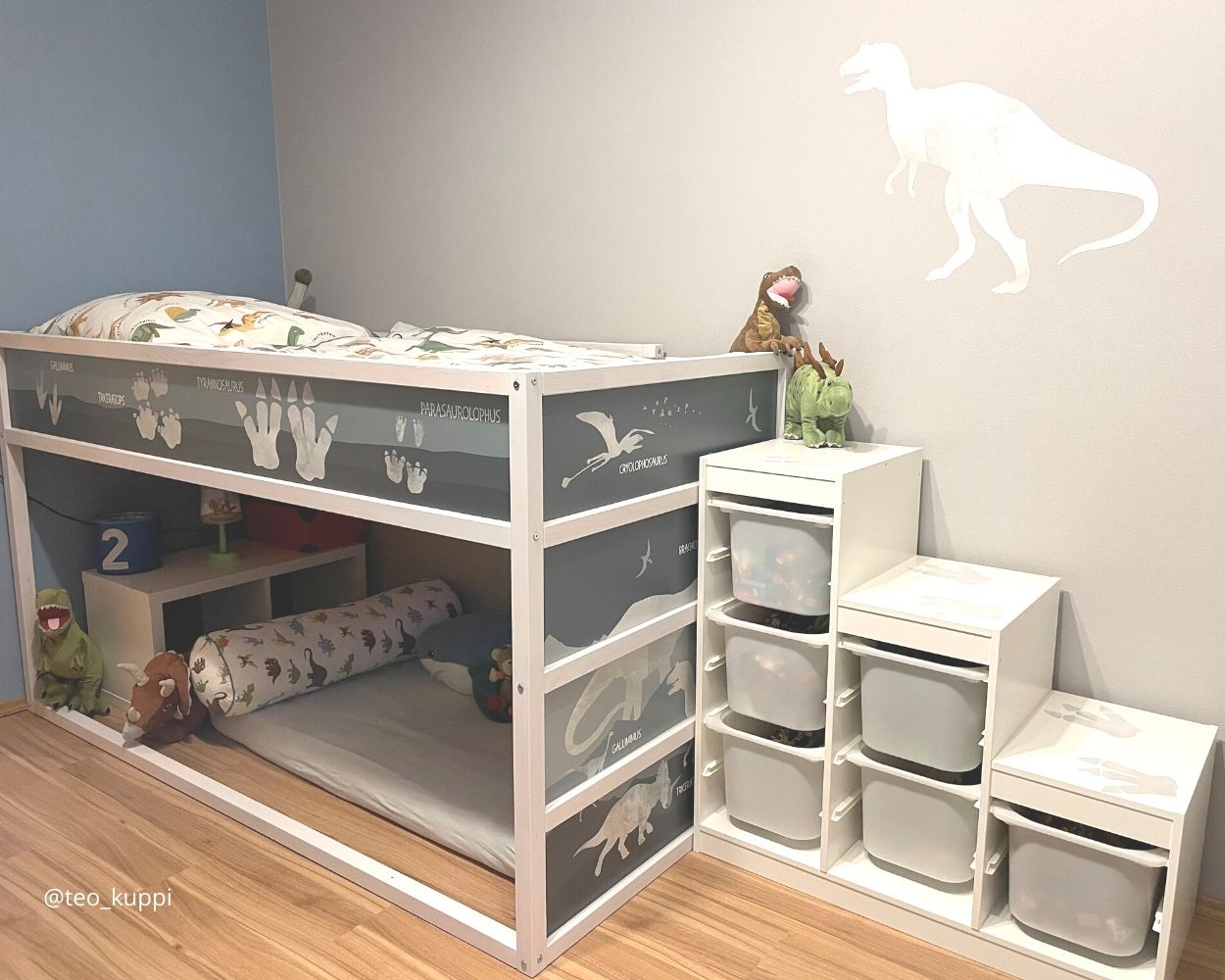 6. Stairs for the IKEA KURA bunk bed
Suitable for the IKEA KURA bed. For little adventurers: IKEA KURA with stairs or slide To make it even easier for your kids to get to bunk bed, you can also attach a stepped IKEA TROFAST shelf to the side of the bed. This serves as a staircase and offers lots of storage space thanks to the integrated boxes. If you're feeling adventurous, you can attach a slide to the IKEA KURA. But please always be especially careful. Safety first.
How quickly your IKEA KURA becomes a loft bed!
You want to turn your KURA cot from a low bed into a bunk bed - or the other way round? It's as quick as lightning - you can simply turn it around!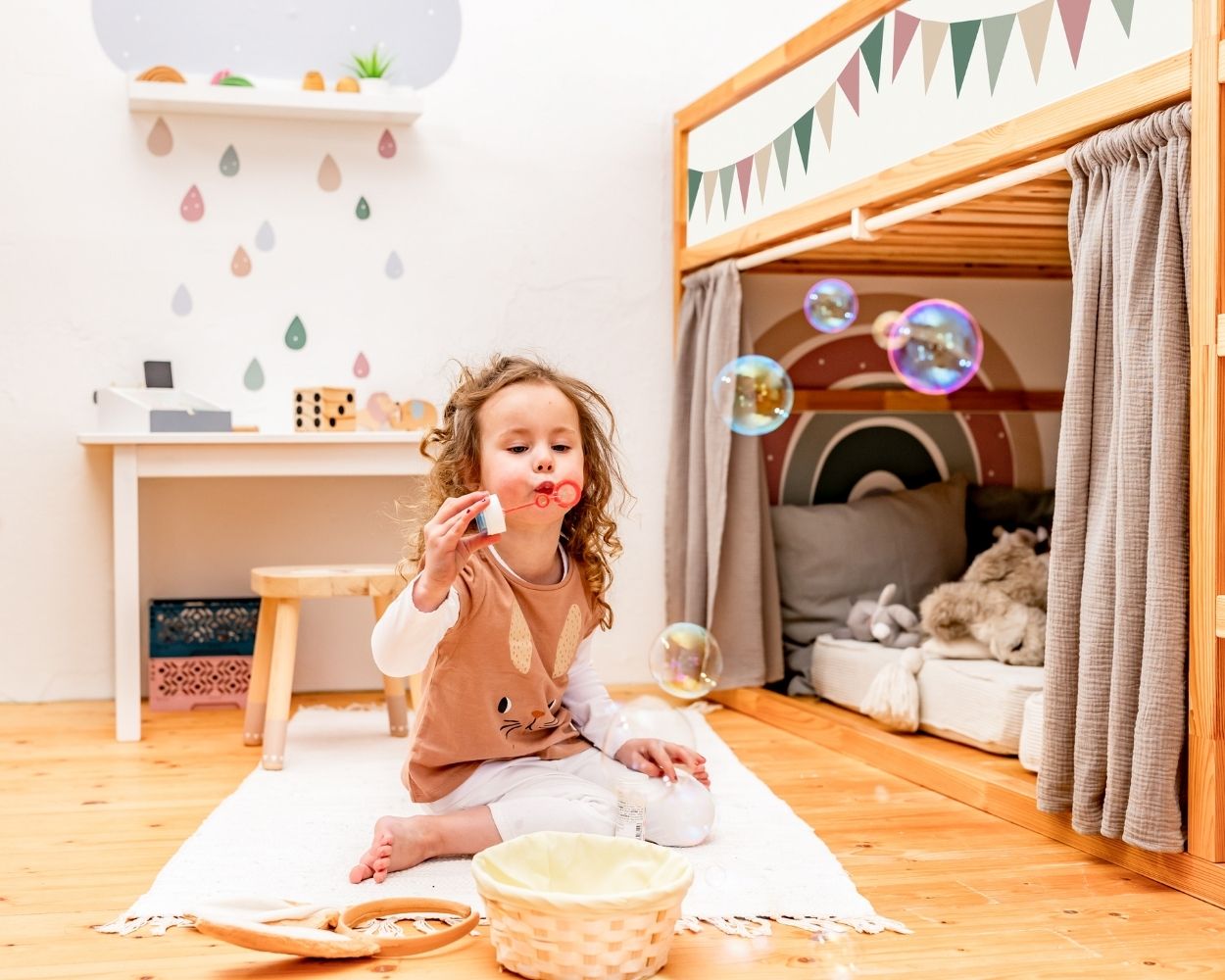 Transform your KURA with our IKEA hacks
You don't have to be a handyman to turn your IKEA bunk bed into a one-of-a-kind nursery. Discover all our magical products for your KURA now.
The KURA bunk bed is clearly one of the favourites in the children's furniture department. Thanks to its convertibility, it is unbeatable in terms of price-performance ratio. Initially, it can be set up for toddlers in the floor-level version. If at some point the desire for a bunk bed arises and your child is old enough, you simply turn it around and have a stable IKEA bunk bed. We also like the simple colour scheme, white and natural wood - so the IKEA KURA bed fits into every child's room. And the best thing is: it offers ideal space for IKEA KURA hacks.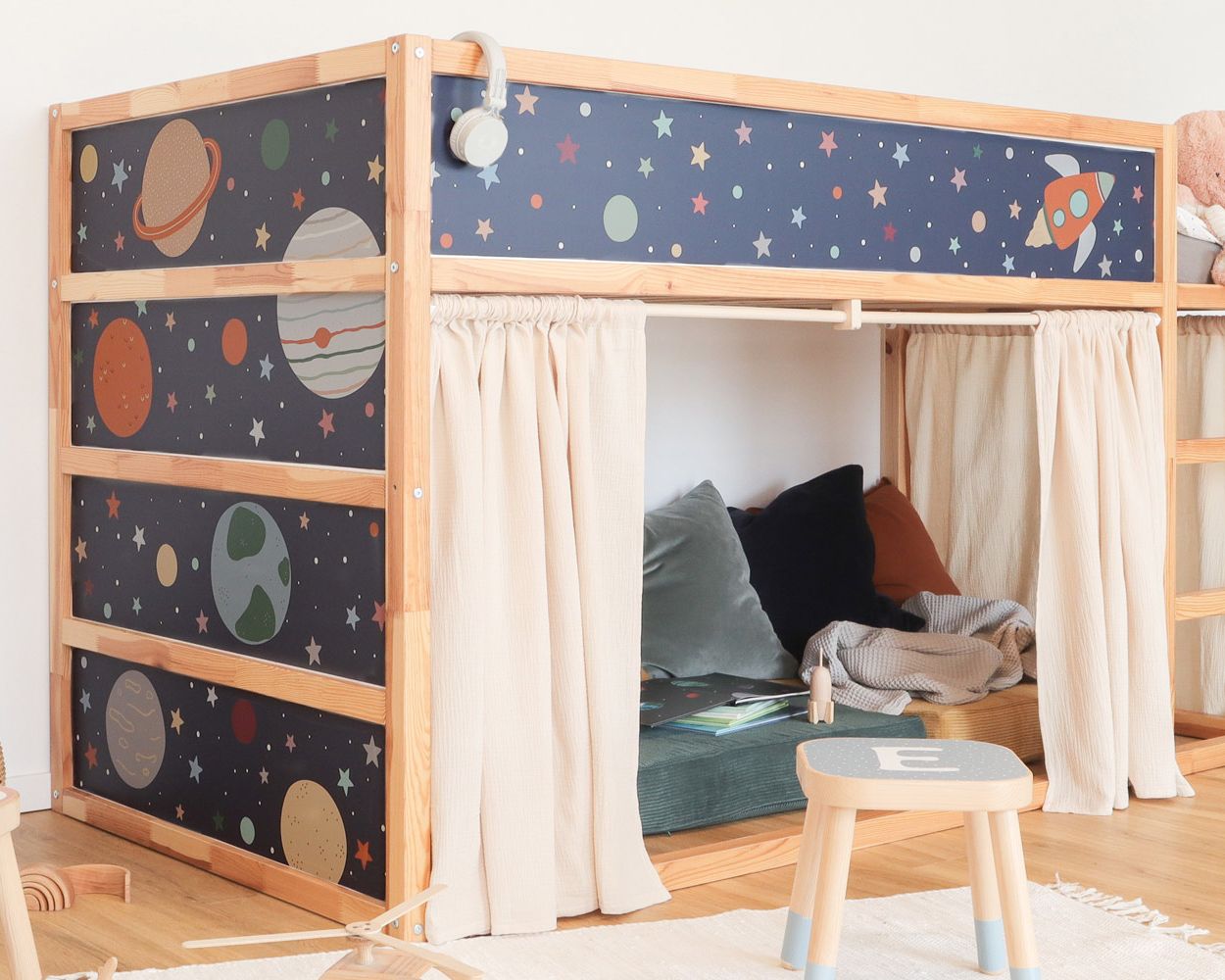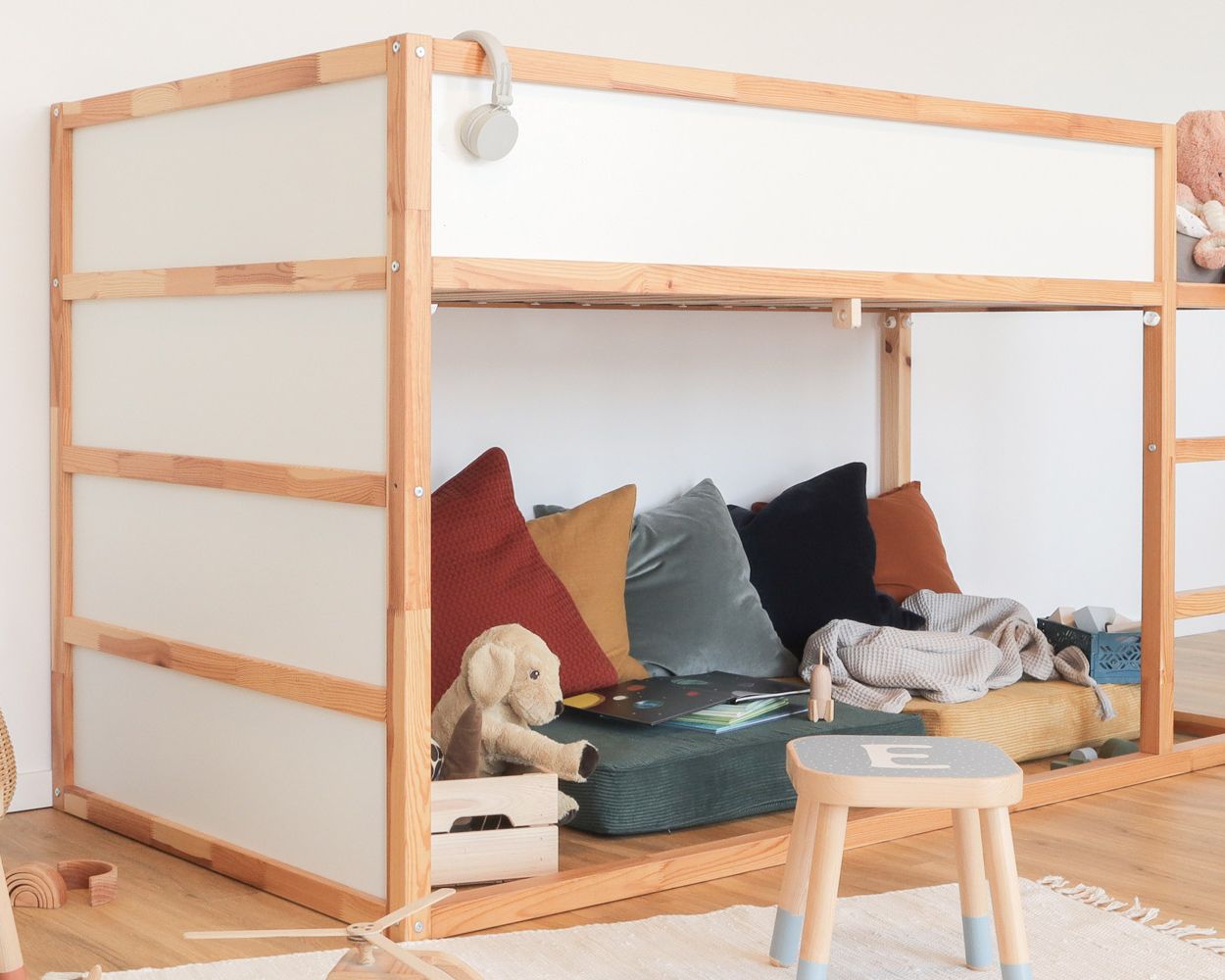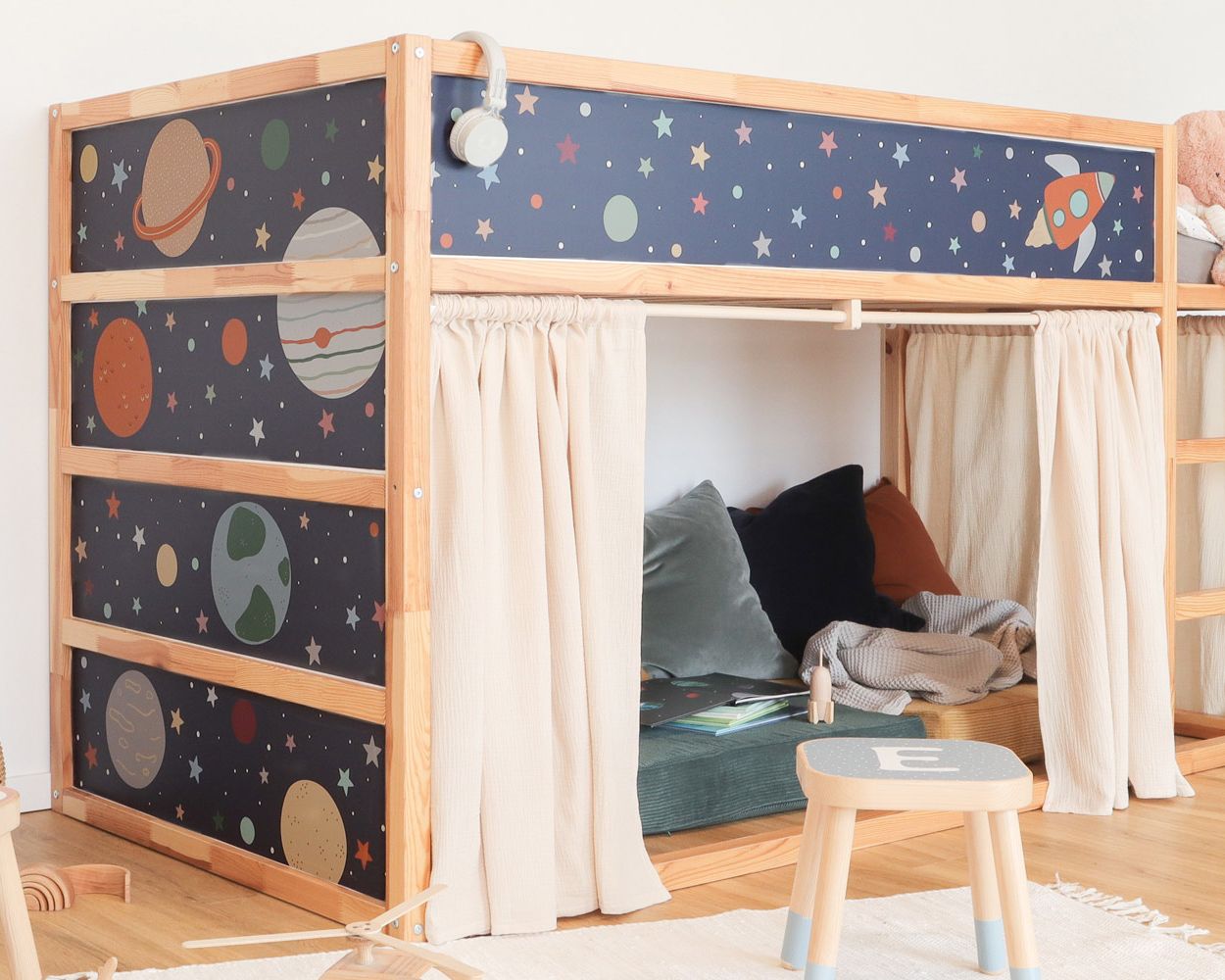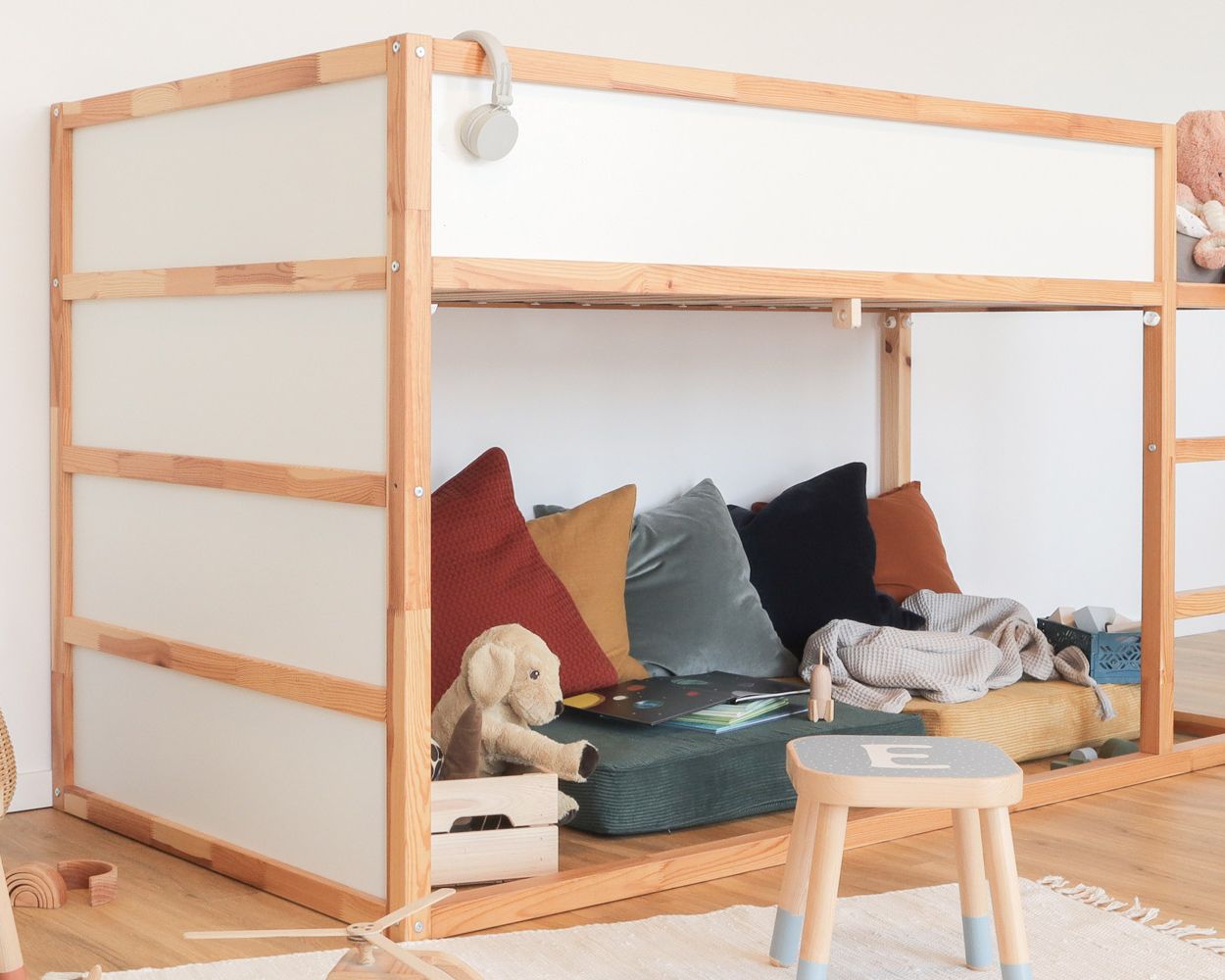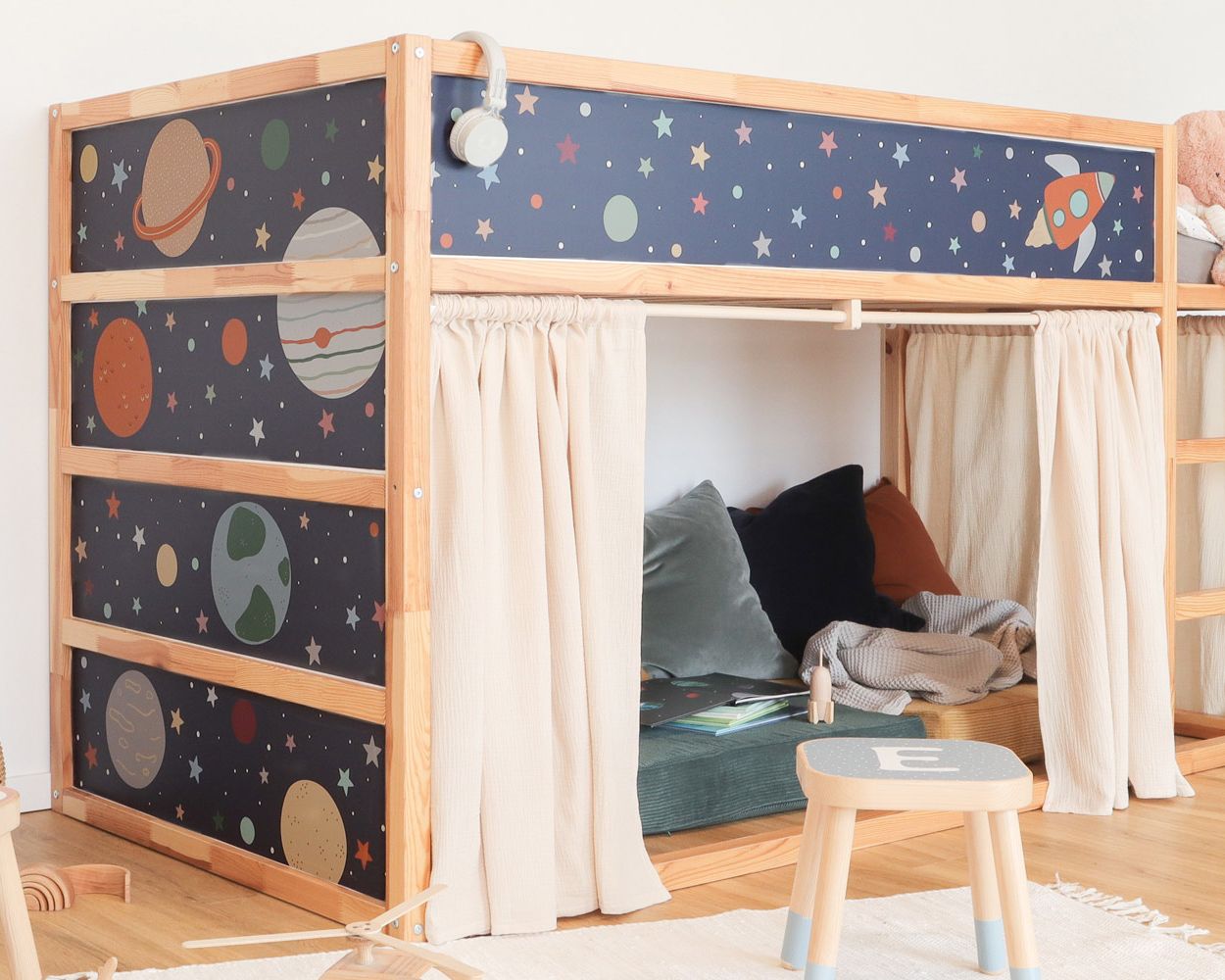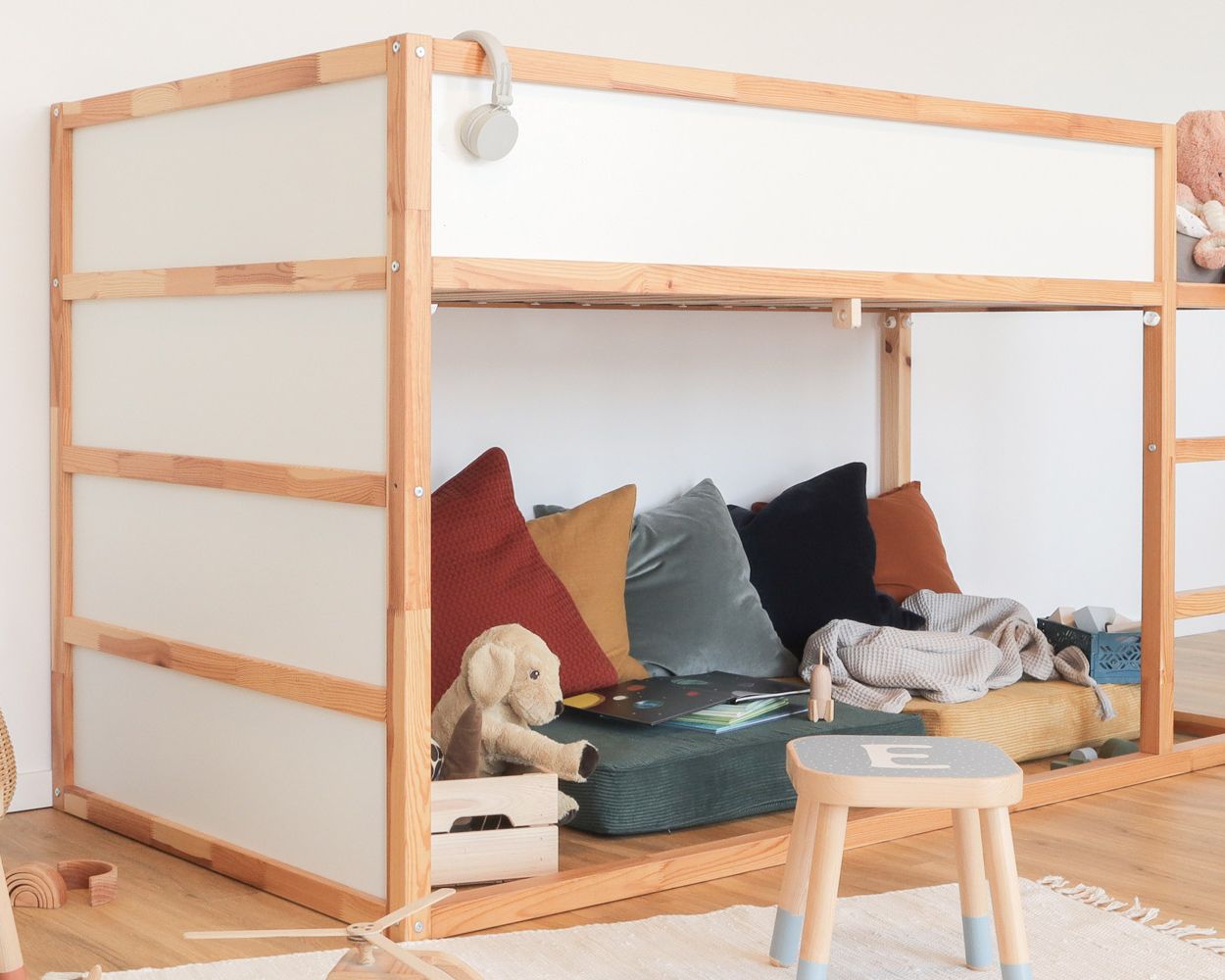 From what age is the IKEA KURA suitable?
The KURA cot is a good choice. For toddlers from the age of about two, the KURA can be set up as a low bed. There is enough space for lots of soft cuddly toys and for mum and dad during bedtime stories. However, the maximum load of the IKEA KURA is 100 kg. As soon as your child gets older, you can easily convert the IKEA KURA cot into a bunk bed. This will not only bring a breath of fresh air into your home. This not only brings a breath of fresh air into the children's room. Loft beds are also very popular among primary school children. The IKEA KURA is lower than other bunk beds and therefore safer. The low height also makes it easier for parents to say goodnight.
When can my child start sleeping in the bunk bed?
IKEA's bunk bed has a balustrade on the side so that children can sleep safely on the upper level at night and not fall off. If this is still too precarious for you, you can attach an additional fall-out protection. IKEA generally recommends that children should not sleep upstairs in the bunk bed until they are 6 years old. But you can still use the IKEA KURA before then. The KURA is convertible and can also be used as a floor bed.