Wall design in the children's room 
With lively and cheerful wall design, the children's room is transformed into another world for your offspring in no time at all! We show you the most beautiful ideas for your walls. 
Ideas for your wall design in the children's room
The children's room is the space for the little ones to develop freely, learn, play and rest. Barren and cold walls are out of place here. Small splashes of colour, wall tattoos and decorative elements on the walls create a feel-good atmosphere and can encourage and support your kids in their creativity.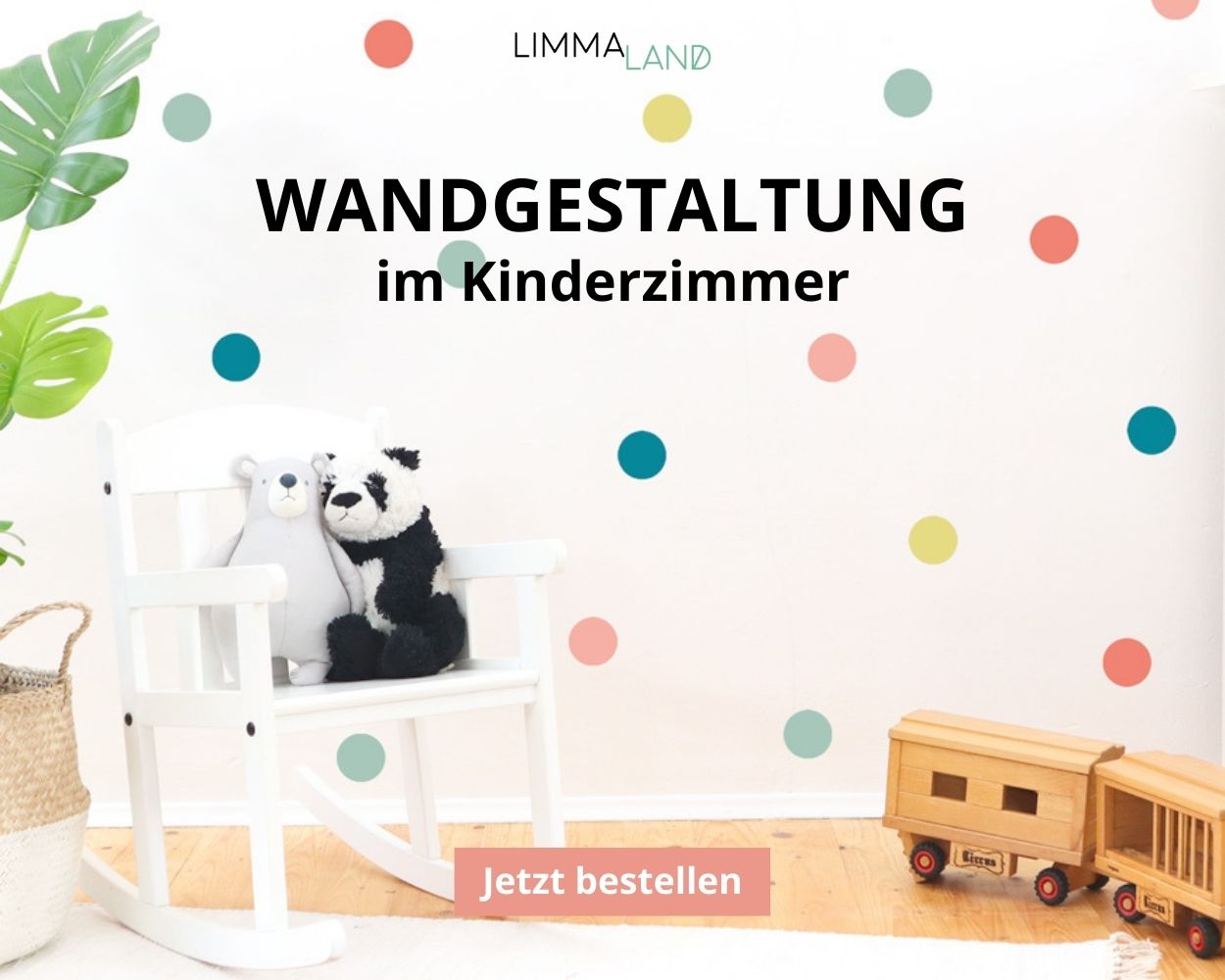 The most frequently asked questions about wall design in the children's room
Which colour is suitable for the wall design in the children's room?
Even though toddlers can absorb bright colours particularly well, they are not particularly helpful for the wall design of children's rooms. This is because strong and garish colours usually have an overstimulating effect and cause children and infants to become restless. That is why we have included in our colour palette the soft, yet colourful tones that are almost inevitable throughout the home. It is important to find the interface between monotony and sensory overload in the design in the children's room, especially in the wall design - not drab, but not too boldly colourful either. Because the children have to feel comfortable in the children's room and playroom. It should be pleasant and cheerful for them. The wall design with the matching colours is therefore the icing on the cake in the children's room!
What advantages do wall foils offer?
When you think of wall design, the first thing that comes to mind is painting. It's easier than wallpapering, but it's not exactly quick. The children's room has to be prepared, the furniture protected from the paint and then you also have to wait until the paint has dried. It's easier and quicker to add colour to the walls of your playroom or nursery with wall stickers. Wall film adds subtle, stylish splashes of colour to the wall without looking cluttered. And if you no longer like the wall design or the children's room turns into a teenager's room, you can simply remove it again. Or you can combine coloured surfaces with cute wall tattoos.
Do the adhesive foils hold on all wall surfaces?
You are not sure whether our films will adhere to your wall? Unfortunately, like all other manufacturers, we cannot guarantee this for all surfaces. We therefore offer you the option of ordering a free adhesive sample for your wall in advance.
Which motif fits best in my children's room?
The Limmaland adhesive films for the wall enchant children's rooms into small feel-good rooms for your offspring. How about a dreamy girl's room in gray-pink with our confetti wall stickers. Or rather the GODNATT collection with stars and moons for little dreamers. Let yourself be enchanted by many creative ideas and choose your favorite pattern, animal motif, letter, clouds and more. Suitable for the nursery of your darlings.
Are the wall films safe for my children?
Our films are all made for safe use in the nursery:
Child-friendly foils without dangerous plasticisers
Ecological pressure
Made and produced in Germany
Easy to apply without bubbles
Removable
Are there also wall foils suitable for baby rooms?
When a baby room is to be redecorated, the question of a suitable wall design and beautiful baby room decoration quickly arises in addition to suitable furniture. And this is not so easy for many parents, because they want to create something very special for their offspring. If you are looking for special ideas that can be easily and quickly implemented, you will find a lot of choice at Limmaland . With our design adhesive films it is very easy to design the walls in the baby room individually and personally. Our wall tattoos and sticker sets are uncomplicated and quickly applied to the wall and made of child-friendly materials without dangerous plasticizers. Later, the decorative elements can be easily removed again and an adjustment of the wall design for the toddler or schoolchild is quite simple again possible - without annoying repainting.